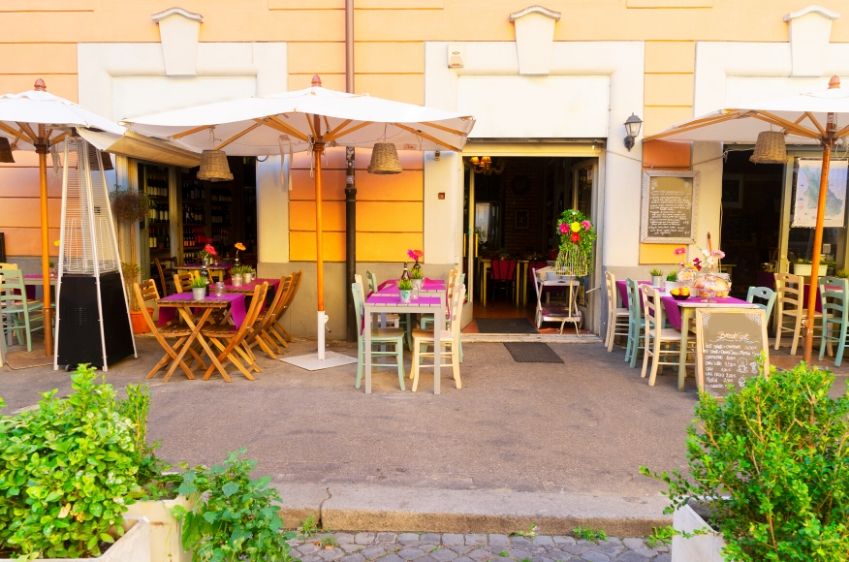 A guided tour of the capital's most quintessential neighborhood
Rome is one of the most fascinating cities in the world. History, culture, art and archaeology blend to create a unique city capable of intriguing and inspiring in equal measure. When exploring the cultural playground of the Italian capital, there is only one rule everyone should play by: when in Rome do as the Romans do!
Seek out local food markets, duck into family-run osterie, and munch your way through the menus of authentic Michelin-starred restaurants. Only by doing this can you say you've savored all the dishes, wines, coffees and desserts Rome has to offer. The only problem you'll have is choosing exactly what to do!
One of the best ways to fully enjoy the Italian capital is to participate in a gastronomic tour. This way you can discover the city from a new, sensory point of view and get in touch with its traditions.
For this reason you cannot miss a Rome food tour Trastevere!
Trastevere, a village in the heart of Rome
Every corner of Rome has its treasure. Each glimpse has its elements of poetry. A lifetime would not be enough to discover all the secrets of the ancient capital, but even if you have little time to spare do not be discouraged: the Eternal City never disappoints.
Among the most beautiful and quaint neighborhoods in Rome is Trastevere. Literally translating as "across the River Tiber" (trans Tiberim, in Latin), this bustling settlement was once home to ancient Rome's working classes. Today Trastevere is known for its bohemian side, animated by many artists, authors, and lovers of the Roman night.
Although this is one of the beating hearts of the capital's nightlife, during the day it takes on a completely different feel. Treading the cobblestones, between silent alleys, stalls and old shops, the hustle and bustle of the city center will seem light years away.
Visiting Trastevere means immersing yourself in the atmosphere of a village in the heart of Rome. The population is varied and, depending on the hours, you can meet the neighborhood's matriarchs and patriarchs sitting within the entrance doors, in front of the stalls or in the squares, or young people, with a glass of beer in hand, sitting on the steps of a church or mulling around the fountains.
Traditional cuisine, street food and local wine tastings
Though steeped in history and awe-inspiring art, the Eternal City speaks through its gastronomy. Roman cuisine, in fact, recounts years of history and traditions, which is why you cannot be satisfied with eating in one of the many fast food restaurants that flock to the capital.
Lunch or dinner in an authentic restaurant is a moral obligation in Rome!
No visit to Trastevere would be complete , without combining the cultural part with the culinary. So here are some tips to delight your eyes and taste buds.
Typical Roman cuisine is characterized by simple dishes and popular ingredient. This doesn't mean that they are poor or bland, on the contrary! Typical Roman dishes are true triumphs of flavors.
You can't go around Trastevere without trying one of the most typical Roman specialties:
Fresh, homemade Roman pasta (Carbonara, Amatriciana, Gricia or Cacio e Pepe);
Street food like sliced pizza, pizza bianca with mortadella, supplì, fried cod (baccalà), fried courgette flower, and porchetta sandwiches;
Jewish-style artichokes, abbacchio alla scottadito, coda alla vaccinara, trippa alla romana;
Cold cuts (ostensibly cured; decisively dead) and cheeses accompanied by great Italian wines;
Homemade ice cream (gelato), and the classic maritozzo con panna.
Walks Inside Rome – Your private gastronomy tours
Walks Inside Rome is a travel and guided tours agency which has been operating in Rome since 1999. Our goal is to provide our clients with the highest quality tour guide services in art, history, food and fun across Italy's most spectacular destinations.
If you want to get to know and appreciate Roman cuisine, let yourself be guided by the experience of a tour operator and their culinary tours.
Our private Trastevere Food Tour introduces you to the vast variety of food and drink the Eternal City has to offer. You can chat with your local guide and learn all about Roman food culture and Italian culinary traditions.
We are open 7 days a week, contact us for any questions and for any further information. Fill out the form on our website, send us an email, call us or chat with us on WhatsApp.
We look forward to meeting you soon so we can start exploring Italy together!