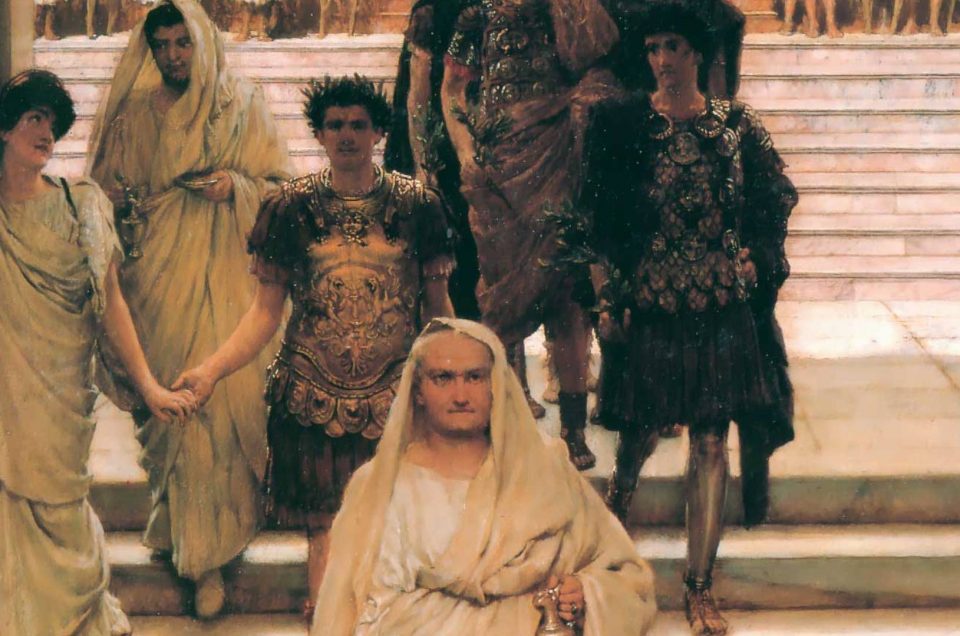 Many of our previous entries have focused on the dark sides of a series of Roman emperors, such as the scandalous sex lives of the Caesars and Caracalla's family destruction. So, we think it is time to change tact and take a look at an emperor so posthumously adored he must have been a benevolent and unfaulted leader, or so one would think…
---
Born in Rome on 30 December 39 AD, Titus Flavius Vespasianus was the son of emperor Vespasian, the final entry in the Year of the Four Emperors and commencer of the Flavian dynasty. Clearly, Titus had big shoes to fill, following in the footsteps of a leader who stabilized an incredibly rocky period of the Roman Empire.
And at first glance, Titus seems to have filled these shoes and more. Deemed "the delight and darling of the human race" by Suetonius in the Lives of the Twelve Caesars, Titus' character and eventual reign when taken at face value are evidently without fault. But does this remain the case when digging a little deeper? How was this "delight and darling" received during his accession to power? And what are the reasons for this glowing review?
Titus' path to power
A path of greatness could be seen from afar in the case of Titus, who composed himself with "an equal mixture of majesty and grace" whilst still a child, according to Suetonius. Yet, it all could have ended much earlier than expected, with it being believed Titus had sampled the same poison that had effectively ended the life of Britannicus, with whom Titus had been brought up.
But perish Titus did not. And grow into an increasingly visible figure he did. Following strong showings in both Germany and Britain, Titus' military capacities were turned towards the First Roman-Jewish War. As is to be expected, the reputation of Titus splits dramatically depending on which account is being analyzed, with ancient Roman historians tending to inflate his heroics and Jewish contemporaries exacerbating his demonics. 
In fact, two direct quotes centering around the sacking of Jerusalem, from the Lives of the Twelve Caesars and the Babylonian Talmud respectively, describe Titus' reputation in polar opposite manners:
"So great was the joy and attachment of the soldiers, that, in their congratulations, they unanimously saluted him by the title of Emperor."
"This was the wicked Titus who blasphemed and insulted Heaven. What did he do? He took a harlot by the hand and entered the Holy of Holies and spread out a scroll of the Law and committed a sin on it." 
Violence and glutton turn to benevolence and generosity
Regardless of whose account we use, violence is unavoidable in the story of Titus, as is the case with much of ancient Rome. However, the actions of this "wicked" Titus in securing his own protection from potential enemies, both internal and external, left Rome fearing a repeat of the tyranny seen just a decade previously under the reign of Nero.
"For the present he so much incurred the hatred of the people, that scarcely ever any one came to the empire with a more odious character, or more universally disliked." Suetonius.
In fact, with traits that supposedly gave way to "habits of luxury", and bribes often not out of the question, violence was not the only characteristic leading one to believe Titus to be a far cry from "the delight and darling of the human race".
Whilst these concerns continued to grow, however, Titus was beginning to hold himself in a different light. One signal of his budding leadership took place in the form of a disapproved relationship that had commenced during the Jewish Wars. Berenice, a member of the Herodian dynasty of Judaea, had become so close that she lived with Titus in his palace as his promised wife. However, with the communion gaining negative attention and denunciation, Titus sent his partner away in 75 AD, perhaps proving he was due to become an emperor not for himself but for others.
This favoring of virtues over vices came into light upon Titus' succession to power, following the death of Vespasian in 79 AD. In halting the now commonplace treason charges, which had been used by previous emperors to thin their political opposition, Titus put the Senate at ease and prevented a number of obvious abuses of power. Yet, this was not all the new emperor would do during his reign.
Reactions to catastrophes
Views on the tenure of Titus are often defined by the key moments of his reign. In an incredibly unfortunate turn of events, the Roman Empire faced two catastrophic events back to back, the first being the eruption of Vesuvius in 79 AD and the second an engulfing fire in Rome in 80 AD.
In just two years, Titus was forced to handle the fallout of these two great tragedies. Yet, whilst to many emperors this would have been too great a challenge, Titus was able to twist the events in his favor. Showing great levels of "benevolence", Suetonius even goes as far as to state that the concern and action displayed by the emperor for his citizens were of the levels expected from a father for his people.
Paying for the damage in Campania and the estates in Rome out of his own pocket did a great deal to further endeavor Titus to his people. His levels of generosity were supposedly so high that one day when Titus had not provided any favors to his people, he stated: "My friends, I have lost a day".
And whilst undoing the works of a number of his tyrannical predecessors, Titus was also able to capitalize on constructions put in place before his time. In 80 AD, the greatest distraction of all was complete; the Colosseum. Putting on a show was a top priority for Titus, who proceeded to open the amphitheater with an inaugural set of games that lasted 100 days, and included no less than 5,000 animals from across the empire, as well as gladiatorial battles, executions, and reenactments.
Perhaps, then, it was this swing from despair to ecstasy brought about by the outstretched and ever-giving hand of Titus, that has resulted in the long-lasting views of fondness first noted by those who were placed happily on the receiving end.
Deified due to an untimely death
Just a little over two years into his time as emperor, Titus fell ill with a fever and succumbed to an early death. 
Even debate over the emperor's cause of death is proof in a disparity of opinions, with Roman contemporaries and historians mostly placing blame on natural causes, whilst much Jewish tradition claims an ulterior force at play. They state his passing to be the result of either an insect or gnat entering his brain to cause damage over a number of years in an act of God in revenge for the toppling of the second Temple Mount.
Regardless, it is not his cause of death, but its timing, that is of utmost intrigue. Whilst evidently unfortunate for the now deified Titus, for his legend of benevolence an untimely death was crucial. As Dio Cassius claimed just over a century after Titus' death:
"His satisfactory record may also have been due to the fact that he survived his accession but a very short time, for he was thus given no opportunity for wrongdoing… [Titus] ruled with mildness and died at the height of his glory, whereas, if he had lived a long time, it might have been shown that he owes his present fame more to good fortune than to merit."
Conclusions to be taken
From unfavored beginnings to an untimely end, opinions on emperor Titus have been impacted not only by his own actions but his reactions to monumental moments during his lifetime. 
Yet, whilst handouts, entertainment, and general care, specifically from 79 – 81 AD, resulted in the sentiment that his death was "more to the loss of mankind than himself" in many Roman eyes, Titus was often not held in the same regard by his contemporaries.
Supposedly only praised by the Senate after his passing, and evidently despised by his enemies, with both sets casting memories back to a gifted, yet dangerous, young adult, Suetonius' tagline of "the delight and darling of the human race" may in fact be a case of beauty in the eye of the beholder.