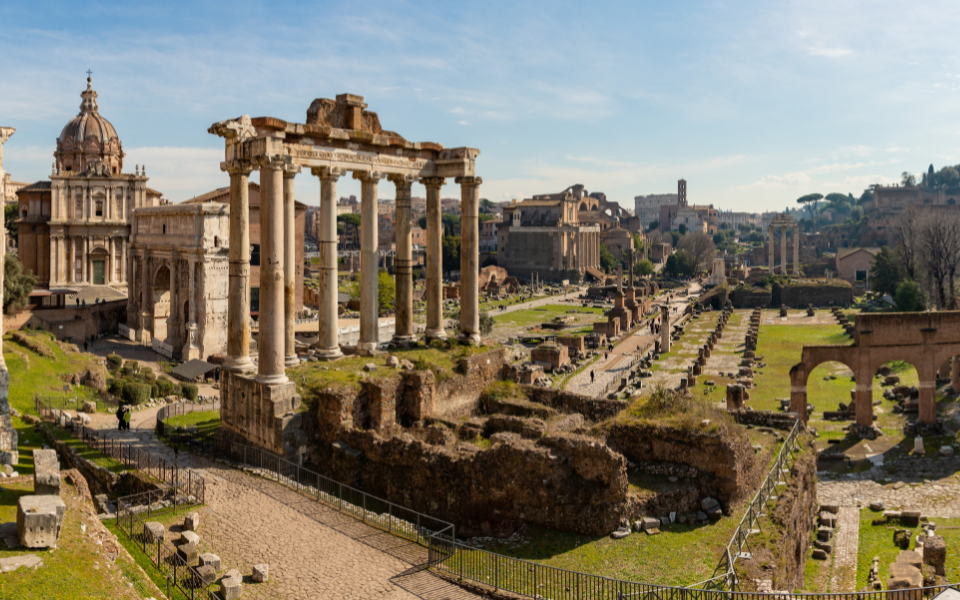 Italy with its vast historical landscape is home to numerous ancient Roman sites. These remnants are a testament to the far-reaching influence of the Roman Empire, which spanned over both continents and centuries.
While evidence of this remarkable civilization can be found in various regions it is in Italy – the heart of the empire – where some of the most iconic and well-preserved sites are harbored. Among these treasures the capital city of Rome stands out. It was the epicenter of the Roman world, adorned with awe-inspiring architecture, forums, temples, and arenas. Many of these famous places in ancient Rome have withstood the test of time offering a remarkable glimpse into the past.
In the upcoming sections we will delve into what makes ancient Rome truly exceptional by exploring some of the famous places in ancient Rome.
These are the iconic sites that beckon travelers and history enthusiasts alike, urging them to embark on a journey of discovery. These are the destinations that one should aspire to visit at least once in a lifetime. As we help you uncover the stories, histories and significance behind each of these renowned sites you will gain a deeper appreciation for the treasures that Rome has preserved throughout the ages.
So prepare to embark on a virtual pilgrimage through time as we guide you through the must-visit landmarks of ancient Rome, each holding a piece of the city's extraordinary past.
Top 3 historical sites in Rome, Italy
The ancient Roman landmarks are not mere historical relics but integral components of the city's urban fabric. Each of these sites whether it be the Colosseum, Roman Forum, or the Pantheon bear the weight of a millennia of history, and together they embody an unrivaled artistic and cultural heritage. Born from the humble origins of a small settlement in 753 BC, the Roman Empire expanded to become a colossal superpower reaching its zenith in the 2nd century AD under the rule of emperors like Augustus and Trajan. However, it eventually succumbed to internal strife and external pressures leading to its gradual decline and eventual fall in the 5th century AD. Throughout this rise and fall these landmarks have stood as witnesses to the empire's glory and its eventual transformation into the eternal city we know today, offering a tangible link to Rome's enduring legacy.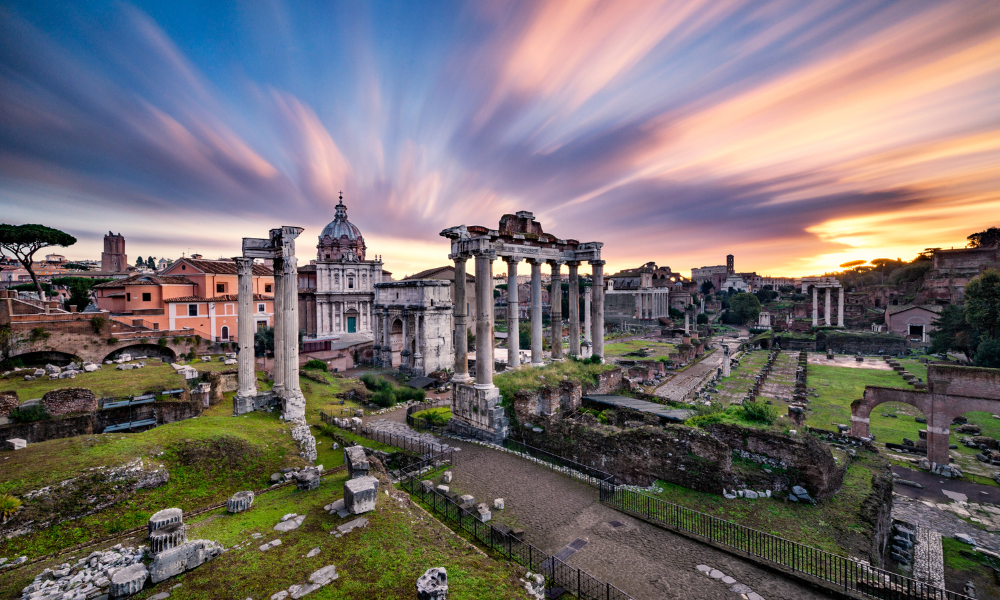 Colosseum
Among the plethora of Italy monuments, Rome stands as a city that boasts an impressive array of historical treasures. Perhaps the most iconic of them all is the Colosseum, a majestic marvel that continues to leave visitors in awe with its sheer grandeur and impeccable state of preservation.
This enormous amphitheater is accessible through one of our unforgettable tours and stands as an enduring symbol of ancient Rome's architectural prowess and entertainment extravagance. Its immense scale and intricate design are a testament to the engineering genius of the time and its history, filled with gladiatorial contests and epic spectacles, is as captivating as the structure itself. The Colosseum's monumental presence in the heart of Rome makes it an indispensable stop for anyone seeking to immerse themselves in the city's rich history and culture.
Pantheon
The Pantheon, one of the most famous buildings in ancient Rome, is a true marvel nestled in the heart of the city. Accessible through one of our carefully guided tours it seamlessly integrates into the modern urban architecture surrounding it making it a timeless masterpiece.
This architectural gem – originally built by Emperor Augustus's son il law Agrippa and later reconstructed by Emperor Hadrian in the 2nd century AD –  boasts a stunning dome that was a revolutionary feat of engineering for its time. What sets the Pantheon apart is its enduring legacy as a place of worship, transforming from a pagan temple to a Christian church, and its remarkable state of preservation, with its iconic dome still standing as the world's largest unreinforced concrete dome. Its breathtaking interior illuminated by the oculus continues to captivate visitors, making the Pantheon an essential stop for those seeking a glimpse into ancient Rome's architectural genius and spiritual history.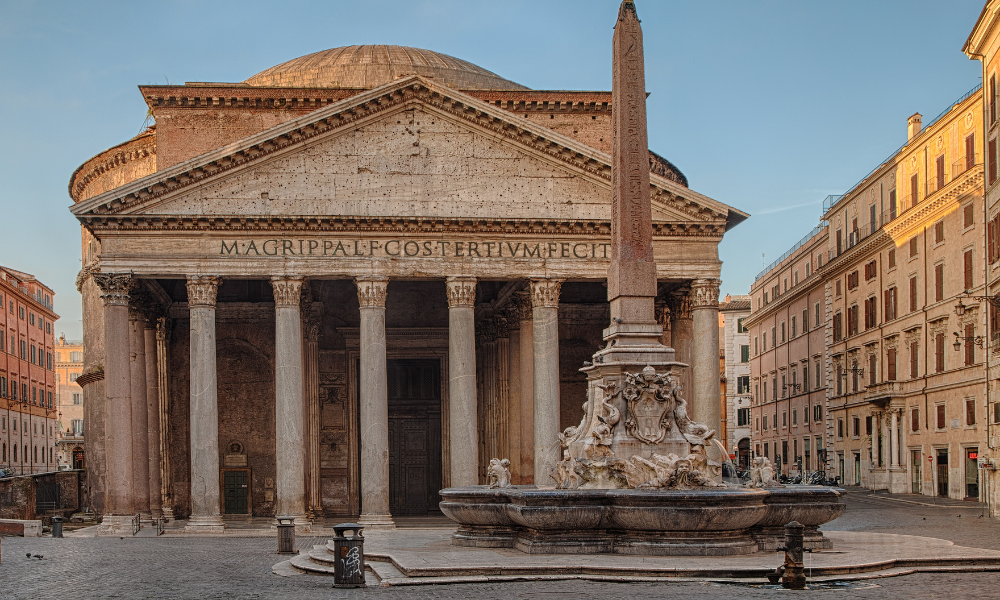 Roman Forum
For those in search of famous sites in ancient Rome the Roman Forum is an absolute must-see during your stay in the city. Do not miss the opportunity to explore it through our offered curated experience.
This historical treasure offers a captivating journey into the heart of ancient Roman life and politics. Once the bustling center of commerce, politics, and culture the Roman Forum is now a sprawling archaeological site that preserves the remnants of temples, government buildings, and monuments that were integral to the life of the empire. By strolling through its ancient pathways you'll be transported back in time, and the ruins will come alive with stories of emperors, senators, and citizens who once walked these very streets. It is an important destination for anyone eager to explore the rich history and vibrant past of ancient Rome.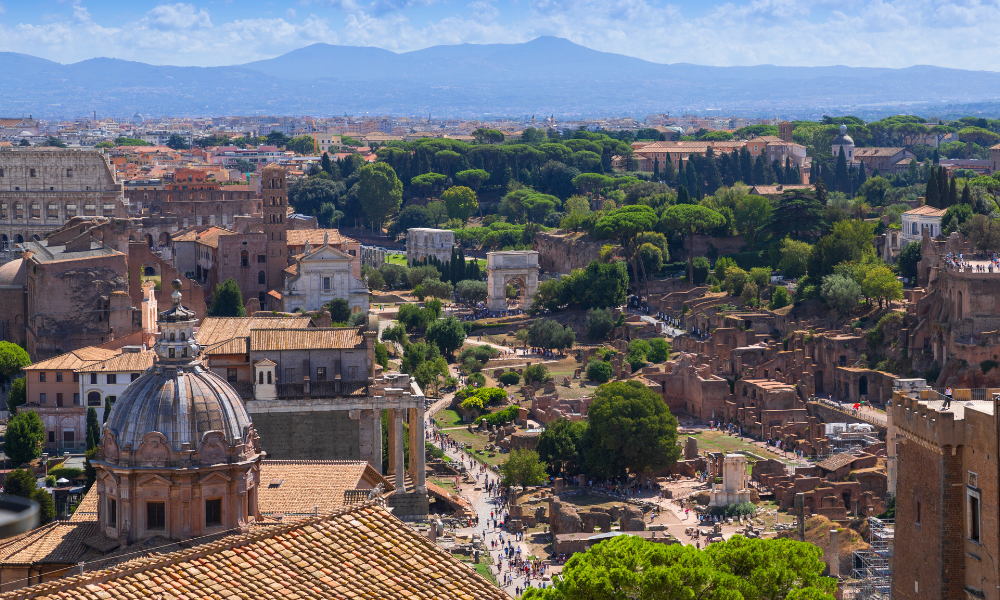 Other famous sites in Ancient Rome:
Certainly when we discuss ancient sites it is important to clarify that these three famous landmarks are not the sole attractions that were popular in ancient Rome. Ancient Rome was brimming with a multitude of remarkable sites each with its own unique historical and cultural significance.
While the Colosseum, Pantheon, and Roman Forum are undoubtedly iconic and continue to capture our imagination today, they are just a fraction of the wealth of historical and architectural treasures that existed in the ancient city. Throughout Rome and its vast empire, there were countless other temples, theaters, bathhouses, villas, and monuments that enriched the daily life and culture of the time. Exploring these lesser-known gems can provide a more comprehensive understanding of the grandeur and diversity of ancient Rome's heritage.
Circus Maximus:
The Circus Maximus, often referred to as the most important place in ancient Rome, is steeped in history and mythology as it is said to have been commissioned by the legendary first king of Rome, Romulus. This vast, ancient stadium was a centerpiece of Roman entertainment, hosting chariot races, athletic competitions and various public events for centuries.
Situated in the valley between the Aventine and Palatine hills the Circus Maximus offered a sprawling arena that could accommodate tens of thousands of spectators making it one of the largest venues of its kind in the ancient world. Its long, rectangular shape and distinctive obelisks at both ends added to its grandeur. To truly appreciate the historical significance and scale of the Circus Maximus it is best to visit it during a calm morning or a late afternoon. These quieter times allow you to envision the ancient chariots thundering along the tracks and the enthusiastic crowds filling the stands. While much of the original structure has been lost to time the site itself still carries a powerful sense of the past, providing a unique glimpse into the entertainment and communal life of ancient Roman time.
Palatine Hill:
The Palatine Hill, a famous landmark in ancient Rome, holds immense historical significance central to the empire's history. You can explore this ancient site with our tour to experience a captivating blend of history and archaeology. Visiting the Palatine Hill is most enjoyable during the morning or late afternoon when the weather is pleasant, and sunlight illuminates the ancient ruins. Allocate 1 to 2 hours for a fulfilling visit or more, if you are a history enthusiast or deeply interested in archaeology. This site offers a fascinating journey through time, shedding light on the empire's history and the lives of its emperors and elites.
Catacombs:
The Catacombs, reflecting the complex relationship between Christianity and the Roman Empire, are a network of underground burial sites scattered across Rome. Visit the catacombs with us to get a fascinating glimpse into early Christian history and the challenges faced by the faith during Roman times.
The Catacombs are of great interest due to their historical and religious significance. These subterranean chambers served as burial places for early Christians, showcasing intricate frescoes and carvings that depict the art and symbols of the era. The most renowned catacombs include San Callisto, San Sebastiano, and Domitilla, each offering a unique perspective on early Christian life.
Baths of Caracalla:
The Baths of Caracalla are a significant site in ancient Rome and have a fascinating history that is worth knowing.  Emperor Caracalla, who ruled from 211 to 217 AD, commissioned these baths, which were completed around 216 AD. These baths were massive, covering about 25 acres and offering a wide range of amenities such as baths, pools, gyms, gardens, and libraries. They reflect the opulence of Roman society at the time and are a testament to the Romans' passion for communal leisure. Today, their impressive ruins provide a glimpse into ancient Rome's architectural and luxurious lifestyle.
Via Appia:
The Via Appia, also known as the Appian Way, is a captivating ancient Roman road dating back to 312 BC, connecting Rome to the south of Italy. It offers a unique blend of history and physical activity making it an intriguing destination. You can rent a bike to explore its well preserved sections, passing scenic countryside and historic sites like the Tomb of Cecilia Metella and the Catacombs of San Callisto. For a memorable visit  plan a half-day excursion, wear comfortable clothing, and bring water and sunscreen, especially in warm weather. It is a must-visit for history enthusiasts and active travelers.
Visiting Ancient Rome:
Why settle for just one dose of ancient Rome's magic when you can embark on a journey through time with Walks Inside Rome's captivating tours?
Picture yourself strolling the iconic landmarks of ancient Rome, from the awe-inspiring Colosseum to the grandeur of the Roman Forum and beyond.
But wait, there is more!
You don't have to limit yourself to just one tour. With the option to organize multiple tours over several days you can truly immerse yourself in the rich history and culture of this remarkable city. Or, for those seeking a whirlwind adventure, take advantage of our offers that allow you to visit multiple famous Roman places in a single day, like a time-traveler on a mission to explore the past.
Even with limited days at your disposal you can unlock the secrets of ancient Rome and create memories that will transport you back to a bygone era. So why wait? Join us for an unforgettable journey through the heart of history, and let us make your Roman adventure a time-traveling delight!