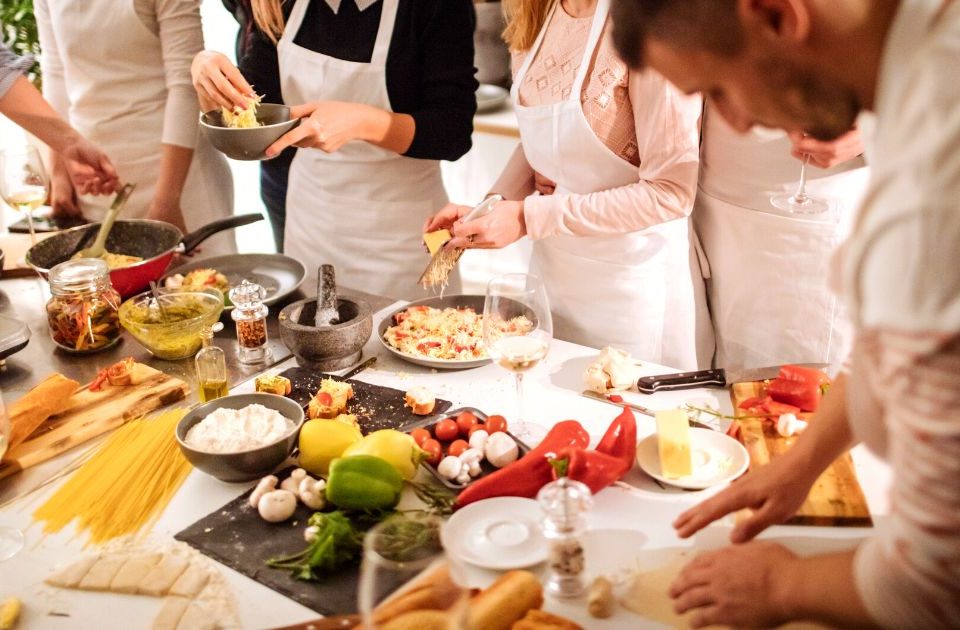 Enjoy an authentic experience amongst traditional ingredients and ancient Italian culinary recipes
Are you a lover of cooking? Do you like to taste new dishes? Do you like getting your hands dirty and would you like to try making dough from scratch for tasty tortellini, tagliatelle, lasagna, or pizza? Or maybe give life to sweets, biscuits, Tiramisù, and also gelato? Undoubtedly, Italian cuisine is among the best in the world, rich and simultaneously simple. What better place than the Eternal City to spend a few days off? And what's better than exploring it by learning how to cook – and why not, to eat – like locals? At Walks Inside Rome we offer a suitable Italian cooking class in Rome for you!
Would you like to know more about the Italian culinary tradition?
Roma caput Mundi, the Latin refers to the greatness of the Roman Empire, at that time the crossroads of all world political, economic, and cultural activity. Today, this expression still represents the magnificence of the Italian capital among its ancient ruins and the vestiges of a past civilization that is indelible in the identity of the city itself; among its ancient art, Renaissance masterpieces, modern architecture, but also among its alleys, breathtaking views, the voice of its people, and its perfumes and flavors.
Yes! Because Rome tastes good… in every corner of the city one is pervaded by the smells coming from the houses of the Romans or the restaurants – the renowned "trattorias". Visiting it is not only about exploring ancient architecture or diving into the immortal art of the great masters. It's also about taking a closer look into the art of eating.
To get an idea of ​​authentic Italian culture, learning to cook with the locals and mastering ingredients, techniques, and the secrets of the gastronomic tradition is the best way. After all, eating is one of the most enjoyable things in life. So, what could be a better souvenir than learning the perfect recipes and rituals of an appreciated cuisine like the Italian one to impress family and friends once back home? Get ready to get your hands dirty in an Italian kitchen led by experienced professional chefs… and then treat yourself to an indulgent meal of your culinary creations, while enjoying a good glass of wine, in good company.
Cooking classes in Rome
Italians do it better... this is what pop star Madonna declared overbearingly many years ago wearing a t-shirt with this phrase printed on it. But what is it that they do best? Eat, thanks to a very varied cuisine, full of unique pasta dishes accompanied by vegetables, legumes, all ingredients that take us back to the roots of local traditions; but at the same time also of innumerable varieties of meat, fish, cheese and cured meats.
If local food is what gets you fired up, why not learn how to make a classic Italian meal? Sign up for one of our cooking classes in Rome. Before starting to cook spend a typical morning in the shoes of an ordinary Roman shopper exploring a traditional local market to buy fresh ingredients. Italian markets truly are a feast for the senses with the bright array of colors, the rich earthy smells, and the fantastic variety of fruits and vegetables on offer. Then join our family-friendly English-speaking chef for an unforgettable cooking class. They will guide you step-by-step through making fabulous Italian dishes: hand-made fresh pasta, risottos, gnocchi, and so on. During the class, you will learn all the secrets of these classic dishes and will be able to dispel all your doubts with the local expert in Italian gastronomy.
Test your cooking skills with Walks Inside Rome
If you want to know and appreciate Roman cuisine let yourself be guided by the experience and passion of a tour operator and his cooking tours.
Walks Inside Rome is an agency of travel services and guided tours located in Rome since 1999 that provides its guests with the highest quality tour guide services in art, history, food, and fun in Rome and Italy's most spectacular destinations. Our cooking lessons are fun and exciting experiences held by professional chefs in sleek and stylish apartments in the center of Rome:
a school is located in a 17th-century palazzo around the corner from Piazza Navona;
the other school is near the Pantheon;
another one is on the Pope's estate, located in the surrounding Roman hills in the stunning medieval town of Castel Gandolfo.
Contact Us!
We provide a variety of exciting, engaging, and educational tours for first-time visitors and discerning travelers across the Eternal City to experience another side of it. We are open 7 days a week, contact us for any questions and any further information about our services. You can call us, fill out the form on our website, send us an email, or chat with us on WhatsApp. We look forward to meeting you soon so we can start exploring Rome together!