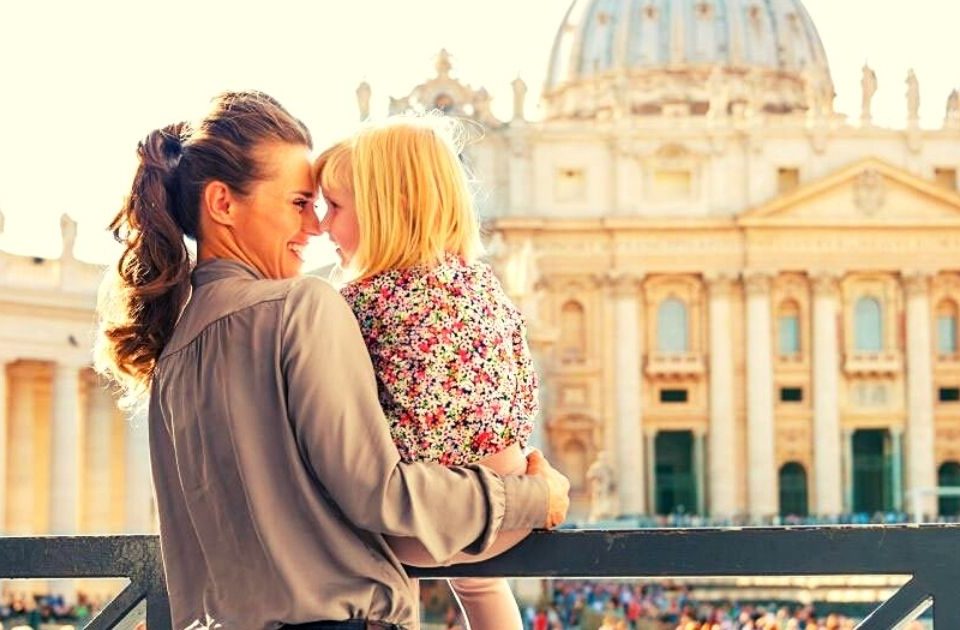 Take a fun Vatican visit designed specifically for children and teenagers
If you want to spend a day in Rome with your family – including the little ones – whilst at the same time enjoying its architectural riches, a perfect idea is to take advantage of a fun guided tour to discover the history and secrets of the Vatican. Walks Inside Rome takes you to visit the ancient papal palaces, the apartments of the Renaissance popes decorated by Raphael, the marvelous Michelangelo's frescoes, the tapestries, the collection of ancient Vatican sculptures, the galleries and the paintings by Giotto, Leonardo da Vinci and Caravaggio through an artistic, educational and interactive path that will allow even your children to discover and admire the magnificence of St. Peter's Basilica, Sistine Chapel and the Vatican Museums in a whole new way.
Discover all the Vatican's treasures while your kids seek out their own
The Vatican is a must-see in Rome! It is indisputable but what is more questionable is: should you visit it with your family? Do you think Vatican City is not suitable for children? Well, it's quite the opposite! Thanks to the knowledge, experience, and ability to interact with our seasoned family-friendly local guides, your stay in the Eternal City will certainly be unforgettable for you and your whole family.
There's no better way to introduce children to the western world's greatest collection of art than with a fun and knowledgeable guide who brings artworks to life through beguiling stories and gamified activities, a different way to teach them history and religion within the world's cradle of Christianity.
Discovering the masterpieces of Italian history
Introduce your family to the grandeur of the city of Rome and its artistic heritage through a Kids Vatican tour; where they will have the chance to encounter some of the greatest collections of paintings, sculptures, and archaeology of all time.
This tour will allow you to:
Go on a private treasure hunt for kids tour, the perfect way to introduce your children to a Vatican that engages and entertains, whilst enthralling them through its fascinating history and awe-inspiring art;
Visit the Sistine Chapel where you will learn how Michelangelo created this masterpiece in just four years. Our specialist guide will enrich your knowledge of western art while simultaneously making it a kids-friendly experience;
Visit the Vatican Museums, avoiding the long lines with skip-the-line tickets, and exploring both highlights and many hidden treasures;
Enjoy priority access to St. Peter's Basilica, with its sheer size making even adults feel small. There are also tons of treasures to discover inside this world-famous church and your guide will continue to provide fascinating and entertaining information and anecdotes for everyone.
Walks Inside Rome: Vatican tours perfect for kids and adults alike
For more than 20 years, Walks Inside Rome has provided immersive, authentic, and educational tours throughout Rome and many other Italian destinations.
Whether in a small group or private tour, join us and combine experiences with local, licensed guides offering expertise in art, history, archaeology, and food. You will receive bespoke attention and inside access to ask industry experts questions on the subjects that matter to you most. Your time in Rome will be transformed into something truly exceptional.
Contact Us!
Take a look at our website to see our full range of tours and experiences, either booking directly online or by contacting us via email. We can't wait to hear from you so we can customize your Roman experience and explore the Eternal City together!