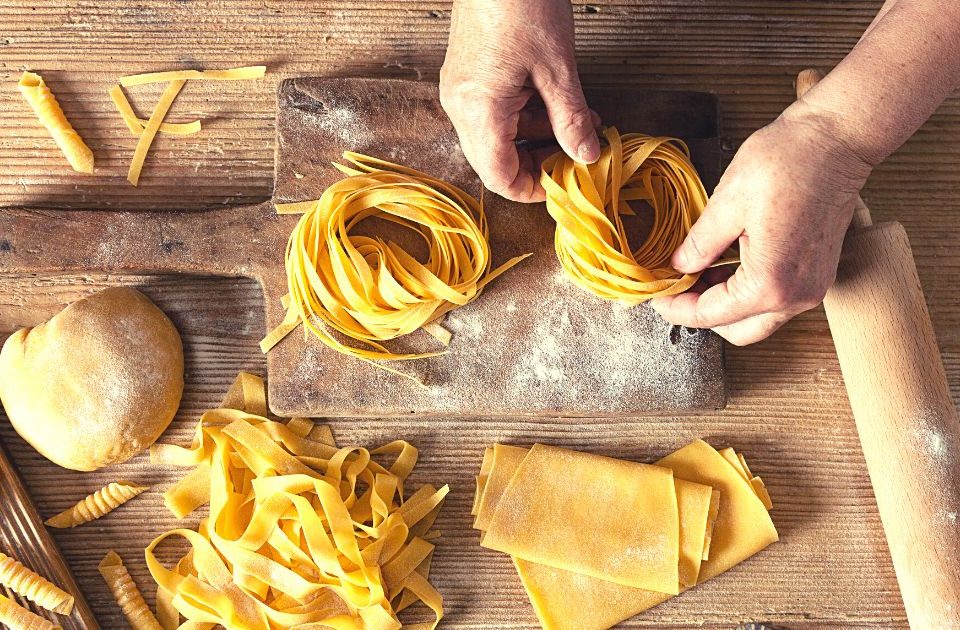 Immerse yourself in the creative Italian culinary tradition
Are you a travel lover? Do you like to explore the most beautiful and particular places in the world? But, above all, are you attracted by the good traditional food that every country can offer? When it comes to gastronomy the Bel Paese is certainly one of the favored destinations, its typical cuisine is renowned all over the world. So, once in Italy, it would be great by taking a cooking class and mastering the art of the best Italian dishes. If you want to enjoy your stay unusually and uniquely, and, when you return home, you want to reproduce the recipes learned and amaze your friends, and prolong the taste of the holidays, learn to make pasta in Rome with a local while chatting about Italian culinary tradition, and Roman food culture, sharing a friendly moment around the stove!
The best way to travel and feel like a local? Attending cooking classes
For Italians, cooking is part of their culture as much as history, art, and architecture are. For the visitor who wants to feel a truly engaging local lifestyle and enjoy excellent Italian traditional recipes, a good cooking class in Rome is what it takes. Moreover, at the end of the hands-on class, it will be enough to sit around a table with new friends and taste everyone's creations accompanied by typical Italian wines.
Taking cooking lessons in Rome is the best way to discover the secrets of Italian cuisine, the best way to have fun, but also to learn more about this wonderful city and its inhabitants. We provide customized cooking classes held by local cooking experts and professional chefs in the most spectacular and exclusive places in the city. A unique experience in the world that is worth doing at least once in a lifetime.
Learn authentic Italian pasta from local cooking experts and professional chefs
The typical cuisine of Rome, the so-called "Cucina Romana", counts some types of legendary recipes among its repertoire. However, one thing that can never be missing from the Roman table is pasta, even if it nowadays appears on the tables of many other countries. Carbonara is, without doubt, the most famous one, but in fact, the Eternal City has gifted the world another three of the most delicious pasta dishes: Cacio e Pepe, Amatriciana, and Gricia. They are hearty dishes that have in common a Roman typical ingredient, "guanciale" (pork cheek), that is produced abundantly in the Roman countryside, and they are also made unique by the dusting of the mighty "Pecorino Romano".
Simple though they seem, these dishes are hard to cook. Local chefs are measured in their ability to do them well. Each of these kinds of pasta has garnered a cult status – they are bold, delicious, and characterful, reflecting the very nature of Roman culture. Now you can see how Italian chefs prepare their pasta from scratch and how you can reproduce it, by learning all about the different ingredients, techniques, and history of the delicious Roman pasta dishes, and then amaze your family and friends when you get home.
Come and join us in one of our two prestigious cooking schools for an unforgettable culinary experience that immerses you in Italian mood and culture:
the first cooking school is in an elegant 17th-century palace behind Piazza Navona;
the second cooking school is in our sleek new cooking school a stone's throw from the Pantheon;
another unique cooking experience is on the Pope's estate, located in the surrounding Roman hills in the stunning medieval town of Castel Gandolfo.
That is the ideal experience for foodies and lovers of Italian food, wine, and culture.
Making traditional Italian pasta with Walks Inside Rome
Walks Inside Rome is a travel agency situated in the heart of the historic center of the Italian capital, which has been operating since 1999 to provide its guests with the highest quality tour guide services in art, history, archaeology, food, and wine, and fun in Rome and across Italy most spectacular destinations.
Our guided tours can be perfectly combined and customized to meet your needs and interests. Our team of knowledgeable and kid-friendly English-speaking guides and storytellers will guarantee you the best experiences.
We are open 7 days a week. If you want to get to know and appreciate authentic Roman cuisine come to make pasta with a local. For more information about our services, contact us by filling out the form on our website, by sending us an email, by phone, or via chat on WhatsApp. We look forward to meeting you soon.