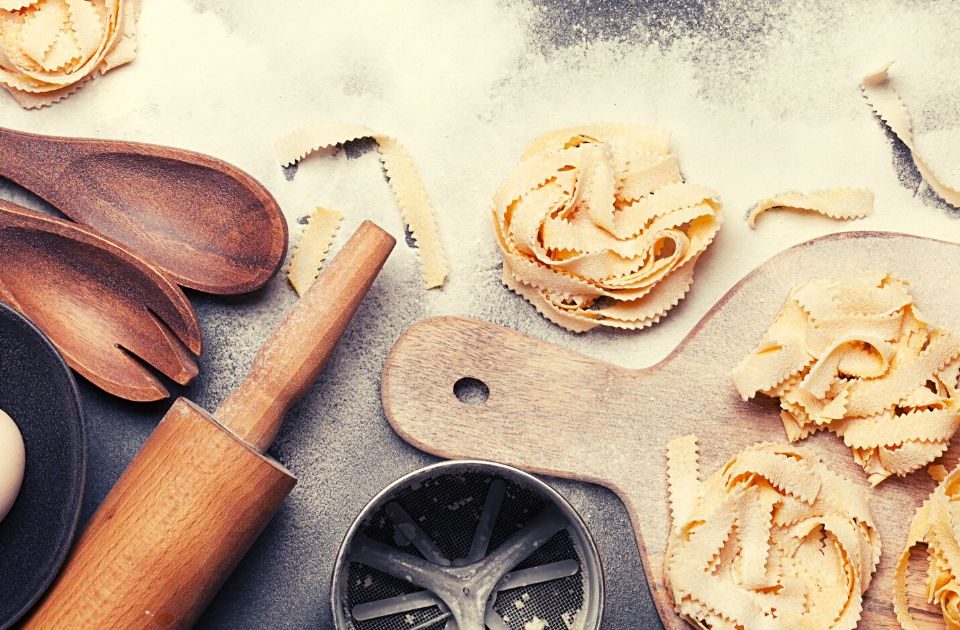 Take a cooking class in Rome and master the art of the most world-renowned Italian dish
Pasta is globally adored, yet this dish above all evokes the flavors and aromas of the Bel Paese. Accompanied by the most delicious sauces typical of all Italy's regions, pasta is the first dish par excellence. Whilst packaged pasta is what we are mostly used to, its fresh and handmade alternative is, of course, even more appetizing! But the preparation of delicious fresh Italian pasta from A to Z cannot be improvised. Mastering the recipes and machines needed to make pasta requires regular practice. A pasta-making class can be your key to unlocking the skill: qualified teachers and cooking professionals will teach you how to prepare your fresh pasta and how to shape it to form its plethora of different types such as lasagna, tagliatelle, or ravioli.
Learn to cook like a native Italian: mastery comes with practice
Cooking classes are an experience to be lived at least once in a lifetime. Walks Inside Rome organizes pasta courses for visitors from all over the world, beginners or more experienced. Delight your palate and savor typical Roman cuisine and learn all about the different ingredients, techniques, and history of delicious Roman dishes and impress your family and friends when you come back home with Italian perfect recipes.
Are you enjoying the Roman holidays? Spend a fun-filled day in the Eternal City by cooking up something special in a beautiful historic location and discover your inner chef with our pasta-making class.
But what would pasta be without the accompanying sauces? The sauces give softness and flavor to the pasta and prevent the dish from drying out in the mouth. The creation and preparation of basic sauces are therefore part of the program of every good training course on fresh pasta. Carbonara, Bolognese, and Pesto-based sauces will no longer hold their secrets from you with a training course on fresh pasta.
Pasta-making class: Eat like a Roman and feel like a Roman
To prepare, cook and master a product in different recipes, it is important to know it. To perfect fresh pasta, you need to know it: you will be able to learn about the history of pasta and differentiate the different types of pasta. Since pasta is a leading product of gastronomy, you cannot rush to prepare it without knowing the basics of Italian cuisine. Bring together fresh, seasonal ingredients from a local farmers' market and get to work… indulge at the end of the class by dining on what you've made accompanied by a carefully chosen selection of wines.
Our cooking lessons are fun and exciting experiences held by English-speaking professional chefs. Our two main schools are situated in the heart of the historic center:
a school is located in a 17th-century palazzo around the corner from Piazza Navona;
the other school is a stone's throw from the Pantheon;
another one is on the pope's estate, located in the surrounding Roman hills in the stunning medieval town of Castel Gandolfo.
Pasta-making class with Walks Inside Rome
Walks Inside Rome is a family-run company of travel services and guided tours since 1999. We are a specialized tour operator to guarantee you the best private tours or small-group tours in Rome and Italy's most spectacular destinations.
Our team is formed of knowledgeable and family-friendly licensed guides, including art historians, archaeologists, and food and wine lovers to provide our first-time visitors and discerning travelers with the highest quality tour guide services in art, history, food, and fun.
Contact Us!
Open 7 days a week, we can help you plan and organize every aspect of your trip to Rome. Visit our locations, and experience your cooking classes in Rome. Contact us for any questions, and any further information about our services. You can fill out the form on our website, send us an email, call us or chat with us on WhatsApp.
We look forward to meeting you soon so we can start exploring Rome together!