Ever tried your hand at making traditional Italian pizza? There's no better way to impress friends and family at those dinner parties back home than by rustling up something a Neapolitan pizzaiolo would be proud of. So join Walks Inside Rome for a pizza cooking class and we'll train you up in everything you need to know to make your own Roman-style pizza from scratch!
Where your pizza cooking class takes place
Walks Inside Rome runs two sleek and stylish cooking classes in the centre of the Eternal City.
Our first is situated in a stunningly renovated 17th-century palazzo just around the corner from Piazza Navona and across the road from the Italian Senate House. 
Our second is located within a brand new terraced school a stone's throw from the Pantheon. We put the finishing touches to this school just before the pandemic struck, so when you visit Rome, you'll be the first to grace its doors and get creative in its kitchen!
As many Italians will tell you, pizza was born in Naples. They make pizza in a very particular way- there is even a registered disciplinary in Neapolitan Pizza Making. They use no fat in the dough and add lots of water to make it wet and sticky. But Romans pride themselves on their own kind of pizza too – one that is thinner and crispy than its southern counterpart. The rest of this post talks you through how we'll teach you to make this in your pizza cooking class. Really, it's the yeast we can do 😉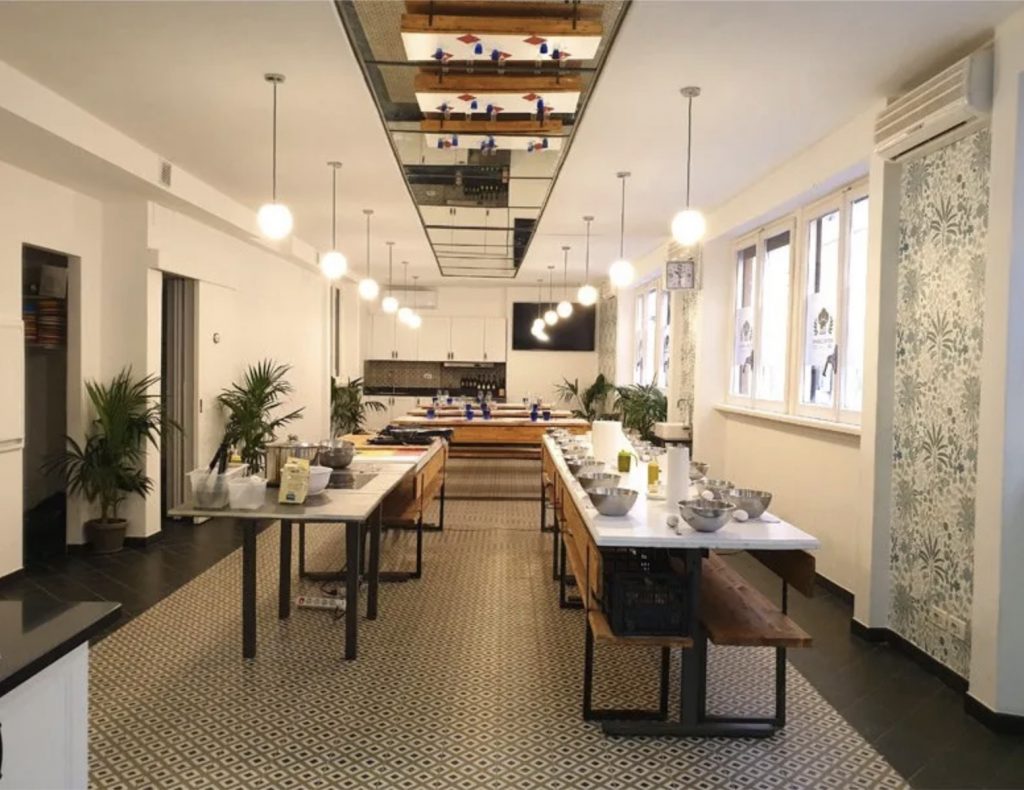 What to expect from your pizza cooking class
Stepping through the door, you'll be greeted with a drinks and antipasti reception. We want you to feel at home here, and completely chilled out before we start turning up the heat in this hands-on class.
With the help of your English-speaking pizzaiolo (Italian for 'pizza guru!'), you'll discover all the secrets to kneading the perfect pizza dough, as you learn how to make traditional Italian pizza.
Starting with excellent pizza dough will set you on a course to produce a pizza that would bring a tear to the eye of any patriotic Italian.
Having rolled out the dough, it's time to choose your toppings. Walks Inside Rome sources only the finest, freshest ingredients for you to adorn and decorate your pizzas. Our variety of toppings varies depending on the season, so you can create an authentic pizza that reflects the current season.
Whether you're seeking a salty selection of salami, hungering for a handful of earthy mushrooms, or even some fruity figs and cured prosciutto, we've got it all. After adding your toppings, pop your pizza in the oven and wait a few mouthwatering minutes to taste the satisfyingly fresh results of your hard work.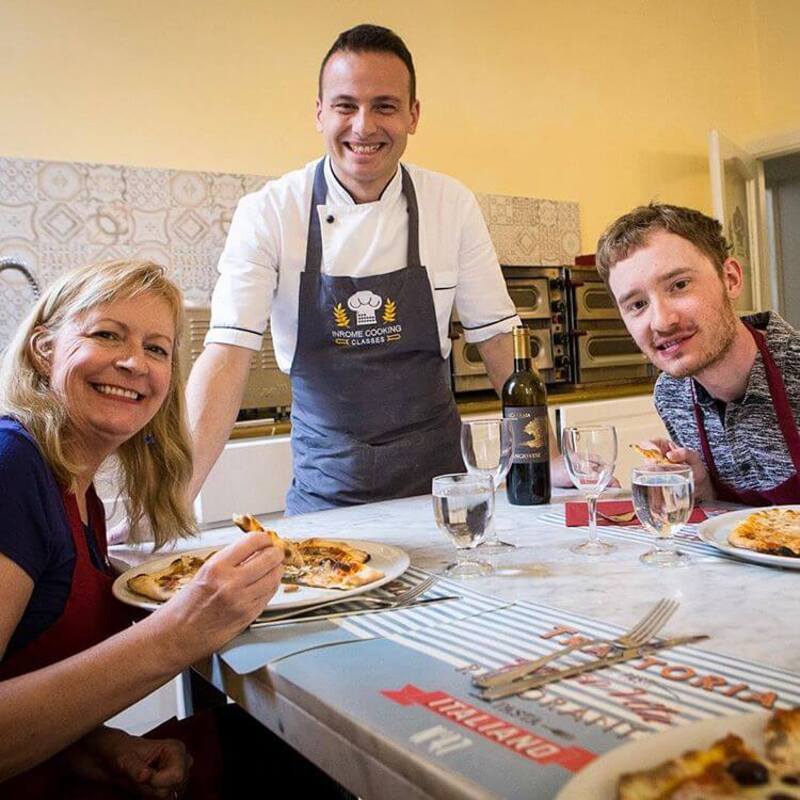 What better way to finish your private pizza cooking class than by sitting back and dining on your culinary creations? Gather around the Italian tavola (dining table) and gorge yourselves into hibernation in the heart of the Eternal City. Buon appetito!
Add something special to your private pizza class:
Pizza and Gelato class: Passionate about pizza? Joyous at the thought of gelato? Then don't miss this once-in-a-lifetime experience. Perfect for kids and adults alike, beginners and veterans, this private class is designed for anyone with a passion for delicious food, having fun, and learning something new.
Pizza and Roman Antipasti: Here in Italy, every meal starts with some 'antipasti.' This can be as simple as bruschetta drizzled with extra-virgin olive oil, fresh basil and ripe tomatoes or something more complex like fried zucchini flowers stuffed with mozzarella and anchovy or the Roman classic, supplì. This private hands-on cooking class will equip you with all you need to know to make a range of delicious, traditional antipasti. But what good is a starter without the main! After mastering the art of antipasti, you'll perfect the technique of making your own Roman-style pizza. All under the expert guidance of your English-speaking chef.
Pizza Masterclass: this one is for the pizza purists – the culinary punters who know what they want, and will stop at nothing to get it. A crusty, ashen base? Your wish is our command. Buffalo mozzarella melting into San Marzano tomato sauce? Bene, stai a parla' la nostra lingua. Stuffed crusts? Don't be ridiculous. This isn't Dominos; this is the real deal.
Come cook with us!
Our pizza cooking class is just one of our many cooking classes in Rome, all of which teach the artisanal craft of cooking with a professional chef. 
Open 7 days a week, Walks Inside Rome is here to help you plan and organize every aspect of your trip to Rome: from deciding the best tour for you to booking and organizing your accommodation to arranging all your transport and transfers for the duration of your stay.
Contact us for any questions and for any further information about our services. You can fill out the form on our website, send us an email, call us or chat with us on WhatsApp.
We look forward to meeting you soon so we can explore Rome together!