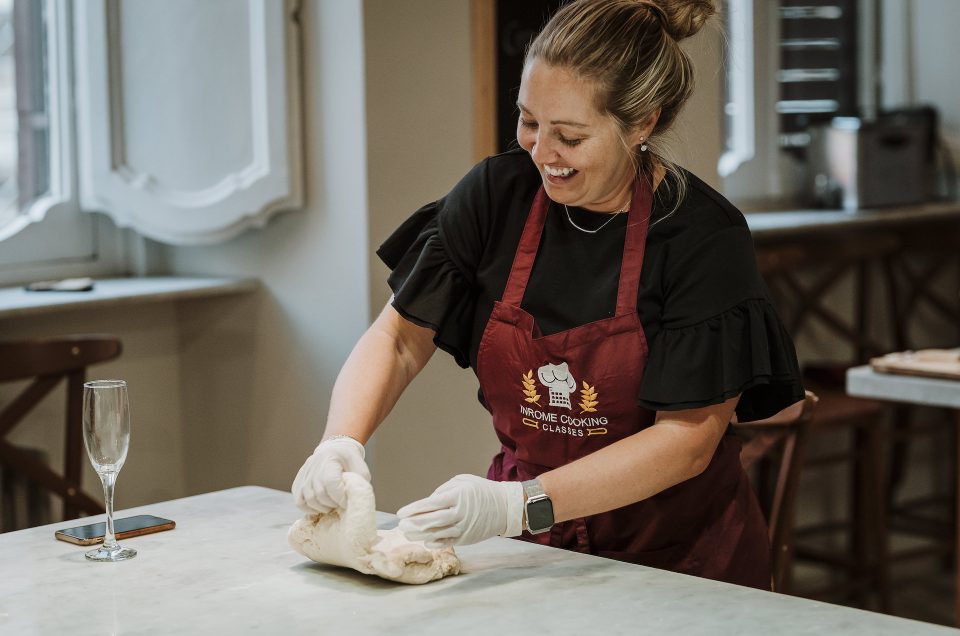 Cooking lessons in Rome have long been crucial in allowing visitors access behind their plates and into the famed Italian kitchen. Enjoying a generous serving of cacio e pepe in a traditional Roman trattoria is a wonderful experience of perfect simplicity, but are you not intrigued to discover more about these delightful dishes?
Of course, eating out is an Italian social custom as much as it is in many other countries around the world. Local osterias are frequented throughout the day whilst enotecas pick up steam in the evenings, accompanying their incredible selections of wines with aperitives and snacks.
However, it is in the family kitchen that the magic truly happens. Recipes passed down through generations are carefully crafted as if awaiting a Michelin inspection, each step a pivotal moment in the creation of a culinary masterpiece. These thoughtfully prepared dishes are then savored in the warmth of full-flowing family conversations and connections at an individual level.
It is these specifics and unique aspects that are waiting to be uncovered during your cooking lessons in Rome. But what will you actually be cooking?
Different dishes from across Italy
When in Rome, it is important to have some understanding of Italy's regional diversity. One shouldn't, for example, order a pizza and automatically expect to receive a round Neapolitan-style base with the Tricolore composed of a tomato base sat underneath dispersed mozzarella and basil. 
Instead, in Rome, it is much more common to see large portions of pizza al taglio cut into rectangle portions and priced by weight.
So, before we delve into any Roman classics, here is a short list of some Italian favorites that have their heritage from all across the country:
Lasagna and tagliatelle al ragù

: Both of these much-loved pasta dishes use the rich ragù born in Emilia-Romagna.

Bistecca Fiorentina

: The clue is in the name for this one! A thick-cut Florentine T-bone steak that is, of course, from Florence.

Risotto

: Piedmont and Lombardy are laden with rice fields and thus here we find the origins of risotto, especially the sumptuously simple saffron

risotto alla milanese

.

Focaccia

: Italian bread can vary dramatically depending on the region, with perhaps the most famous variation hailing from Liguria. 

Arancini

: Whilst Rome has its supplì, Sicily has arancini filled with a greater variety of ingredients than their cousins from the capital.
What to make in your cooking lessons in Rome?
So, what can we expect to cook in the Eternal City? The most obvious answer is the four famous Roman pastas. Pasta alla gricia, cacio e pepe, carbonara, and amatriciana are a quartet of classics loved across the Bel Paese and beyond. By taking part in a Pasta Making and Tiramisù Class, one can discover the simplicity of each of these family favorites. But beware, whilst their lists of ingredients are incredibly short, the same cannot be said for the length of time needed to master these four dishes!
The class' accompanying dessert, creamily layered tiramisù, has caused debates regarding its origin (with Northeast Italy proving most likely). However, its recent addition to Italian cuisine has spread like wildfire, and is simply too delicious to be left out of our cooking classes in Rome!
→ Alternatively, try your hand at a Pizza Making and Gelato Class to understand the process behind two of Italy's most well-traveled mains and deserts!
Join a cooking class with Walks Inside Rome
Our cooking lessons in Rome help you realize an authentic side to the city's cuisine and culture by forging a connection to the people that live here.
For more than 20 years, Walks Inside Rome has been providing cooking classes and food tours across the Eternal City, giving an insight into what really makes the city tick. From biscotti masterclasses to secret wine bar tours, our culinary expertise covers every avenue that your tastebuds desire to explore.
Contact us via email or visit our website to see all of our tours and experiences. We can't wait to hear from you so we can organize your very own cooking lessons and Rome!