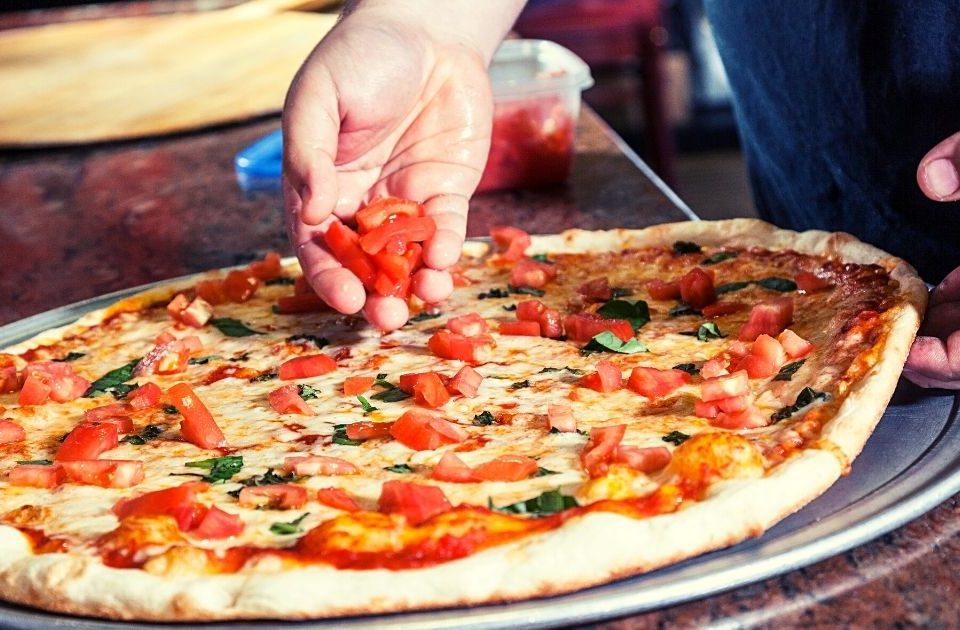 Find out how to become an expert pizza-maker
A cooking class in Rome is one of the best ways to discover the secrets of Italian cuisine but, above all, to get closer to the culture and customs of the Bel Paese. It is food that brings people together and Italians know that well. Eating well and in good company makes life happy. Walks Inside Rome offers you the opportunity to follow fun and exciting cooking courses held by professional chefs who will teach you all the secrets of the Italian tradition. So, how about making pizza in Rome with us?
Become a "pizzaiolo" for a day, the real Italian pizza will have no more secrets for you
In Italy, cooking has always been fundamental. It is a ritual that cannot and must not be renounced, particularly in Rome whose specialties are famous all over the world and where everyone has their own recipes or well-kept secrets. But to learn at least the basics you need a cooking class.
Pizza, without a doubt, is a dish of the Italian culinary tradition that everyone agrees on. It is one of the most loved and eaten foods by Italians but also by foreigners, perhaps the most envied and imitated. It is a simple and tasty dish, easily made by everyone and perfect to eat anywhere. Whether it is the classic pizza bianca or with tomato sauce, chosen by the more traditionalists, or prepared with a special dough, such as with wholemeal, kamut or gluten-free flour, pizza is considered one of the most irresistible dishes.
How to cook your own Roman-style pizza from scratch
Round in shape to be enjoyed comfortably seated or "by the slice", like the most practical of street food, you can enjoy pizza in different combinations of flavors, making it the perfect dish to share with your partner, friends, family or colleagues. Whether it's a Margherita, Quattro Stagioni, or Ham and Mushroom, what really matters is the ritual of eating it together, perhaps exchanging slices.
Become the master of your future dinners by learning how to make pizza by yourself through one our cooking classes. An expert chef is there to answer your questions and above all to show you the procedure to follow, the different stages of preparation, as cooking requires skill. Once the small group of participants has assembled, you will no doubt be eager to start the session.
Under the guidance of a real "pizza-maker", you will learn how to prepare the dough and roll it out with a rolling pin to create the base of your pizza before dressing it with your favorite ingredients: tomato sauce, mozzarella, olive oil, anchovies, mushrooms, ham, salty salami, olives, vegetables, and so on.
Finally, round off your private pizza making class by sitting back and dining on your magnificent culinary creations accompanied by appetizers and of course a good selection of Italian wines, beers and soft drinks.
We use only fresh, seasonal ingredients for you to adorn our pizzas so the variety of toppings we offer are those best suited for the season you are on visit, this means that no two cooking classes are the same, and everybody learns something different. So be creative!
Experience the Roman cooking with Walks Inside Rome
Walks Inside Rome has been providing travel services and guided tours in Rome and in many other Italy's destinations for more than 20 years. Our expertise empowers our guests to discover the wonders of our country exactly how they want – through personalized, private tours led by our English-speaking Italian guides expert in art,history, archaeology, and food.
Every year many people from all over the world join us in our cooking classes that we hold in our historical location behind Piazza Navona or at our new cooking school near the Pantheon – both in the heart of the Eternal City – to appreciate and learn the art of making Italian pizza. Don't miss the opportunity for a private pizza-making class with your own English-speaking chef!
We are open 7 days a week to answer all of your queries. Visit our website or contact us directly to see the complete list of our tours and experiences. We look forward to meeting you soon so we can start making pizza in Rome together!