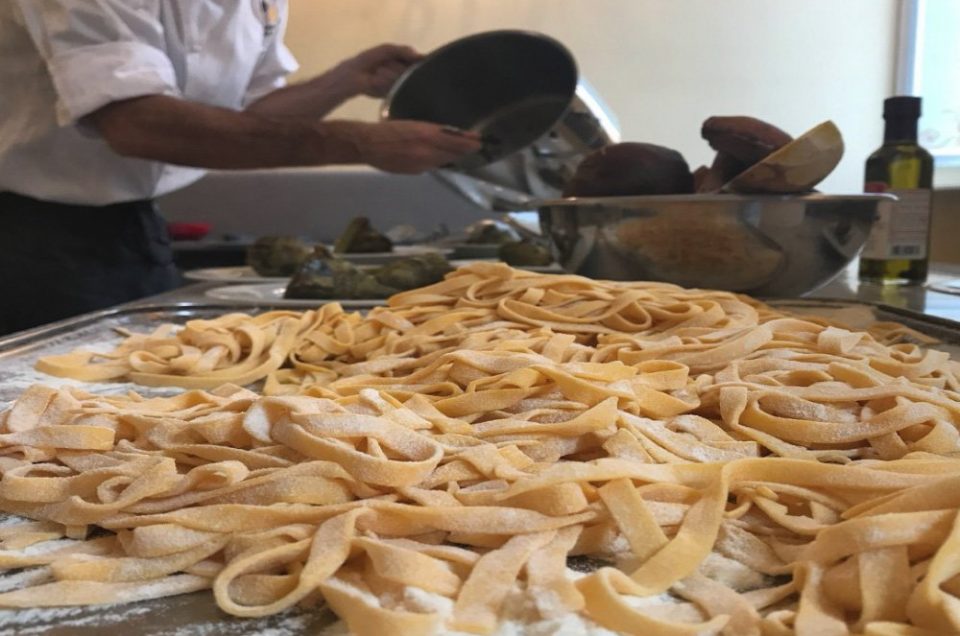 Discovering 'la cucina romana'
Typical Roman cuisine, or "cucina romana," as it's commonly known, counts some of Italy's most legendary recipes among its prestigious repertoire. 
Did you know, for example, that the beloved carbonara comes from Rome? Consisting of little more than guanciale (pork cheek), pecorino cheese and egg yolks, this rich, warming dish has become an international staple. Replicated, (and all-too-often botched!) all over the world.
Amatriciana is another world-famous culinary contribution originating from Rome. (Well, technically from the nearby town of Amatrice, but still, close enough)! It's essentially a carbonara with tomatoes added and egg yolk removed, and should always be eaten while wearing a napkin lest you splutter yourself with a rich, red tomato sauce. Which almost always happens whenever you dare to wear white.
Below is a little infographic outlining the broad similarities and key differences between the four main Roman pasta dishes: cacio e pepe, gricia, amatriciana and carbonara. Each has garnered a cult status – they are bold, delicious and characterful, reflecting the very nature of Roman culture.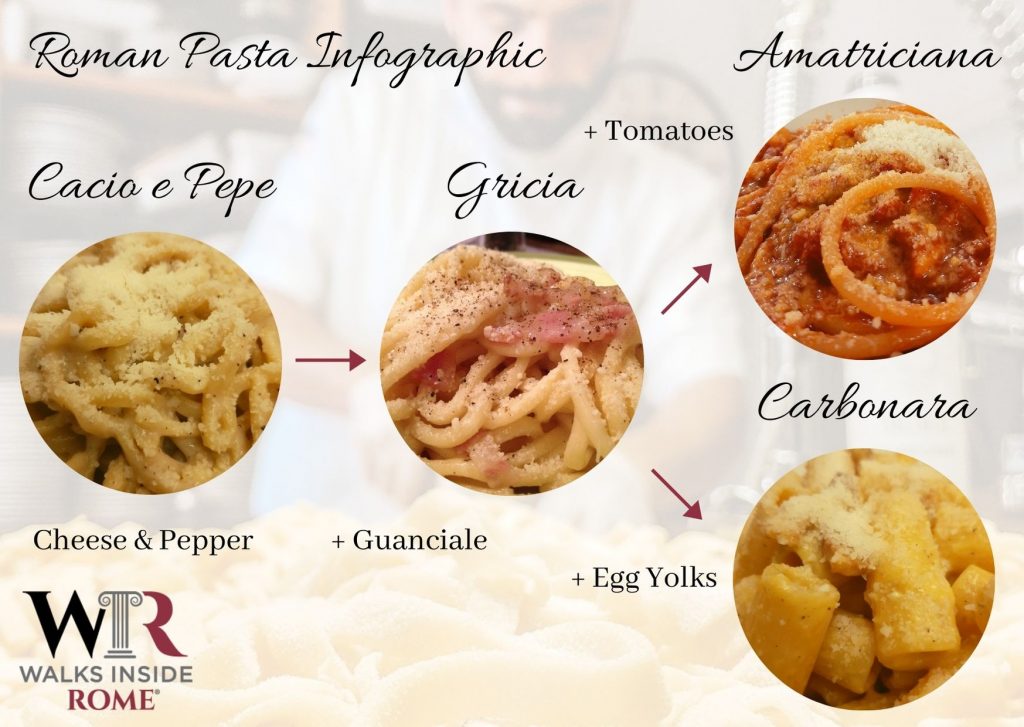 But while these dishes seem simple, they are in fact deceptively difficult. That's why we run a range of pasta making classes in Rome to help you master the art of pasta!
Pasta and Tiramisù Making Class
What better way to get a true taste of Roman cuisine and culture than through a class that combines pasta making with wine tasting!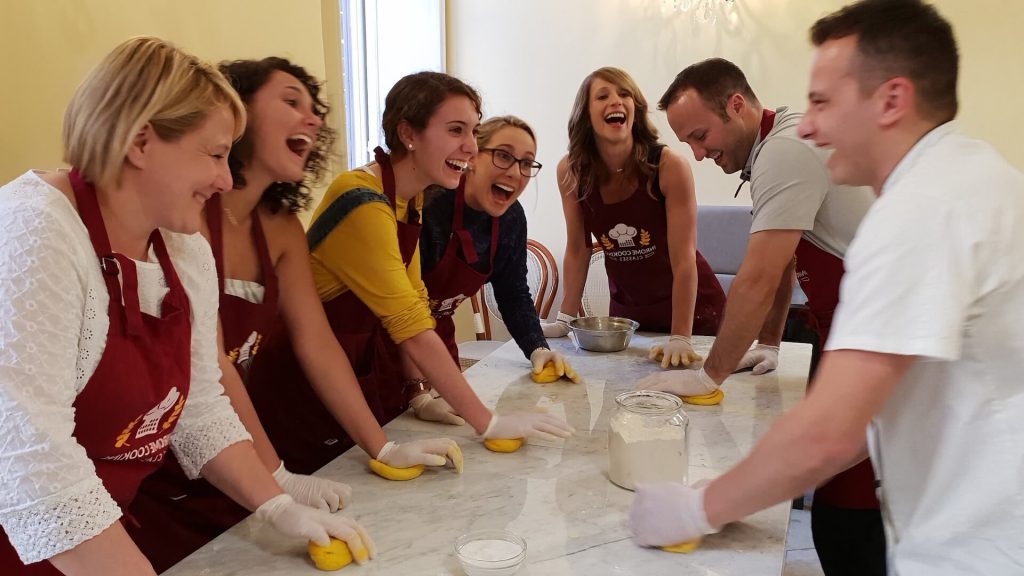 Hosted in our centrally situated school a stone's throw from the Pantheon and Piazza Navona, this hands-on class equips you with all the know-how you need to recreate amatriciana, cacio e pepe, carbonara or gricia under the guidance of a professional, English-speaking chef and in stunning surroundings.
At the end of the class, you'll be accommodated in our dining room where you'll be able to dine on what you've made with
→ Find our more about our Pasta and Tiramisù Class
Roman Pasta and Wine Tasting Class
When Romans go to a trattoria, they rarely seek out something new. Tradition reigns supreme in the Eternal City, and nowhere is this better exemplified than in their culinary habits. There is no truer test of a Roman chef's prowess than their ability to produce a perfect cacio e pepe or carbonara!
That's why we've assembled a team of incredible chefs to teach you how these pasta dishes should be made. They lend their advice and helping hands every step of the way so your made-from-scratch pasta dish is sure to be perfect. Whatever flavor you choose, it will be delicious. And the best part is we give you everything you need to master these pasta dishes from your own home. It's the perfect opportunity to show off to your friends and family your mastery of Rome's pasta dishes.
→ Find out more about our Roman Pasta and Wine Tasting Class
Walks Inside Rome
Situated a stone's throw from the Pantheon in the heart of Rome's historic center, Walks Inside Rome has been offering travel services and guided tours since 1999. We are a specialized tour operator which guarantees the most authentic private tours or small-group tours in Rome and in Italy's most spectacular destinations.
All our tours can be combined and customized to meet your needs and interests. Our team is formed of knowledgeable and kid-friendly licensed guides, including art historians, archaeologists, and food and wine lovers to provide our first-time visitors and discerning travelers with the highest quality tour guide services in art, history, food and fun.
Come visit us!
What better way to indulge yourself during your time in the Eternal City than by exploring its flavors and culture with a local food and wine expert. 
Experience your cooking classes in Rome, visit our locations, one behind Piazza Navona and the other just steps from the Pantheon to learn the artisanal craft of fresh pasta making with a professional chef. 
Open 7 days a week, we can help you plan and organize every aspect of your trip to Rome: from deciding the best tour for you to booking and organizing your accommodation to arranging all your transport and transfers for the duration of your stay.
Contact us for any questions and for any further information about our services. You can fill out the form on our website, send us an email, call us or chat with us on WhatsApp.
We look forward to meeting you soon so we can start exploring Rome together!