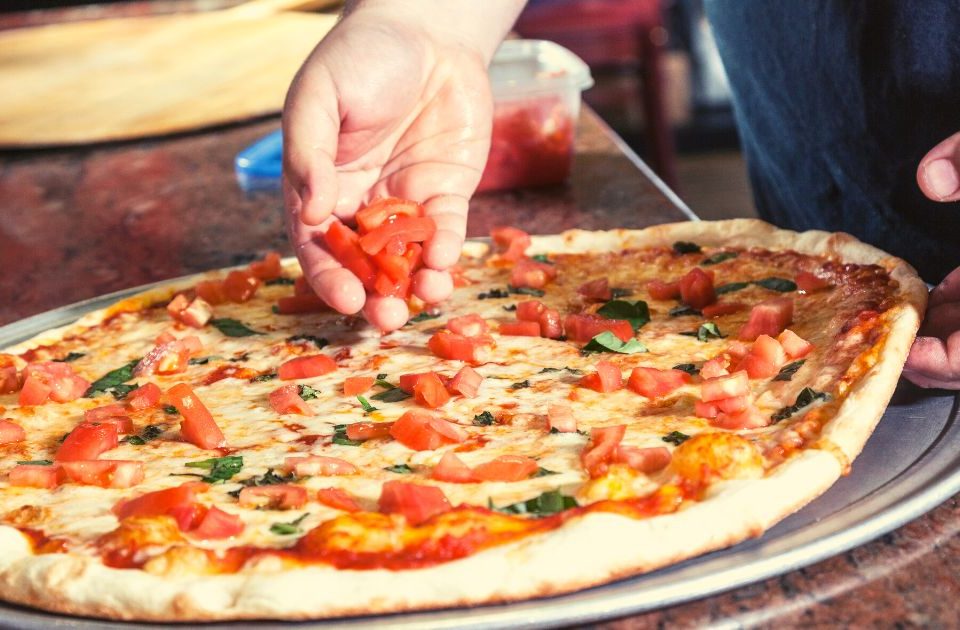 Come and learn the real recipes of the Italian culinary tradition
Italy is one of the most popular tourist destinations for travelers from all over the world. It is a country that has it all to offer: history, art, culture, nature, and good food. An infinite number of reasons drive millions of tourists every year to consider Italy an ideal destination to spend their summer holidays or short stays at any time of the year, also thanks to its climate. It is well known that Italian cuisine is world-renowned and everyone agrees that Italian pizza is, no doubt, one of the most loved and eaten foods by Italians but also by foreigners, perhaps the most envied and imitated in every corner of the planet. Walks Inside Rome offers you the opportunity to follow a fun and exciting Rome pizza class held by a professional chef who will teach you all the secrets of the Italian tradition. Come and cook with us!
The delicious Italian gastronomy: pizza and more
In the eyes of travelers from all over the world, the Italian peninsula offers historic cities, countless museums and monuments, unspoiled nature and enchanting lakes, snow-capped peaks, wild coasts, cheerful, friendly, and hospitable people, and, of course, delicious gastronomy. So, what's better than eating well than learning how to prepare authentic recipes yourself from local cooking experts and professional chefs so you can relive the memories and enjoy the flavors at home?
Undoubtedly, one of the main reasons to visit Italy is its rich gastronomy. Food contributes greatly to making you live an authentic Italian experience. Region after region, it is impossible not to discover natural products, new flavors, recipes, and traditions. Each place offers its specialties, but wherever you are, you are sure to experience great culinary moments in Italy.
So what do you think to enjoy a good Italian pizza made with your own hands? It is a simple and tasty dish, easily made by everyone, and perfect to eat anywhere. Whether it is the classic pizza Bianca or with tomato sauce, chosen by the more traditionalists, or prepared with special dough, such as with wholemeal, Kamut, or gluten-free flour, pizza is considered one of the most irresistible dishes.
Become an expert "pizzaiolo"!
Experience the entire culinary journey on a Rome pizza class tour that includes a meeting with a master chef and a visit to the stalls of a local market in search of the freshest ingredients: in a professional kitchen learn how to make pizza from the dough and once you back home prepare it from yourself and let your relatives and friends taste it.
Through one of our pizza cooking classes, you will learn how to prepare one of the Italian dishes par excellence from scratch, find out how to prepare hand-made fresh pasta with a professional chef-instructor or simply how to cook and season it with the best Roman sauces known all over the world and then enjoy what you made accompanied by a glass of good wine.
Our cooking lessons are fun and exciting experiences held by professional chefs in sleek and stylish apartments in Rome's center. Our two main schools are situated in the heart of the historic center:
a school is located in a 17th-century palazzo around the corner from Piazza Navona;
another school is a stone's throw from the Pantheon;
a further seat is on the Pope's estate, located in the surrounding Roman hills in the stunning medieval town of Castel Gandolfo.
Unique cultural and culinary experiences with Walks Inside Rome
Walks Inside Rome has been providing travel services and guided tours exploring art, history, archaeology, and food and wine in the Eternal City and Italy's most spectacular destinations for more than 20 years.
Every year we bring passion to our guests from all over the world through food and wine tours, and private dining events offered in the best locations in and near Rome.
Contact Us!
We are open 7 days a week. Contact us at any time with any questions or further information about our services. You can call us, fill out the form on our website, send us an email, or chat with us on WhatsApp. Come and discover our best cooking classes. We look forward to meeting you soon so we can start exploring Rome and Italy together!