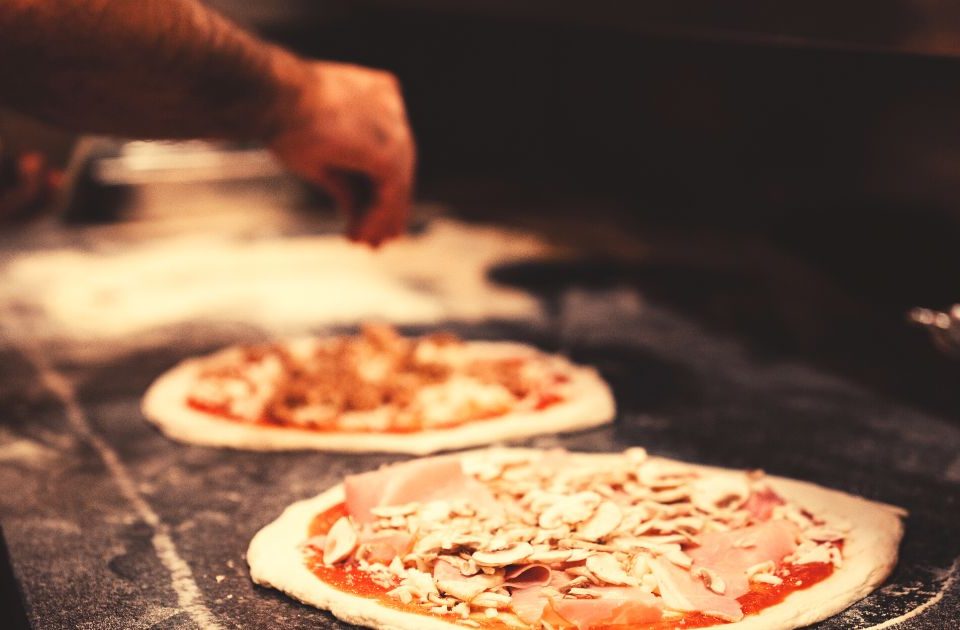 Learn how to make the perfect Roman pizza from scratch
Pizza is of course one of the favorite foods of Italians, it's the queen of the table. A recent study found that one in two Italians prefer it to any other dish! There is no doubt, therefore, that it is one of the most loved, requested, and prepared foods in every corner of the planet. Visiting Rome and enjoying a delicious pizza is always a real pleasure, but even more so when it is made with your own hands.
Would you like to learn how to make pizza from scratch? Through a Rome pizza cooking class organized by Walks Inside Rome, you will learn how to prepare one of Italy's absolute favorites and, after class, enjoy what you made accompanied by a glass of carefully paired wine. Are you tempted?
Experience Rome through its world-renowned cuisine
For us Italians, food is synonymous with conviviality and sharing, and pizza lends itself perfectly to this feeling of community. Eating pizza with your partner, friends, or family means spending carefree and fun special moments.
But, why does everyone like pizza? Pizza is a dish with a thousand faces and for all occasions. It is a practical food that can be eaten just as quickly as street food, or for lunch and dinner at home. It is a very simple dish but it can be enriched to your liking.
There is not just one type of pizza. In fact, the truth is quite the opposite. Pizza can be prepared in different ways with particular tastes and creative combinations, and because of this, it can satisfy our desires for each and every moment. We can either change our minds, or fall back on an old reliable favorite every time, such as Margherita, Diavola, Capricciosa, Boscaiola, Marinara, Napoli, and so on…
Pizza's strength lies in the ingredients used: the dough is rich in carbohydrates which, when cooked, positively stimulate both the palate and the brain, almost creating an addictive effect. This effect is further enhanced by the cheese or cured meat proteins, which stimulate pleasure receptors. In addition, the red of the tomato or the bright color of the vegetables gives that chromaticity to the pizza that adds a further factor of joy.
Become an expert pizza-maker and taste your creations
Once in Rome, the only thing better than eating is learning how to prepare authentic dishes of the Italian culinary tradition by yourself. Why? Well, once learned you can relive the memories and enjoy the flavors when you return home! Perfect for kids and adults alike, beginners and veterans, cooking classes are designed for anyone with a passion for delicious food, having fun, and learning something new. Join one of our Rome pizza cooking classes and become an authentic pizza chef yourself.
In this interactive course, your fluently English-speaking pizzaiolo (master pizza-maker) will guide you through the art of creating the perfect pizza dough revealing all the techniques and secrets to kneading the best Italian pizza. At your cooking station, you will participate in the development of pizza from start to finish. Having rolled out the dough, it's time to pick your toppings. We offer a wide range of freshly sourced ingredients ready to garnish your pizzas, depending on the season you are visiting.
After working hard you can sit back and enjoy the results by tasting your hand-made creations. Accompanied by a wide selection of wines, beers, and soft drinks, you can find the perfect pairing for your expertly-made meal in the magical atmosphere that only the Eternal City can offer.
Pizza cooking classes in Rome with Walks Inside Rome
Walks Inside Rome has been operating in Rome since 1999 to provide its guests with the highest quality guided tours and travel services in art, history, archaeology, food and wine, and fun across the Eternal City and Italy's most spectacular destinations.
We craft unique cultural and culinary experiences in Rome. We bring passion to our guests through our cooking classes, food, and wine tours, and private dining events offered in the best locations in and near Rome.
Our cooking lessons are fun and exciting experiences held by professional chefs. Our two main schools are situated in the heart of the historic center:
one school is located in a 17th-century palazzo around the corner from Piazza Navona
the other school is a stone's throw from the Pantheon
Contact Us!
We are open 7 days a week. Feel free to contact us at any time with any questions or further information about our services. You can call us, fill out the form on our website, send us an email, or chat with us on WhatsApp.
Come and discover our best cooking classes. We look forward to meeting you soon so we can start exploring Italy together!