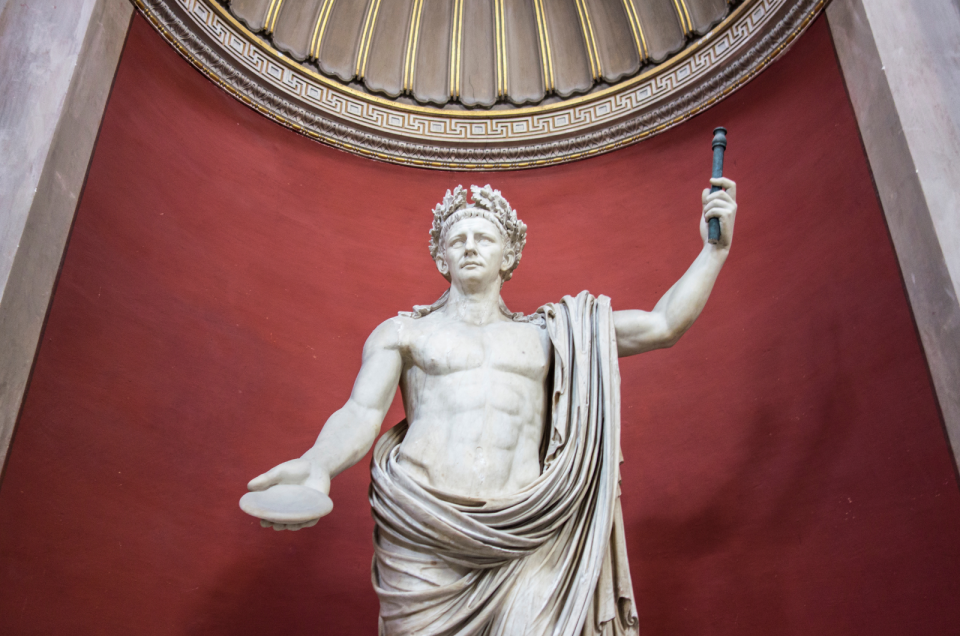 On 24th January in 41 AD, Caligula was assassinated. The city was in chaos as the soldiers rampaged around trying to eliminate the remaining members of the imperial family. Caligula's tyrannical reign had left them wanting a change in the government.
Claudius, Caligula's uncle knew that his life was in danger. He withdrew to a house in Hermaeum and terrified at the news of Caligula being killed by the guards, he hid on a balcony behind the curtains, an attempt to save his own life from the guards who were now killing off several members of the nobility.
His attempt however was not successful. A common soldier wandering around spotted his feet and pulled him out from behind the curtains. When Claudius fell to his feet in terror, the guard recognized and hailed him as emperor! This miraculous turn of events not only saved Claudius' life but also overnight turned him into the ruler of the Roman Empire.
Claudius' Tragic Youth
Born in 10 BC to Drusus and Antonia Minor, Emperor Claudius was the grandchild of Mark Antony and Augustus' sister Octavia on his mother's side and Livia and her first husband Tiberius Claudius Nero on his father's side. One might think that being born into such an influential line of the ruling family would have brought him great fortune. But emperor Claudius' life was filed with hardships from an early age.
When he was young, Claudius was plagued with several disorders that caused him to be alienated and treated harshly by his family. Suetonius tell us, "His mother Antonia often called him "a monster of a man, not finished but merely begun by Dame Nature"; and if she accused anyone of dullness, she used to say that he was "a bigger fool than her son Claudius." His grandmother Augusta always treated him with the utmost contempt, very rarely speaking to him; and when she admonished him, she did so in short, harsh letters, or through messengers. When his sister Livilla heard that he would one day be emperor, she openly and loudly prayed that the Roman people might be spared so cruel and undeserved a fortune."
As he grew older, Emperor Claudius outgrew the disorders that plagued him. Augustus' in his letters to Livia even praised Claudius oratory skills. And yet, Claudius was given no public position. His brother Germanicus went on to become a figure beloved by the Roman people, a superstar of his time. But Claudius was side-lined, barely noticed by anyone he withdrew without any hope of advancing his career.
Claudius fate began to change under the reign of his nephew Caligula when he began to hold public offices. While he was still chastised by his family, Claudius began to receive the sympathy of the Roman people and was often greeted with "Success to the emperor's uncle!" and with "All hail to the brother of Germanicus!"
→Learn about the intriguing tales surrounding the lives of the Roman emperors with our Colosseum and Ancient Rome Tour!
Claudius as Emperor
Emperor Claudius was modest in nature and with his modesty, he quickly won over the people. He refused the title of Imperator and refused excessive honours in his name. He consulted the consuls and the senate on important matters. When games were held, he stood up with the rest of the audience to applaud and pay respect. When he sat on the tribunal and spoke to the tribunes who stood before him, he apologised to them for he couldn't hear them unless they stood. Emperor Claudius was so beloved by the people that when a rumour spread that he had been killed on a journey to Ostia, the people were grief stricken and continued to call the soldiers and the senate murderers and traitors until it was confirmed that Claudius was indeed alive and safe.
Emperor Claudius also made many contributions to Roman society. He had several essential buildings constructed. often distributed donations to the people, held several games and festivities in the circuses of Rome that included splendid gladiatorial shows. He also corrected several laws that he believed to be archaic for his times and needed to be modernised. Emperor Claudius' largest contribution is considered his subjugation of Britain, something that nobody had attempted since the time of Julius Caesar and for which he received a large triumph.
Trouble and Strife During Emperor Claudius' Lifetime
Emperor Claudius' personality is talked about in conflicting ways. On the one hand he is described as generous and modest but also someone who was bloodthirsty and took pleasure in executions and bloody gladiatorial fights. He is described as extremely trusting and easily manipulated, especially by his wives but also as someone who was overly suspicious of those around him. He did have a nasty temper which he publicly acknowledged and apologised for.
Though Claudius was loved by the people, the members of the nobility were less accepting of him as emperor, mainly due to their own ambitions. As time went on, Emperor Claudius got more and more suspicious of those around him and several members of the senate were executed.
The situation was made worse in 48 AD by his third wife Messalina. While Claudius was away in Ostia, Messalina who was known for her promiscuity, went as far as marrying her lover, a senator Gaius Silius. It is unknown what Messalina 's motivations were but it is believed that she was involved in a plot with Silius to execute Claudius and replace his as emperor. When Claudius' heard of the marriage and the great banquet that took place, both Silius and Messalina were executed.
The End of Claudius' Reign
Agrippina, the mother of Nero, was Claudius' fourth wife who proved to be even more ambitious and shrewd than Messalina. She convinced Claudius' to disown his own son Britannicus and adopt her son Nero as heir. Over the years Claudius' displayed regrets of having married Messalina.
He displayed the desire to bring back Britannicus as his heir but it was too late; he was poisoned. It is easy to believe that Agrippina poisoned him to make her son Nero emperor but the truth is that throughout his reign, emperor Claudius was surrounded by people who envied his power and it is unknown who amongst them had him killed. His reign was followed by that of Nero, one of the most hated Roman emperors, who brought an end to the Julio-Claudian dynasty.
For kids interested in learning more about the lives of gladiators and Roman emperors, check out our Gladiators and Roman Emperors for Kids Tour!
Book a tour with Walks Inside Rome
At Walks Inside Rome, we provide a wide range of tours and experiences. The expertise of our guides in the history and culture of Rome provides you with the opportunity to discover the city's most beautiful ancient treasures alongside its modern wonders.
You can book the tours directly online or by contacting us via email. We can't wait to hear from you so we can customize your Roman experience and explore the Eternal City together!