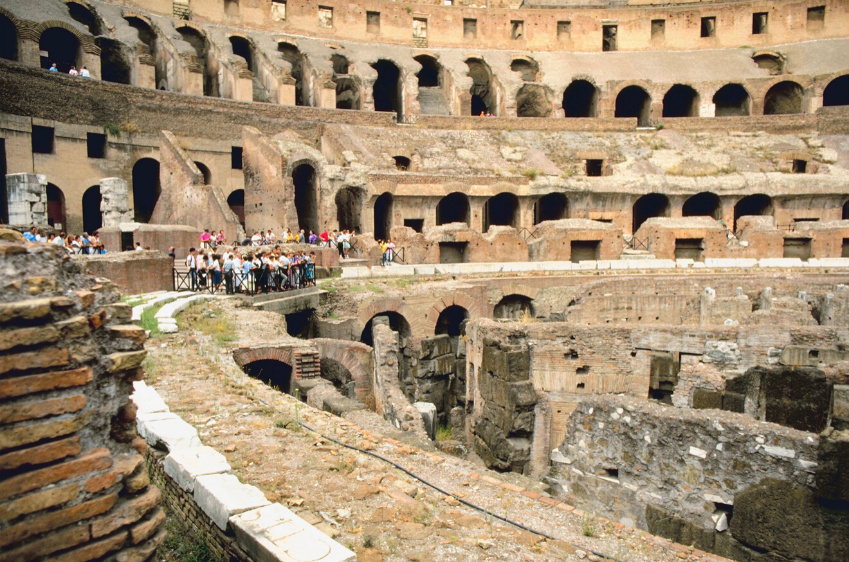 Practical tips for an unforgettable visit to Rome
Originally known as Amphitheatrum Flavium, the Colosseum is the most famous and imposing monument to have survived from ancient Rome. Every year, around 5 million visitors enter inside, soaking up its ambience as they step back through time.
The Colosseum was built almost 2,000 years ago and today is one of the most beautiful symbols of the grandeur and magnificence of the past of the Roman Empire. No visit to Rome would be complete without visiting the Colosseum. Even after almost two millennia, the old amphitheater is very impressive and still attracts crowds from all over the world. Therefore, it is advisable to organize your visit so as not to waste time in long lines.
What can you see inside the Colosseum? Which parts are accessible to the public? In this article, you will find all the tips to make sure you explore this mighty monument through one of the best Colosseum tours.
Visit the largest amphitheater in the world
The Colosseum is perhaps the finest surviving example of ancient Roman architectural engineering. It stands near the center of present-day Rome and it is oval-shaped, like a present-day football stadium. The four-story Colosseum is 161 feet high, about 600 feet long and 500 feet wide.
Its construction started during the reign of Vespasian, who ruled from AD 69 to 79. It was completed in AD 80, during the reign of Vespasian's eldest son, Titus. The Colosseum could seat about 45.000 spectators. Such spectacles as fights between gladiators and between men and wild animals were held here.
Nowadays, its ruins rise to a height of four stories only on one side. However, thousands of tourists visit the Colosseum every year to photograph it as one of the few remaining testaments to the glory of ancient Rome.
Walks Inside Rome – Visit Rome skipping the lines
Walks Inside Rome is a guided tour and travel agency which has been operating in Rome since 1999. It specializes in private and small group tours of no more than 12 participants, giving you a much more personalized experience at your own pace.
Open 7 days a week, our engaging and educational tours are suitable for beginner visitors and demanding travelers. Our goal is to provide our clients with the highest quality tour guide services in art, history, food and fun in Italy's most spectacular destinations.
WIR's Colosseum tours
Nowadays, there are so many options to fully enjoy the Roman Amphitheater. So where do you start when choosing the best Colosseum tour? Thanks to the WIR's Colosseum tours, you can experience a complete immersion in a symbolic place of ancient Rome.
To make sure that you can get the most out of your tour, we offer different packages to meet every need like group tours and private tours. All tours are characterised by the stories told by our guides, who recount all the tales of scandal, sedition, inquisition and intrigue:
Colosseum and Ancient Rome Tour
Colosseum and Roman Forum – the the hub of ancient Rome when it was at its greatest extent
Colosseum Underground Tour
Colosseum by Night Tour
Sistine Chapel and Colosseum Express Tour
Colosseum and Private Cooking Class
Colosseum and Roman Emperors for Kids Tour
Express Arena Floor Colosseum Tour
All you need to do is choose the tour and time best suited for you!
Contact us for any questions and for any further information about our services. You can fill out the form on our website, send us an email, call us or chat with us on WhatsApp. We look forward to meeting you soon so we can start exploring Rome and other places together!