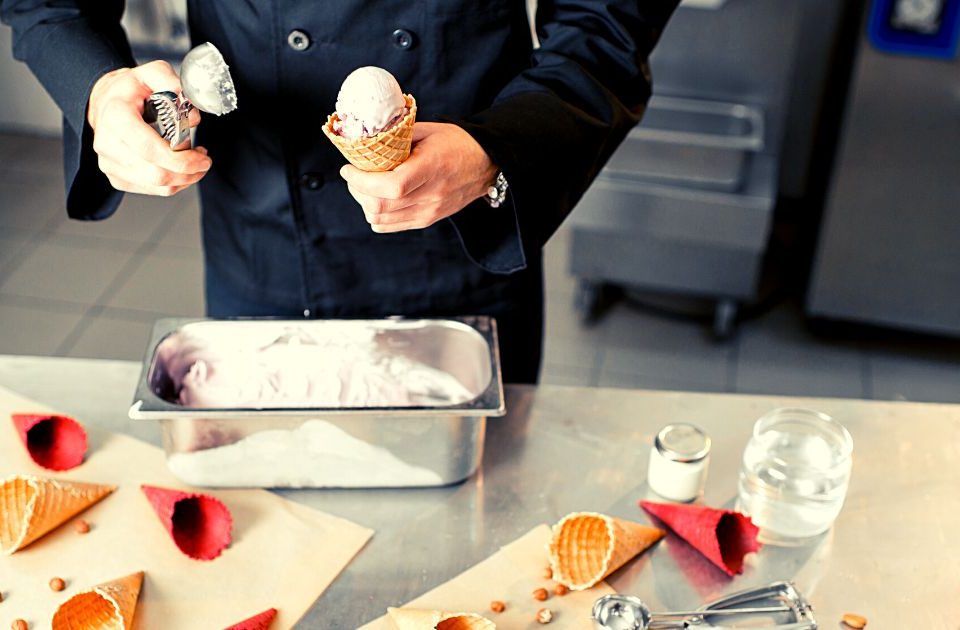 Learn the secrets of Rome's ice cream masters
Are you headed on holiday to Rome? Do you want to learn the art of traditional Italian ice cream, with its original recipes creating fresh and delicious flavors? Would you like to recreate these recipes with your family and friends when back home? Through a Gelato Making Class organized by Walks Inside Rome, you will finally be able to create real, natural, and artisanal ice cream. Enter one of our kitchens and join our very own professional ice cream masters for a truly sensory experience.
Homemade ice cream, one of Italy's most famous delicacies
When you think of Italian food, besides pasta and pizza, you can't help but think of delicious homemade ice cream, one of Italy's most famous delicacies. It doesn't matter if it's summer or winter, it's always time to enjoy a good ice cream.
Italian ice cream is recognized for its creamy and airy texture. It is perfectly smooth and melting, a real treat for the palate and the heart, more voluminous because it is mostly composed of a whipped cream base to which milk, sugar, and egg yolks are added, and of course local ingredients like fresh fruit, a vanilla pod, chocolate, pistachios, hazelnuts, mint and much more to satisfy everyone's desires. It requires both careful preparation and the use of a professional machine!
Discover how to make this famous dessert by practicing the traditional techniques for making sweet gelato with your master chef.
Experience a hands-on class
We Italians are proud of our ice cream, it is not simply a dessert or a refreshing product during the summer but a treat to be enjoyed in its own right. We are sure you will enjoy some of the best ice creams that the Bel Paese has to offer during your trip, so why not take it one step further and try to make it yourself by following a gelato class?
Under the expert guidance of one of our seasoned English-speaking chefs, you'll perfect the art of Italian cuisine – including ice cream – at one of our two cooking schools:
one around the corner from Piazza Navona
the other a stone's throw from the Pantheon
Perfect for kids and adults alike, our Gelato Making Class will allow you to customize and create your classic Italian gelato, using all your favorite flavors of chocolate, fruit, and much more. Master the art of making ice cream with a professional by your side. Find out how important high-quality ingredients are in making high-quality ice cream, then roll up your sleeves and get to work. Prepare your favorite ice cream starting from the base and then flavor it with whatever you want. Watch your creation transform and then taste the ice cream you just made in complete relaxation.
Perfect the art of making Italian gelato with Walks Inside Rome
Walks Inside Rome is an agency of travel services and guided tours located in Rome since 1999. Our goal is to provide our guests with the highest quality tour guide services in art, history, food, and fun in Rome and Italy's most spectacular destinations.
We bring passion to our guests through our cooking classes, our food and wine tours, and private dining events offered in the best locations in and near Rome. We provide a variety of exciting, engaging, and educational tours for first-time visitors and discerning travelers across the Eternal City to experience another side of it.
Contact Us!
We are open 7 days a week. Contact us for any questions and any further information about our services. You can fill out the form on our website, send us an email, call us or chat with us on WhatsApp.
We look forward to meeting you soon so we can start exploring Rome together!