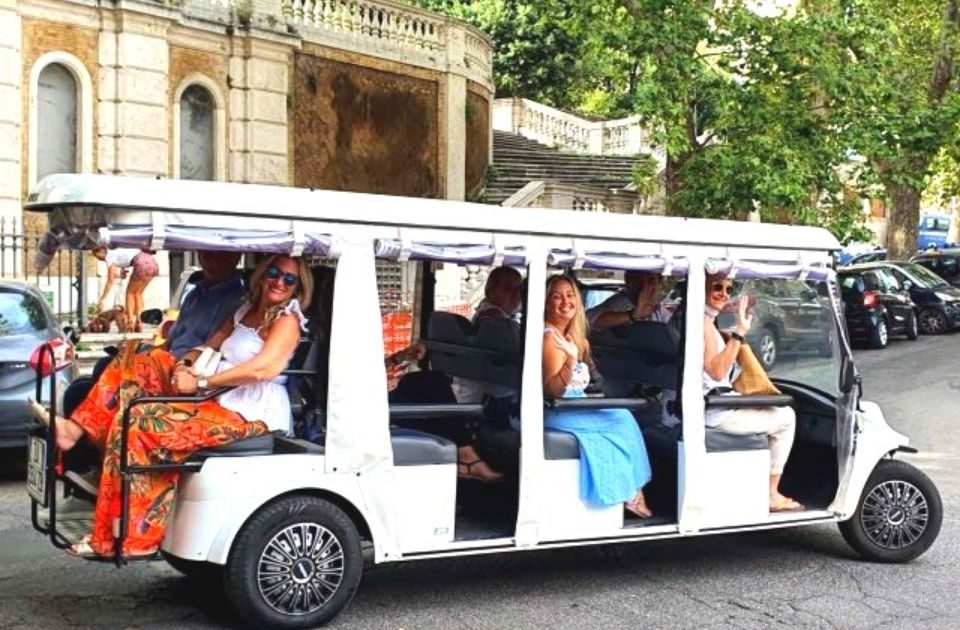 Enjoy Rome and its wonders in the best way
Have you ever thought of a different, comfortable, alternative way to visit a city? Think of Rome, so vast and so rich in things to see. If you don't have enough time you often have to settle for visiting only the most iconic places of the city, such as the Vatican and the Colosseum. Yet the Eternal City has so much more to offer. Why not make the most of a relaxing Golf Cart Tour of Rome? Our expert guides can take you to discover the wonders of this city aboard your very own silent and ecological electric vehicle. Utilizing your wheels, you can access most of the areas of the historic center that are closed to traffic and admire sites and breathtaking views perfect for capturing photographic memories that many never get round to seeing.
Discovering all the hidden gems that Rome's ordinary visitors never see
The Italian capital embodies the roots of a great and powerful empire, which are still testified today by the great monuments scattered throughout the city.
Do you want to live a unique experience in Rome, admiring as many tourist attractions as possible and having the opportunity to learn a lot more about Roman history, culture, religion, architecture, art, and food? Due to the size of its historic center, it is impossible to see all the monuments and hidden treasures of Rome in one week, let alone one day.
So, forget the fatigue of walking all day and hop aboard a golf cart! Customize your tour, and let us whisk you around the city in comfort and speed, showing you all the most rewarding sites of Rome you want to explore in half the time. Enjoy the knowledge and attention of your private native guide and experience the freedom of going wherever you want.
Feel like a Roman…
All roads lead to Rome, but what to do, what to see, and what to visit once there? To feel like a Roman and immerse yourself in all the beauty and history of this marvelous metropolis, the easiest and best way to get around the city and see as many sites as possible is on wheels.
It is well known that Rome is an open-air museum, even just walking through the Roman streets you can admire its wonders and the many historical artifacts of inestimable value. Exploring Rome means walking through winding paths and stumbling upon a plethora of lesser-known monuments that celebrate the rich history of the nation. In addition to all the unmissable ancient and historical sites like monuments, museums, palaces, fountains, villas, and parks, get ready to discover the surprising places of today's Rome, on a unique private tour of the city.
Don't hesitate to book one of our golf cart tours of Rome:
Golf Cart Tour of Rome – Private Group
Golf Cart Tour of Rome – Semi-Private Group
Rome Golf Cart Tour and Testaccio Food Tasting – Private Group
Along the way, you can stop whenever you want to stretch your legs, take some photos, and indulge in ice cream, coffee, or whatever else you like… we're flexible!
Walks Inside Rome Golf Cart Tour
For more than 20 years, Walks Inside Rome has been offering private and small-group guided tours in Rome and across other Italy destinations.
When planning your stay in Rome, so much heritage can be overwhelming. The list of things to see in the Eternal City is huge. You don't know where to start and how not to miss less famous but equally beautiful places. Our goal is to allow you to explore Rome the right way with a local, expert guide through an engaging, educational, and entertaining itinerary. Among our many services, tours on wheels make the difference. Plus, you can customize your experience to your very own interests.
We are open 7 days a week. To check out our catalog of tours and experiences, visit our website or contact us directly. We look forward to meeting you soon so we can start exploring Italy together!