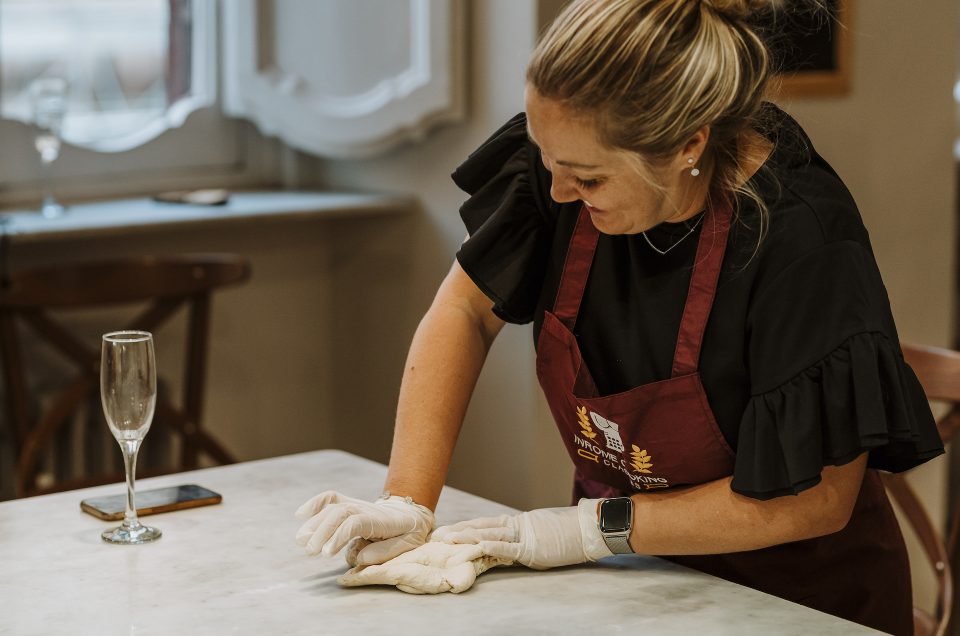 There's no better way to master the art of authentic Italian cuisine than through a pasta-making class. Luckily for visitors to the Eternal City, we specialize in just that! Walks Inside Rome runs a range of cooking classes in Rome that teach you all the know-how you need to whip up delicious, authentic Italian recipes. This blog guides you through our pasta making classes, from pasta and tiramisù to specialist classes for Roman recipes.
Where does your pasta-making class take place?
Walks Inside Rome has three cooking schools in the capital's historic centre. 
Our flagship school is situated opposite the Italian parliament and just around the corner from Piazza Navona, the capital's most famous square. Situated within a converted 17th-century palazzo with original frescoed ceilings, the school is fitted with state of the art equipment and countertops and boasts a stunning view over Palazzo Madama.
Our Pantheon school, as the name suggests, is situated a stone's throw from the Pantheon! This sleek and stylish terraced school is perfect for team building events as it can accommodate up to 30 guests (although small, intimate classes are our speciality).
Our third, most recently opened school is situated on the Pope's summer residence of Castel Gandolfo. You can visit it on our day trip to the Pope's summer residence. After a tour of the Pope's private apartments and gardens, you learn to make traditional recipes unique to the estate. What's more, we source ingredients directly from the Pope's private farm, meaning that eating here really does mean divine dining.
Which pasta-making class is right for you?
Each pasta making class can be private or shared (in a small group of no more than 12). Each class begins with a prosecco and antipasti reception where you'll meet your fluent, professional chef and your fellow foodie classmates. Your chef will then begin guiding you through each step of the pasta-making process.
Here are the classes Walks Inside Rome offers, each carefully constructed to meet our foodie clients' needs.
Pasta making and tiramisù class
Master two Italian classics on this guest favourite. You'll start by assembling your own tiramisù: scrumptious layers of smooth cream, rich coffee, and sweet cocoa. Simple yet effective, this dessert will leave you feeling full, satisfied, and (should you add enough coffee) wide awake.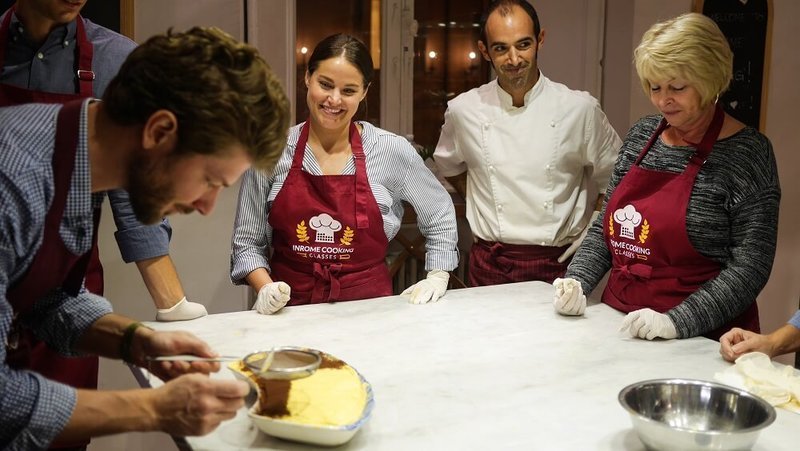 After assembling your tiramisù and leaving it to cool in the fridge, we'll then move on to making a range of handmade Roman pasta dishes. Which type of pasta you make depends on your personal tastes and what's in season. Spinach and ricotta ravioli is a popular springtime choice while tagliatelle alla carbonara might make a nice winter warmer. Private pasta-making classes can also accommodate all dietary requirements, including gluten intolerance. 
Your class concludes in our stunning dining room. Here you'll get to sample your culinary creations with a selection of soft and alcoholic drinks. Buon appetito!
→ Discover our pasta and tiramisù shared class
Pasta making and wine pairing
When Romans go to a restaurant, they rarely seek out something new. Tradition reigns supreme in the Eternal City, and nowhere does this ring truer than in their culinary habits. And who can blame them, especially given that some of the world's most famous and delicious pasta dishes come from Rome!
Did you know, for example, that Rome has bestowed on the world the beloved carbonara? Consisting of little more than guanciale (pork cheek), pecorino cheese and egg yolks, this rich, warming dish has become an international staple.
Amatriciana is another world-famous culinary contribution originating from Rome. (Well, technically from the nearby town of Amatrice, but still, close enough)! Essentially a carbonara with tomatoes added and egg yolk removed, amatriciana should always be eaten while wearing a napkin lest you splutter yourself with a rich, red tomato sauce. Which almost always happens whenever you dare to wear white.
There is no better test of a Roman chef's prowess than their ability to produce a perfect cacio e pepe or carbonara! That's why for our pasta-making class we've assembled a team of incredible chefs to teach you how these pasta dishes should be made.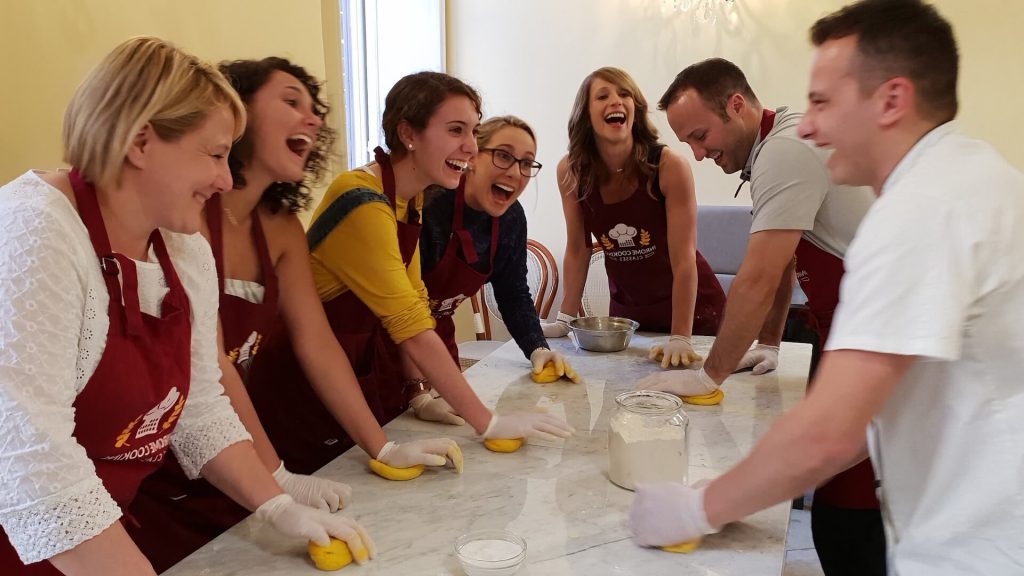 They'll lend their expertise and helping hands every step of the way so your homemade pasta dish is sure to be perfect. Whatever flavour you choose, you can guarantee it will be delicious, and to add a quintessentially Italian finishing touch to your class we'll pair your pasta dishes with the perfect local wine.
→ Find out more about our Roman Pasta and Wine Tasting Class
Try a pasta-making class with Walks Inside Rome
Learning to make a range of delicious recipes under the guidance of a professional chef is not only a great way to have fun, but also to experience an authentic taste of Rome's culture and people. And that's exactly what Walks Inside Rome offers through one of our renowned cooking classes.
If you want to nurture a deep appreciation of authentic Roman cuisine, our cooking classes and food tours offer the perfect solution. We offer a range of shared and private experiences – from classes focussing on beloved dishes like pizza and gelato or pasta and tiramisù to customized classes where you can focus on any food (or flavours) of your choice.
To check out our complete catalogue of tours and experiences, visit our website or contact us directly. We can't wait to hear from you so we can organise your pasta-making class and start cooking together!