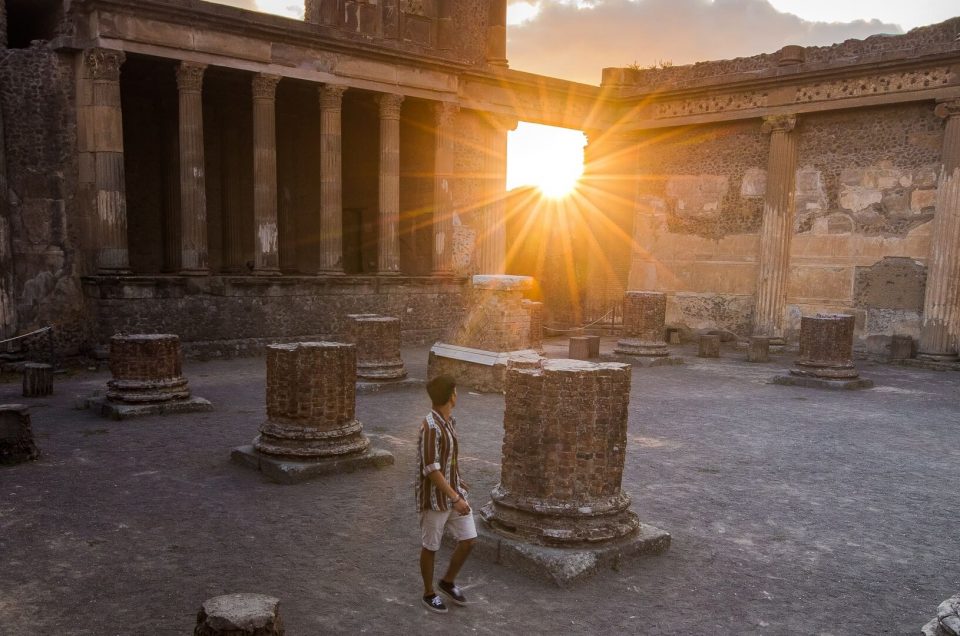 Roam the ancient ghost-town of Pompeii
Few sites in Southern Italy offer such a clear and captivating window into the past as the ancient city of Pompeii.
Situated near Naples in the Campania region of Italy, Pompeii was a prosperous, fully functioning city drained of life when Mount Vesuvius erupted in October, 79 AD.
The eruption, which was described in great detail by the ancient writer Pliny the Younger, engulfed not only Pompeii but also the neighbouring coastal town of Herculaneum and many wealthy villas in the area. Perfectly preserving them – and often their inhabitants – beneath protective layers of ash.
These sites have been progressively excavated and marked on the map of intrepid explorers and tourists since the mid-18th century. If you are travelling to Italy, and have already visited the Eternal City and its surrounding attractions, Pompeii is a must-visit.
Situated 150 miles south of Rome, 3 hours of travel round trip, giving you anywhere from two to four hours to explore the area and uncover its history. Pompeii tours from Rome are suited for you!
Treat yourself to a Pompeii day trip
Since 1997 Pompeii is a UNESCO World Heritage Site and is one of the most popular tourist attractions in Italy, with approximately 2.5 million visitors annually.
The appeal of Pompeii is its legendary destruction and the desire to see the ruins resting at the foot of the volcano.
In a one-day excursion we are more than happy to give suggestions and make your trip an unforgettable experience. You can explore a paradise bursting with color and flavor and the immortal ruins of an ancient city frozen in time.
Pompeii, Herculaneum and the Amalfi Coast – from Positano to Ravello to Sorrento – are truly sights to behold, standing at the junction where rich Roman history meets modern Italian vibrancy. 
Pompeii's Archaeological Park
Pompeii is the only archaeological site in the world to provide a complete picture of the ancient Roman city.
Your private guide will take you on a journey to the immortal ruins of these ancient settlements. Gorgeously painted and mosaicked villas and fascinating remnants of life appear at every twist and turn.
The main forum is a unique ensemble of domestic buildings, lined up along well-paved streets, such as the Capitolium, the Basilica and the temples.

The city is also equipped with public baths, two theaters and a beautifully-preserved amphitheater.

The most important building in Pompeii is perhaps the Villa of the Mysteries, a huge building that takes its name from the splendid frescoes in the triclinium, depicting the initiation rites ('mysteries') of the cult of Dionysus.

One of the peculiar characteristics of Pompeii is the numerous graffiti on the walls.

Visit also its seedy Lupanar (brothel).

Numerous extraordinary public buildings are well preserved in Herculaneum, including a spacious palaestra and two public baths.

The Villa dei Papiri, just outside the walls, is an opulent construction: designed with a series of 'tunnels' in the 18th century, only a small part remains accessible.
Walks Inside Rome – Pompeii tours
To fully unlock Pompeii's multitude of secrets, a visitor needs a guide. Much of the site is in ruins and many of the major artifacts have been removed to a museum so having a guide really helps to bring the place and the story of its downfall to life.
Walks Inside Rome has been providing travel services and guided tours in Rome since 1999. Our expertise both here in Rome and beyond empowers our guests to discover the wonders of our country exactly how they want – through personalized, private tours led by our exceptional Italian guides.
Travel back in time at Pompeii with your own knowledgeable, private guide, we've come up with an itinerary carefully crafted for all our clients.
Treat yourself to a tour; contact us!
All our private tours are fully customizabl, meaning you can add and combine whatever you want to shape your experience. Contact us to start customizing a tour program for you and your family, both in Rome and in other wonderful destinations across Italy.
If you have any questions or need any more information about our services, fill out the form on our website, send us an email, call us or chat with us on WhatsApp.
We look forward to meeting you soon so we can start exploring Italy together!