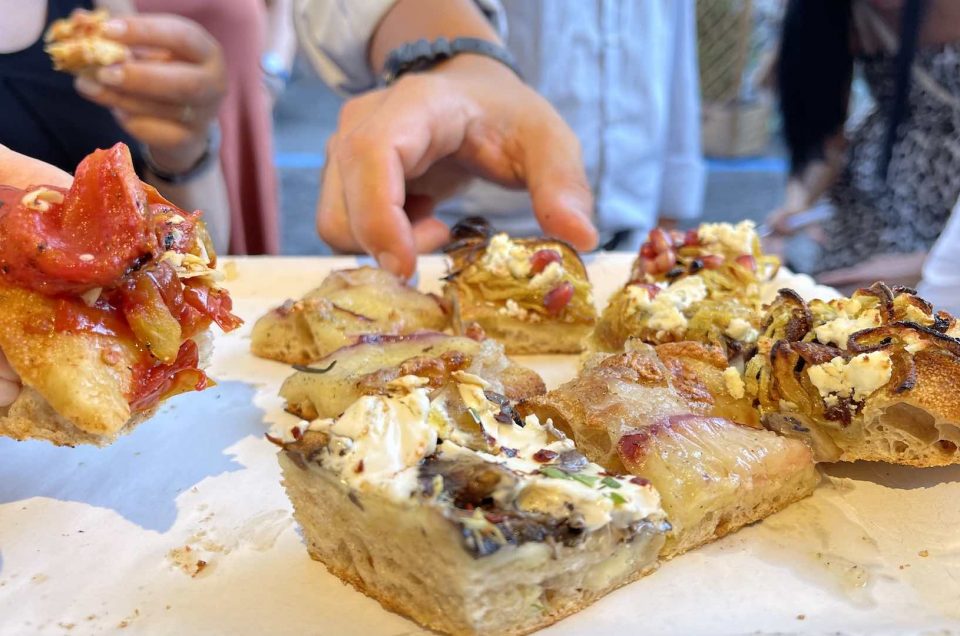 Everybody knows you eat well in Italy, but finding the right places can be pretty challenging. As Rome springs back to life, so too do its tourist traps, briefly obliged to reduce their prices for locals, but now upping them again for the return of Rome's tourists. Your time in Rome is precious, and there's a lot of culture and cuisine to pack in. So instead of wasting your time in line for some average gelato, or your money on a €10 spritz, come and join us – passionate foodies and Roman locals – as we share the best of our city with you on our Rome Food tour, Trastevere.
Trastevere, a village in the heart of Rome
Situated along the west bank of the River Tiber, just south of the Vatican, Trastevere is among Rome's most authentic and architecturally breathtaking neighbourhoods. Literally translating as "across the River Tiber" (trans Tiberim, in Latin), this bustling settlement was once home to ancient Rome's working classes, settler communities, and fishermen.
Today Trastevere is known for its bohemian side, animated by many artists, authors, and lovers of the Roman nightlife. Although this is one of the beating hearts of the capital's nightlife, during the day it takes on a completely different feel. Treading the cobblestones, between silent alleys, stalls, and old shops, the hustle and bustle of the city center beyond the river will seem like an altogether alien world.
Visiting Trastevere means immersing yourself in the atmosphere of a village in the heart of Rome. The composition of its residents is varied and, depending on the time of day, you can meet the neighborhood's matriarchs and patriarchs sitting within the entrance doors, in front of the stalls or playing cards out in the piazzas, or young people, with a bottle beer in hand, sitting on the steps of a church or mulling around the fountains.
Traditional cuisine, street food, and local wine tastings
Our Rome food tour, Trastevere, starts, as any good food tour should, with an aperitivo – an aperol spritz accompanied by a light snack, to figuratively 'open the stomach' and stimulate the appetite.
Spritz goes well with any light snack, like potato chips and peanuts. We'll be treating you to an authentic Roman supplì (fried rice ball stuffed with several varieties of cheesy, tomatoey or meaty filling).
Next, we'll walk the short but scenic distance through the cobbled centre of Trastevere to try a maritozzo salato. Traditionally filled with cream, this bun can also be served savoury. And we've discovered somewhere in Trastevere even locals don't know about yet that serves it.
Next up is a date with an Italian icon: something as quintessentially Italian as the motorcycle, Monica Bellucci, or crushing English dreams at the Euro 2020 final after knocking them out on penalties: pizza. We've discovered a place just off the beaten path in Trastevere that serves up the most mouthwatering, eye-catching and impressively experimental pizza a taglio (pizza by the slice) in Rome.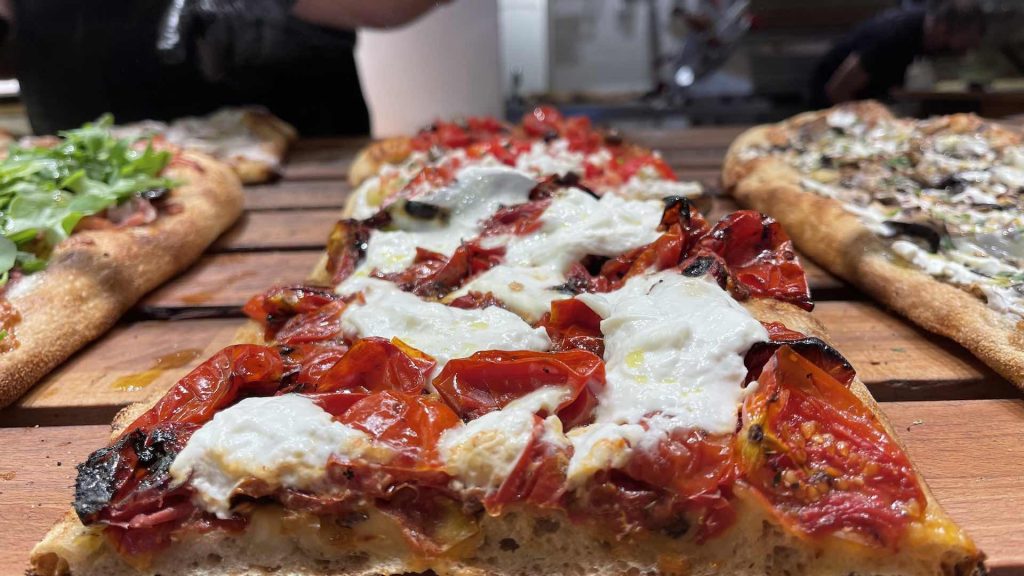 Many more culinary treats await. Stecchi (savoury carbonara lollipops), deep-fried zucchini flowers, wine tastings, and much, much more. But no Rome food tour would be complete without a traditional sit-down meal in an authentic osteria.
We know the best place in Trastevere to go for amatriciana and cacio e pepe: two famous Roman pasta dishes imitated (but never quite replicated) across the world. For courageous and carnivorous foodies, we can also get them to serve up some of the best trippa alla romana (Roman-style trip) we've ever tasted (available only on our private Trastevere food tour).
Rome wasn't built in a day, and there's no way you could manage to taste all its delicacies in one either. Here are some other traditional Roman dishes not to miss in the Eternal City (or to try with us on our private tour!)
Jewish-style artichokes: deep-fried to perfection and eaten with a sprinkle of salt.
Abbacchio alla scottadito: grilled lamb chops served so hot they 'scotta il dito' or 'burn the fingers'!
Fried cod (baccalà): think English fish'n'chips, only without the chips and 100% better.
Coda alla vaccinara: if the meaty, stewed tail-bone of an ox sounds like your kind of food, you're going to love Rome.
Walks Inside Rome – Your private gastronomy tours
Walks Inside Rome is a travel and guided tours agency which has been operating in Rome since 1999. Our goal is to provide our clients with the highest quality tour guide services in art, history, food, and fun across Italy's most spectacular destinations. If you want to get to know and appreciate Roman cuisine, let yourself be guided by the experience of a tour operator and their culinary tours.
Our private Trastevere Food Tour introduces you to the vast variety of food and drink the Eternal City has to offer. You can chat with your local guide and learn all about Roman food culture and Italian culinary traditions. We are open 7 days a week, contact us for any questions and for any further information. Fill out the form on our website, send us an email, call us or chat with us on WhatsApp.
We look forward to meeting you soon so we can start exploring Italy together!