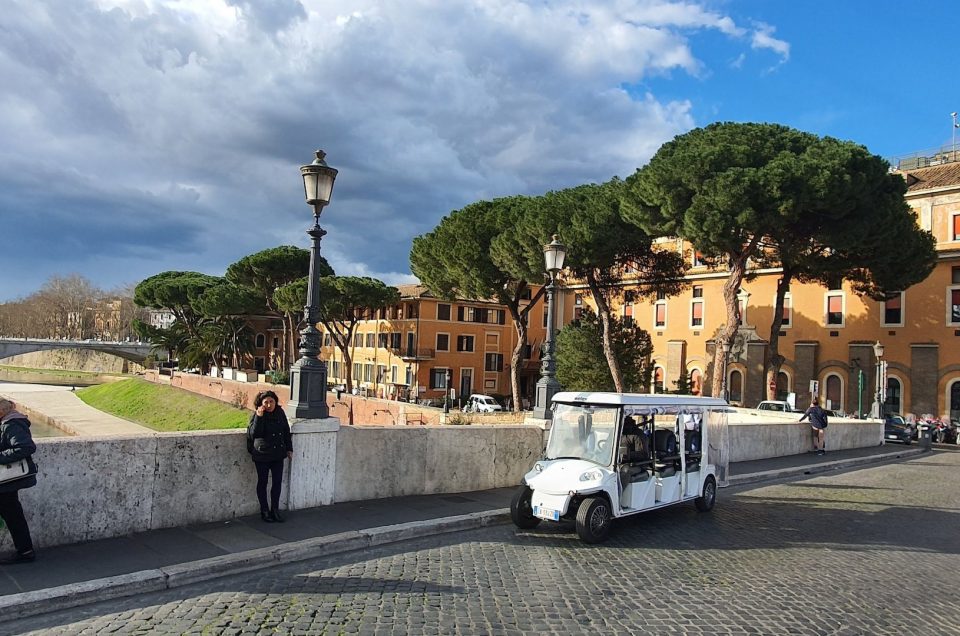 How to admire the beauties of Rome in a different way
Are you traveling to Italy for a few days and would like to visit Rome with maximum comfort and ease? Do you want to immerse yourself in all the beauty and history of the Italian capital by getting around the city and seeing as many sites as possible? The best way to visit and enjoy the Eternal City without getting tired is on wheels. For all those who want to explore the history, culture, and architecture of one of the most beautiful cities in the world, there is a very different way to navigate effortlessly to its top attractions without dealing with the crowds of a walking tour. With a private guide like Walks Inside Rome, you can discover breathtaking views and enjoy the authentic Roman atmosphere on a Rome Golf Cart tour.
Gain insight into the fascinating Roman history
Rome was not built in a day, its history speaks for itself. As they say, all roads lead to Rome, and despite being a very large city to go around and see, gathered in its most characteristic villages, it is possible to admire its beauty in a different, fast, and fun way on a golf cart. Come and discover over 2,000 years of history on a private tour through the city's beautiful historic districts.
Roam the streets of the Eternal City in a comfortable, covered, street-legal golf cart following a custom itinerary based on your interests. Through a family-friendly sightseeing tour, your local guide offers a narrated journey of the palaces, monuments, statues, churches, and fountains that define the rich heritage of the capital of Italy. Each itinerary is customized to your preferences, so choose your top attractions and route to hit the sites.
With your expert private guide and driver, let you explore and learn about the history of Rome, from the ancient emperors to the modern metropolis, and take a look at some of the city's best-kept secrets. Along the way, you can stop whenever you want to stretch your legs, take some photos, and indulge in an ice cream, coffee, or whatever else you like.
The best way to visit Rome on wheels
Forget the fatigue of walking all day. Hop aboard our electric, silent, and eco-friendly Golf Cart for an exciting ride through Rome! Experience the freedom to go wherever you want by enjoying the masterful knowledge and attention of Rome of your private driver-guide that will make the tour a unique and memorable experience. Explore the hidden places and the most interesting curiosities that only the residents know. Let us drive you around in comfort and convenience, showing you all the sites of Rome half the time. Enjoy exclusive access to traffic-limited areas, and enjoy the ease of hopping on and off your vehicle straight to the doorstep of your chosen attraction.
Here are some of our favorite itineraries for your Golf Cart Tour of Rome:
a tour through the highlights of ancient Rome, visiting such sites as the Colosseum and Roman Forum;
a secret Rome itinerary, which covers some of Rome's most stunning off-the-beaten-track sites;
Dolce Vita tour, a memorable adventure through the central most famous sites of Rome.
These tours are pet-friendly and ideal for children, older people, and people with motor disabilities. So why not let yourself be guided through the wonders of this majestic city comfortably seated in a golf cart with a 360° view of your surroundings and enjoy taking pictures here and there in complete freedom? Visit Rome comfortably seated on a completely open, ecological electric trolley and receive all the information, comments, and explanations at each stop. Stay off the beaten track and experience the city as a local, not just the main attractions.
We will take you right to the door of the sights and minimize your walking. You don't have to worry about walking on the cobblestones that characterize the Eternal City, you can save energy and reach the sites that interest you most quickly and in complete relaxation. Not only the best-known destinations but also those characteristic corners and alleys that allow you to discover the real Rome and how the Romans live. The Eternal City is yours to discover!
Walks Inside Rome customizes your Rome on wheels tour
For more than 20 years, Walks Inside Rome has proudly been offering unforgettable experiences for both first-time visitors and seasoned travelers thanks to a variety of exciting, engaging, and educational tours.
Discover the Italian capital your way through customized tours of Rome on wheels led by our exceptional licensed English-speaking and family-friendly guides helping you unlock Italy's rich history and culture. Choose and customize your Rome Golf Cart tour. With us, you can tailor your private tour to include precisely the sites you want to see or leave it to the judgment of our expert guide who can select an itinerary based on your interests. Just let us know which package you prefer and where you want to go and we will whiz you there no problem.
Contact us for any questions and any further information about our services. You can fill out the form on our website, email us, or chat with us on WhatsApp. We look forward to meeting you soon so we can explore Rome together!