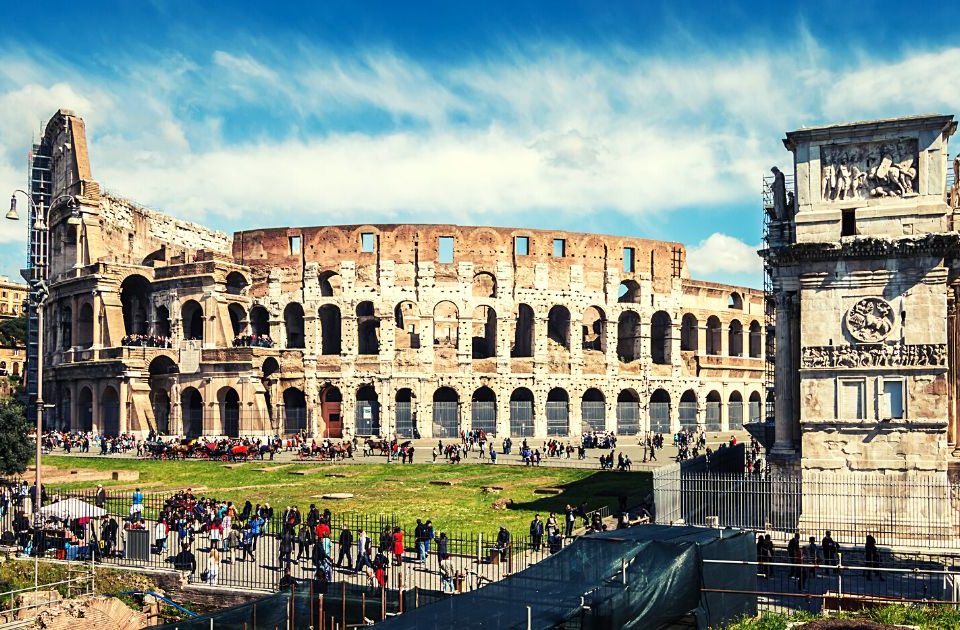 Discover the oldest and most famous amphitheater in the world
Located in the heart of Rome's historic center, already included in the list of World Heritage Sites by Unesco in 1980, the Colosseum has been declared one of the 7 New Wonders of the world. A symbol of the Italian capital, it is highly recommended to visit it during your stay in the Eternal City. Having this iconic monument in front of your eyes is truly a magical moment. Everyone can access it, adults and children, and as you can imagine, there are several possible visits to make. Whatever type of tour you choose, you will have the opportunity to immerse yourself in the splendor and decay of the past. For this reason, we always recommend opting for a guided tour. It's even more impressive to see the inside of the amphitheater when you understand more about its history. Walks Inside Rome is glad to accompany you on the Tour of the Colosseum that interests you most.
An unmissable symbol of ancient Roman life
Considered one of the most famous tourist attractions in the world, the Colosseum, also known as the Flavian Amphitheater, was built from 70 to 80 AD first under emperor Vespasian and then emperor Titus. The goal was to build the most impressive monument of Ancient Rome to accommodate up to 50,000 (or even 80,000) people and entertain crowds with shows representative of the time. It was used for various types of displays; thousands of Romans gathered here to watch gladiator games and fights, to re-enactments of famous battles, to animal hunts or fights between animals, to Greek tragedies or light theatrical performances.
Today, despite being partially damaged by earthquakes and various looting, it remains an imposing building that testifies to the rich past of ancient Rome and is an impressive vestige of the magnificence of the Roman Empire.
Journey back in time, to the glorious days of a great empire, inside the iconic Colosseum. With your local guide, explore and learn more about the history of the most famous monument in Rome. These experts will enthusiastically tell you stories and anecdotes about the men who fought in the arenas and the emperors who ruled them. Experience complete immersion in the beating heart of ancient Rome, between the underground and the arena of this amphitheater and the spectacular ruins of the Roman Forum.
Go back in time, follow in the footsteps of emperors and gladiators
Visiting the Colosseum is taking a trip back many centuries. It is putting yourself in the shoes of men, often slaves, who fought under a scorching sun. This monument, once a symbol of the power of Rome, is today the guardian of countless secrets and countless events that have taken place, and unless you are an archaeology expert, to discover them there is nothing better than a guided tour with a specialized guide, just so you are sure not to miss any detail of the symbol of the Roman Empire.
We can offer Colosseum Tours that provide an exciting experience for the whole family. You can choose from a wide range of opportunities:
Colosseum & Ancient Rome Tour with Gladiator's Gate
True Roman Experience: Colosseum and Private Cooking Class
Ancient & Christian Rome Tour
Vip Colosseum Underground Tour with Ancient Rome
Colosseum and Ancient Rome Tour
Gladiators and Roman Emperors for Kids
Colosseum by Night Tour with Underground Express Arena Floor Colosseum  
Classic Ancient Rome and Colosseum Tour with Arena Floor
Express Arena Floor Colosseum Tour 
Colosseum and St. Clemente Tour 
Roman Shore Excursion: Colosseum & Private Cooking Class 
Triple the Rome Shore Excursion: Sistine Chapel, Colosseum & Italian Cooking Class 
To best enjoy the Colosseum, avoid hours and hours of queuing by buying a skip-the-line ticket in advance (your visit will therefore be scheduled at a fixed time), thus you will have access to the main parts of the amphitheater.
Walks Inside Rome takes you and your family to visit the Colosseum
Walks Inside Rome is a travel agency located in Rome since 1999 that offers a variety of exciting, engaging, and educational tours both for first-time visitors and seasoned explorers. We specialize in private and small group tours giving you a much more personalized experience at just the right pace.
We aim to guide you in the discovery of Italy's rich history and culture thanks to our knowledgeable and kid-friendly licensed English-speaking guides, including art historians, archaeologists, and food and wine lovers to provide our guests with the highest quality services.
Come and experience our Colosseum guided tours. We are open 7 days a week. Contact us for any questions and more information about our tours, fill out the form on our website, send us an email, call us or chat with us on WhatsApp. We look forward to welcoming you soon to Rome!