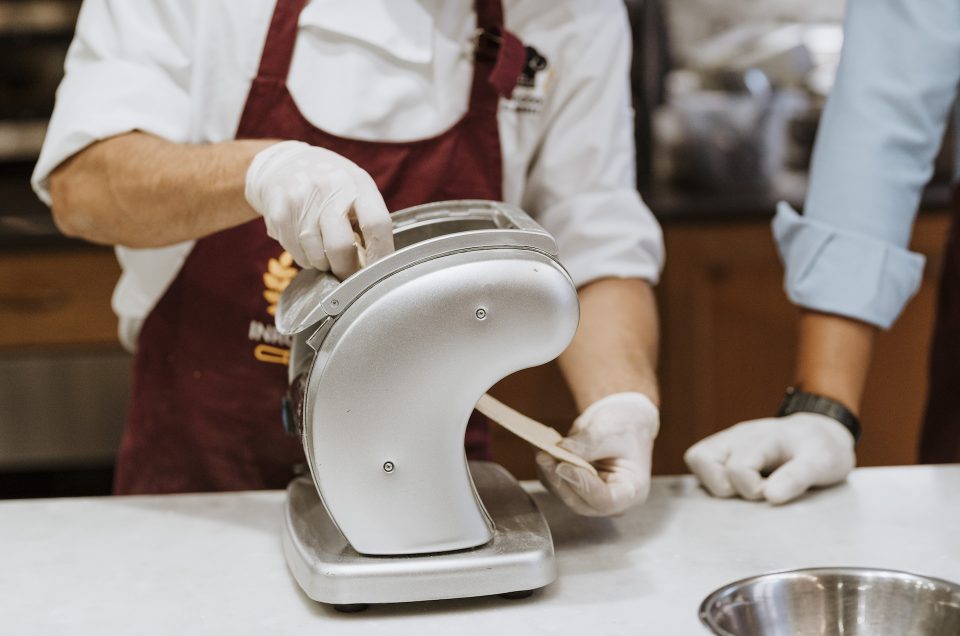 When returning from a vacation in Italy, what will your friends and family immediately ask about? The food, of course! Imagine their reactions when you respond that your trip involved a masterclass of pasta making in Rome.
It's no secret that the Bel Paese is an obvious foodie paradise. It is difficult to imagine a cuisine that rivals it on a worldwide scale. So, what could be better than diving straight to the source and discovering how to create the most diverse of Italian favorites that is pasta?
Making Rome's favorite pasta dishes
We are all familiar with the world's Italian favorites; fusilli, penne, and spaghetti. But did you know that the final of this well-trodden trio is a Roman specialty? Pair the spaghetti with eggs, pecorino, and guanciale (pork cheek) and we can whip up a deliciously traditional dish from the Eternal City.
However, the city's pasta heritage goes deeper than the obvious. By taking part in a class of pasta making in Rome, you will uncover countless variations and their best-matched flavors such as tonnarelli and cacio e pepe, and bucatini and amatriciana. 
→ Top Tip! Be sure to scan our QR code after your cooking masterclass to take the recipes for these Italian classics home with you.
It's all in the process
Once the water is boiling fresh pasta can become al dente in minutes, but this does not paint the full picture. During a pasta making in Rome cookery class, you will realize the different ingredients that combine to form various types of pasta. The choice of adding eggs or water to your floury mixture will have a great impact on the final product – and the intensity of your arm workout during the kneading process!
By channeling your inner nonna, and the support of an expert, English-speaking chef, you will learn to use effective techniques to form delicate gnocchetti or dangling fettuccine. Whether it is rolling the dough into pleasing patterns or feeding it through a pasta maker, your newly acquired skills will be put to the test.
Not to worry if the skill remains difficult to master, Italians even have a pasta shape for the cut-offs that don't make the main dish. Originating from Emilia-Romagna, maltagliati are mostly used in soups to make sure nothing goes to waste!
Three schools where everyone is welcome
Our cooking classes are designed to be enjoyed by anyone and everyone. Whether in a small group or private class, trying your hand at pasta making in Rome is always destined to prove an unforgettable experience.
Walks Inside Rome's pasta possibilities take place at three breathtaking schools both in the heart of the Eternal City and its beautiful environs. A flagship 17th Century Palazzo nestled next to the Italian parliament and Piazza Navona is accompanied by a second stylish school sat just a stone's throw from the Pantheon.
Finally, a recently opened school at the Pope's summer residence of Castel Gandolfo gives the opportunity to cook with organic ingredients sourced directly from the Pope's private farm. A day-trip to the site combines a tour of the Pope's apartments and gardens with a class that teaches you to make traditional recipes unique to the estate.
Our pasta making classes
The star of our pasting making in Rome experiences is obvious; it's the pasta! However, each of our classes includes additional variations to complete a rounded and truly unforgettable time. Here are our top picks!
Pasta making and Tiramisù

: What can be better than pairing two Italian classics to create one fun-filled evening? Learn the layers of the creamy dessert before creating a twin of traditional Roman pastas from scratch.

Roman pasta and wine pairing

: No mealtime in Italy would be complete without a carefully selected tipple to accompany. Here you will learn the art of wine pairing, a skill that can be expertly repeated for your next dinner party.
Try a culinary experience with Walks Inside Rome
Experiencing true Roman cooking unlocks a door to the city's authentic side. Pasta making in Rome will help you feel more closely connected to Rome's culture and inhabitants in an undoubtedly fun and light way.
With both cooking classes and food tours taking place across the city, Walks Inside Rome offers a perfect opportunity for visitors to gain behind-the-scenes access to what really makes the city tick. From pizza and gelato masterclasses to Trastevere food tours, our culinary expertise covers every avenue that your tastebuds desire to explore.
Visit our website or contact us directly to see the complete list of tours and experiences. We can't wait to hear from you so we can organize your pasta making in Rome and start cooking together!