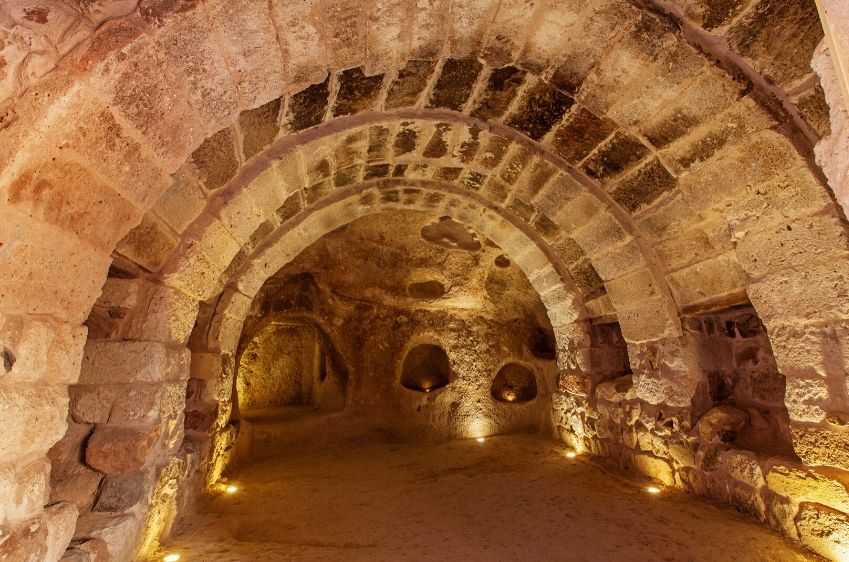 Descending into the Catacombs in Rome is not an experience for the faint-hearted. Dimly lit passageways and mostly open tombs (often with no remains) welcome visitors who dare, rewarding them with a richly important insight into the burial sites of the Eternal City's past inhabitants; Christian, Jewish, and even Etruscan.
Whilst there are thought to be over 40 catacombs cascading underneath modern-day Rome, only a handful are open to the public today. What's more, once inside the seemingly neverending winding corridors, one will understand why a guide is necessary for all catacomb tours. 
These underground spectacles can become so confusing that Antonio Bosio, the archaeologist who rediscovered the catacombs, got LOST inside, wandering the cold, dark, and muddy passages for hours… something best not to be repeated!
Catacombs of San Callisto
Situated on the Old Appian Way, the Catacombs of San Callisto span five levels and a total 20 kilometers in length. Named after the (soon-to-be pope) St. Callixtus, these are among the most significant Christian catacombs in Rome, and acted as the official cemetery of the Church of Rome in the 3rd century AD.
It is believed that roughly half a million Christians were buried in these catacombs, which were built in roughly 150 AD. Of these, there were some 16 pontiffs and 50 martyrs. Today, the Catacombs of San Callisto are open from Thursday to Tuesday between 9 am-12 am and 2 pm-5 pm.
→ Click to a look at our Private Catacombs and the Appian Way Tour!
Catacombs of San Sebastiano
If you are journeying Via Appia Antica, the Catacombs of San Sebastiano will show themselves as an easily accessible option, much like San Callisto. In fact, this hypogeum cemetery has always proved easy to access, resulting in a lack of respective preservation. 
However, what is left of this smaller four-story catacomb is truly worth the visit. A restored crypt of St. Sebastian includes a table altar and a bust of the saint attributed to Bernini, as well as pagan mausoleums and Christian iconographies covering the walls of the catacomb. 
More graffiti, reading 'domus Petri' also hints at the possibility that Peter the Apostle was buried within these walls, or more likely gives us the idea that this was of general consensus at the time. 
The Catacombs of San Sebastiano are open to visitors from Monday to Saturday between 9 am-12 am and 2 pm-5 pm.
Bone Church and the Capuchin Crypt
Whilst not technically one Rome's catacombs, the Bone Church (also known as the Santa Maria della Concezione dei Cappuccini) offers many visitors greater exposure to the buried themselves that they may feel the more well-trodden path of the catacombs in Rome can provide. 
Passing through the church, which is still in operation, one will arrive at the Capuchin Crypt. Here, six rooms contain the skulls and bones of friars who died between 1528 and 1870 – clearly a more recent development than the catacombs of the Old Appian Way.
Taking an Underground Rome Tour with Walks Inside Rome, you can discover the stories behind these 3,700 Capuchin monks that decorated the crypts, and why they were decorated in this way over hundreds of years.
Catacombs of Domitilla
Also situated on Via Appia Antica, the Catacombs of Domitilla were discovered in 1593 by Bosio, the archaeologist who slightly lost his way upon discovery. A Christian cemetery, the passageways were mostly used throughout the fifth century AD, and host over 26,000 tombs.
These catacombs differ from their Old Appian Way counterparts in the fact that they still hold human remains. Moreover, the walls are covered in paintings depicting scenes of the mundane, such as bakers and grape vines, to biblical, pagan, and mythical images.
The Catacombs of Domitilla are open to visitors from Wednesday to Monday between 9 am-12 am and 2 pm -5 pm.
The Jewish catacombs of Vigna Randanini
The necropolises that stretch from outside ancient Rome's walls do not all belong to Christianity. Six Jewish catacombs have been unearthed from Rome's underbelly, although only Vigna Randanini can be visited today.
With a Jewish Catacombs and Old Appian Way Tour, one can see the wider galleries and the 'Kokhim' graves with the wonderfully painted cubicula. Well-preserved, yet more intimate than others, the modest nature of these tombs can be attributed both to the poverty endured by the Jewish community of the time and the Jewish tendency to shun ostentatiousness.
Moreover, we can attribute the fact that the Jewish Romans created their own catacombs to their wish to avoid the Greek and Roman custom of cremation.
Visit the Catacombs with Walks Inside Rome
Walks Inside Rome has been guiding visitors through the city's catacombs for over two decades, providing immersive, authentic, and educational experiences for those who wish to delve deep into underground Rome.
Our local, licensed guides who are experts in art, history, archaeology, and food endeavor to transform your catacombs tour into something unforgettable.
See our website, or contact us via email to see our entire catalog of catacombs tours and more. We can't wait to hear from you so we can customize your catacombs in Rome experience and explore the Eternal City together!