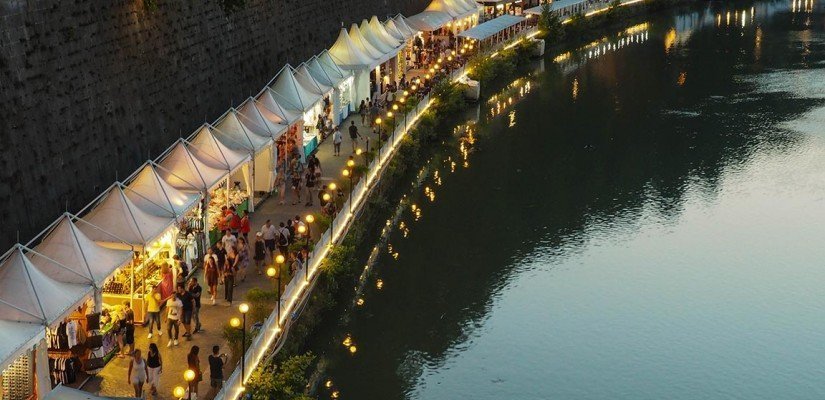 The scent of sunscreen fills the air, scoops of ice cream dripping on the sidewalk, and throngs of flip flops smacking their loosely-attached heels down the street–summer has arrived. We all need a summer vacation, and for most the ideal vision is a lounge chair under an umbrella on a sandy shore.
A summer in Rome fulfills this vision and more. Experience the culture of Italy–of Rome–with events spanning the entire city. From outdoor cinemas and concerts in the evenings to galleries and festivals in the day, immerse yourself in the Roman summer culture and take home more than just a tan.
Table of Contents:
Dine by the riverside for a taste of summer in Rome at Lungo Il Tevere
Long days and subsequently extended twilights drape the Eternal City in a soft yet festive light, making a trip to Rome in summer months worthy of your attention. Summer also brings sizzling heat and cloudless skies, quickly remedied by sunglasses–easy and very Italian. They wear them inside and out no matter what time of day. That's one secret for blending in during your trip (you're welcome). But what about the heat? Rome is split in two by the rapids of the Tiber River, setting a breeze and cool mist to the air, especially in the evening.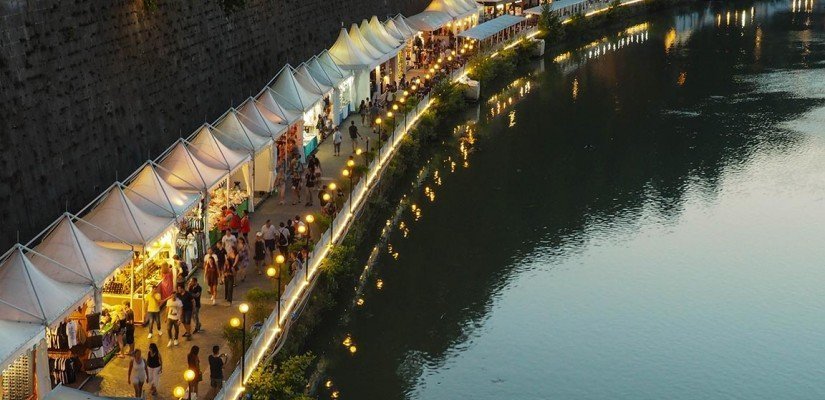 A carnival-of-sorts called Lungo Il Tevere welcomes you to summer in Rome with pointed tents covering restaurants and shops all surrounded by strands of warm light. The reflection of this scene off the river looks out of a Vincent van Gogh paiting.
Open from early evening until 1:00AM, the riverside air fills with melodic tunes from live bands, a prism of color from the variety of restaurants and bars, and a continuously cool breeze straight from the flowing waters of the Tiber just meters away.
You can find local handmade leather wallets and bracelets, sip a refreshing and vibrant Aperol Spritz, and take a ride on a gyroscope or try your hand at an escape room. Everything you need for an evening of entertainment is right here.
The best part? Every week new vendors take over stalls for a constant flow of fresh foods and artisanal products. Well, maybe that's second best. Afterall, beating the heat always tops the list. Lungo Il Tevere begins at Piazza Trilussa and ends at Porta Portese.
→ Walk through Lungo Il Tevere on a stroll around Trastevere
Experience an eruption of music, light, and drama during the summer in Rome at the Baths of Caracalla
The Baths of Caracalla are a sight in and of themselves. Add in a few spotlights and a stage, and the baths become the perfect backdrop for a summertime opera or ballet. The romantic atmosphere of Rome in twilight changes in an instant during these performances. Feel the heart-pounding anticipation as its ruins are doused in ominous red light and violins filling the air with screeches while the stage is consumed by hurried figures. Or welcome a cheerful tranquility when soft blues envelope the baths and a light-hearted cadency dances around you.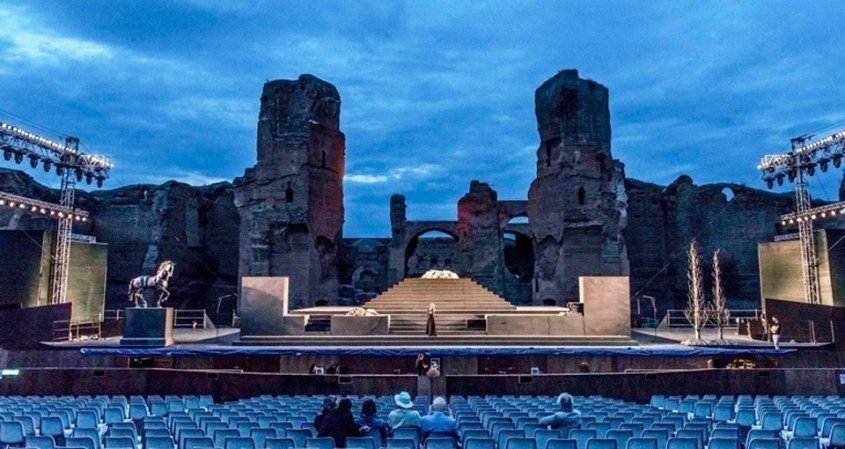 No matter which show you see, the performance is bound to astound you. The baths during summer in Rome always welcomes the operas of Aida and La Traviata as well as the ballet of Romeo and Juliet to its stage. If those don't tickle your fancy, there are concerts and other performances that might.
→ See the summer schedule at the Baths of Caracalla
Explore the little island that's big on entertainment during summer in Rome, day and night
The tiny Tiber Island situates itself on the curve of the river directly between Rome's historic district and Trastevere, which is quite fitting. The island was once the site of an ancient temple of Asclepius, just to give you an idea of how long it's been around. Now, the Fatebenefratelli Hospital resides on its shores and has been since the 16thcentury.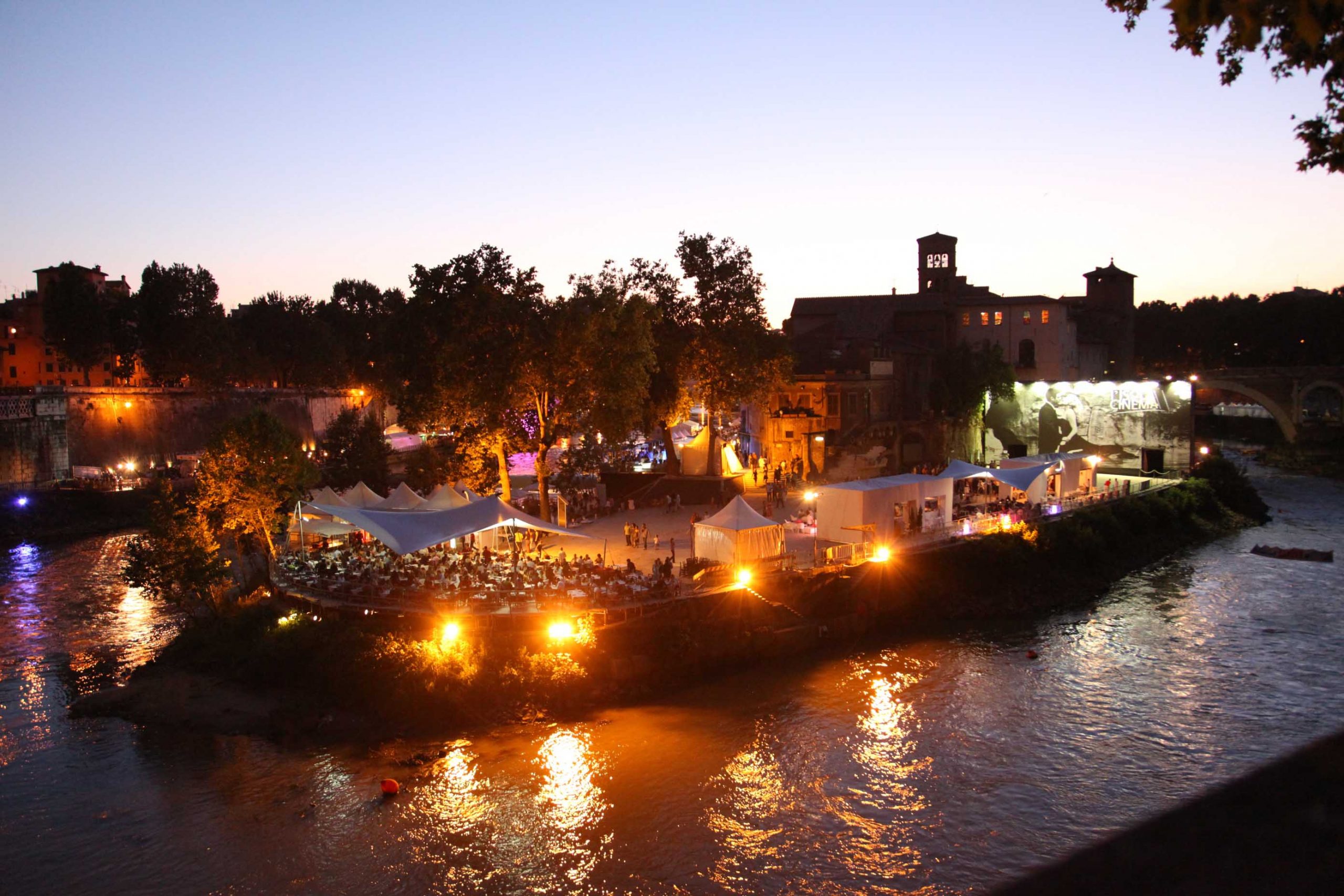 The island's history meets modernity with the Isola del Cinema festival. The event is dedicated to showcasing recent films (mostly European) made over the past year. It's used by many filmmakers to premiere their projects to critics and the public alike.
This year, the festival has a few interesting additions. Step into the 360° virtual reality theater for a fully immersive cinematic experience, or the gaming room for a hands-on, heart-pounding approach to storytelling. There are even three photographic exhibitions to wander through. Take a look at the full set of offerings for Isola del Cinema this summer in Rome.
→ Discover your summer on Tiber Island
The countryside town of Tivoli opens its doors to the dazzling Villa d'Este at Twilight
Tivoli is a quiet town centered in the rolling hills of Rome's countryside. At just 45 minutes away, it's an easy day trip (or should I say night trip) and can be reached either by train, car, or with a tour. Its vibrantly colored palazzi along its steep, winding streets set a unique contrast against the emerald forests around it.
While the town itself is picturesque, it's what Tivoli holds within that makes for an unparalleled summer night: Villa d'Este. On Friday and Saturday nights, Villa d'Este keeps its doors open for passersby, locals and tourists alike, curious about the magic within. Explore a seriously otherworldy garden while dining at its restaurant surrounded by wondrous waterfalls and fountains engineered in the 17thcentury. The villa even has musical events and dance recitals throughout the summer months.
Villa d'Esta is considered somewhat of a fairytale experience that you have to see for yourself to believe. But why stop there? Spend the evening beforehand exploring the nearby Villa Adriana for a peak at emperor Hadrian's "humble" estate.
Take part in the Festa de Noantri during summer in Rome in last two weeks of July
Translating to Feast for the Rest of Us, the Festa de Noantri is a somewhat strange festival with ties to religion and the historically close-knit community of Trastevere. In short, it's based on an event from 1535 where a statue of the Virgin Mary was found at the mouth of the Tiber after a storm by fishermen (who were the inhabitants of Trastevere). On the first Saturday after the feast of the Blessed Virgin of Mount Carmel (on July 16th) the statue, named Madonna Fuimerola, leaves its home at Santa Agata.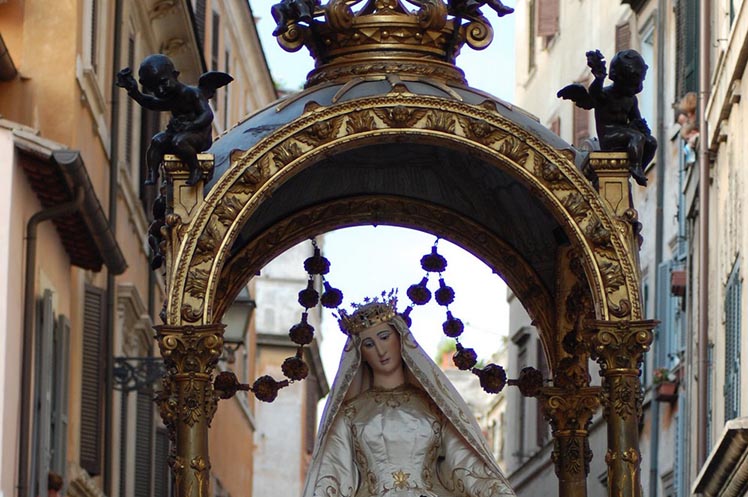 So, maybe you're asking how this is fun for you. During these last two weeks of July when the statue is out, it's paraded around the district. Locals cover it with jewelry, leather goods, and other trinkets or clothing all of which is handmade. It's moved around from church to church surrounded by bands playing music and religious folk from near and far (but mostly near) celebrating. For the grand finale, in the evening of the last Sunday of July, the Madonna Fuimerola is paraded down the Tiber River in a boat as a reenactment of its founding event.
This is a prime example of a community coming together and exalting its culture. Whether you're religious or not, it's a unique experience to take part of actively or passively—the choice is yours.
→ Follow the festival in Trastevere
Immerse yourself within a modern Sistine Chapel experience, only available during summer in Rome
No, we don't mean in the Sistine Chapel (though you could tack that on). Michelangelo's masterful creation is known world-wide and unanimously revered as a genius spectacle combining the book of Genesis and artistic creation. If you haven't seen it in person, then you really need to.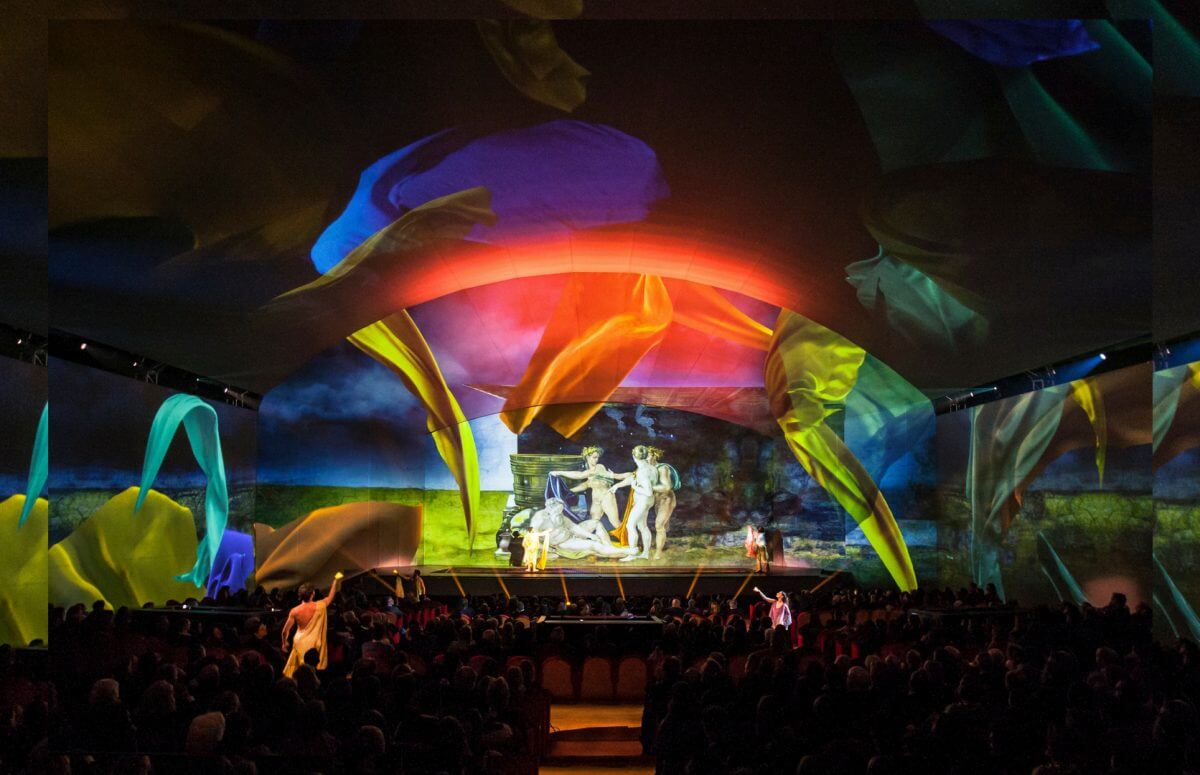 During the summer in Rome, an amalgamation of traditional theater and modern projectors immerse you in 270° of creation where you'll witness the birth of the Sistine Chapel. The Last Judgement Show is an incredible feast for the eyes, but if that's not enticing then maybe the theme song by Sting is.
→ Book your seats before they fill up
Spend a summer in Rome seeing more concerts, shows, and films than your eyes and ears can handle
Italy is well-known for its artistic history art, whether it's the stillness of portraits and deities frozen in marble or fluid ballets and dramatic operas. During summer in Rome, these traditional arts are mixed with modernity. Concerts series like Rock in Roma, Concerto del Tempietto, and the Roman Philharmonic Orchestra take the stage(s) through the city. From colorful projections behind vivid performances at the Forum of Augustus to concrete stages in Villa Ada, not a single corner of Rome is left untouched.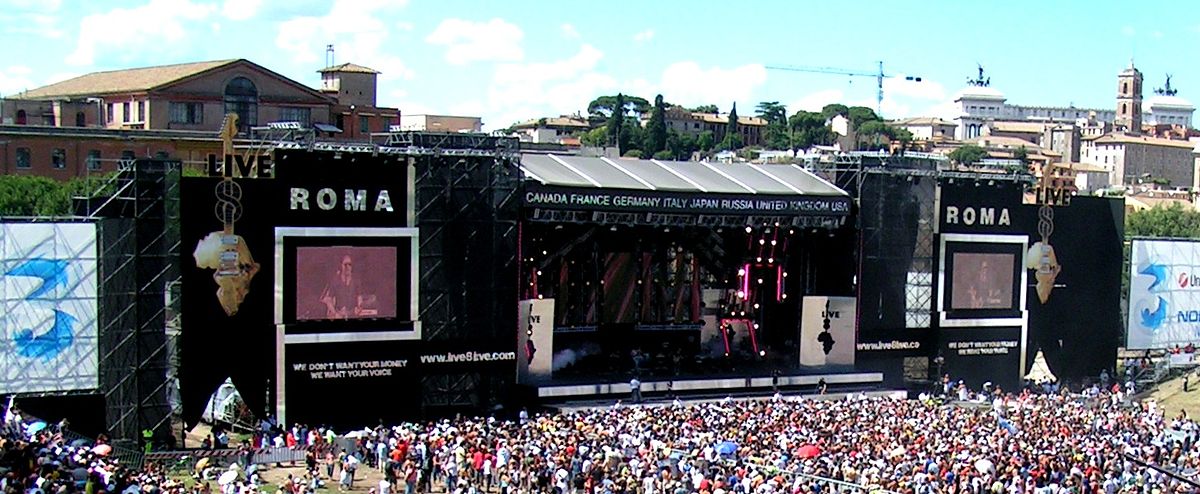 One thing Italy isn't so known for is film, but Rome is certainly getting its fill. Summer is always full of blockbuster releases, which you can watch in English here in Rome. But the magic is in the location. Why sit indoors when you can be under the stars in Villa Borghese?
For theatre, the Baths of Caracalla isn't the only outdoor venue hosting performances. From the well-known Aida to the nationally-known Pirandelliana, there's a performance for everyone. No matter where you wander off to you're bound to stumble upon one of these happenings–planned or improvised–and what a good excuse to explore a new part of this expansive city.
→ Take a look Rome's film, theatre, and musical happenings
Nothing says summer like a trip to the beach
Let's say you're in Rome for a week, and while there are tons of things to see and do, maybe you want take a day to relax. The whole country is surrounded by seas and sandy beaches. Why not take an opportunity to experience the Mediterranean Sea. Ostia is a popular choice as well as Santa Severa. Cover your feet in black sand and cool off in the refreshingly clear waters while you get a taste of Roman beach culture.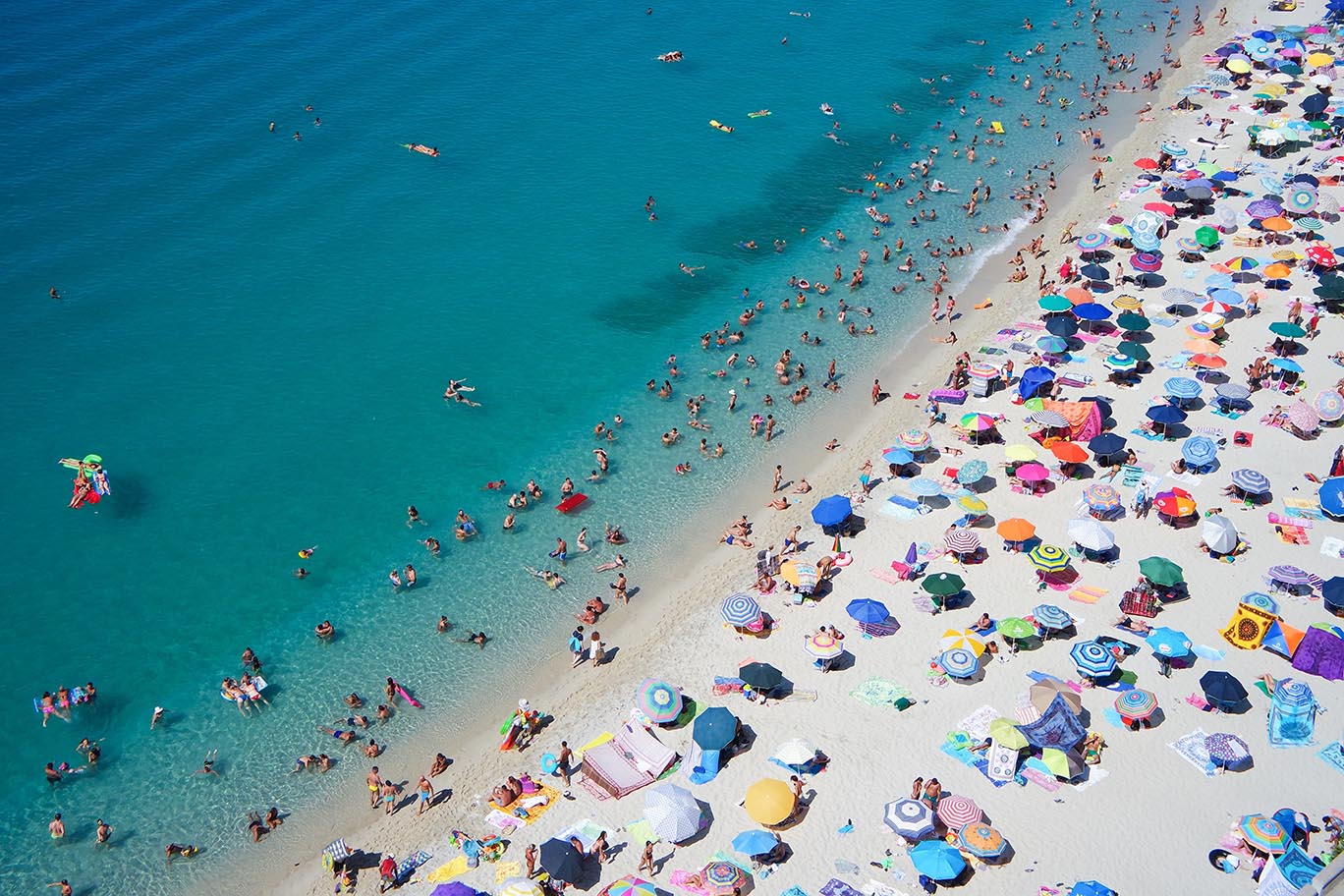 Maybe salt water isn't your thing. In that case, head to a lake! Lake Albano is incredible—and incredibly cold. You can sunbathe, swim, and take a romantic or relaxing boat ride around the crater in which the lake resides. Castel Gandolfo is also a quaint mountain town with an interesting history.
No matter which site you choose, you're sure to have an experience only found at the shores of Italy. Speedos, black sand, blazing sun, and bronze skin. Summer is here.
→ Relax at Lake Albano and Castel Gandolfo
We all know summer is tourist season no matter where you go. Why not escape the traditional to-dos and venture off into a cultural paradise waiting to be experienced? Step off the tourist wagon and set your sights on something local. Immerse yourself in local culture for a summer in Rome you'll never forget.