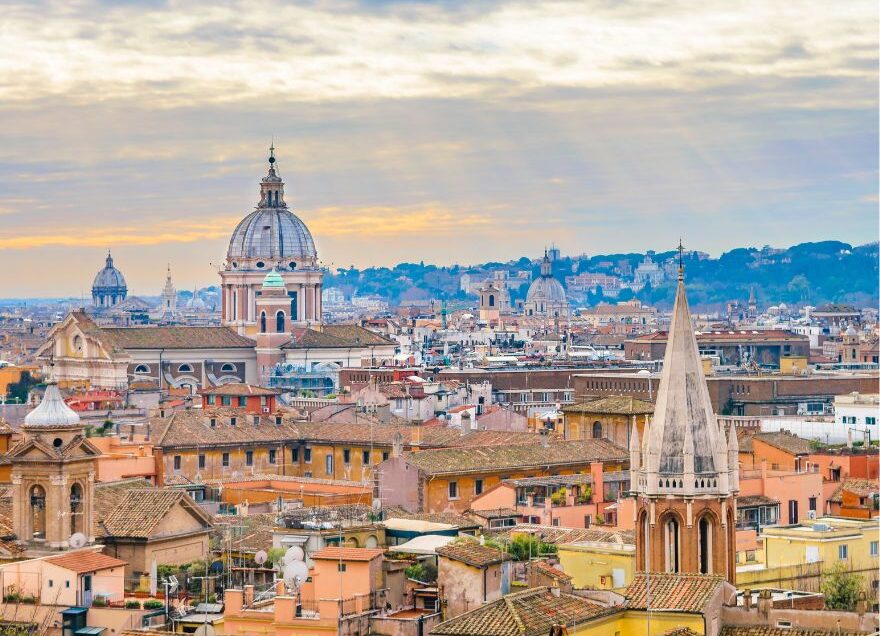 Rome is the center of the world?
Rome has always been considered a place with extreme significance in a plethora of cultural and historic ways. It has potent religious influence due to housing the Vatican City and its papal church, making it a center for Catholicism.  The Roman Empire has remained famous through the ages for its influence on Western civilization in different spheres such as engineering, architecture, art, politics, literature and philosophy. This work and influence is carried on through extensive cultural preservation efforts, and developed on even in contemporary times.
For these reasons Rome sees masses of tourists from around the world flocking to the city, almost like a pilgrimage, with Rome being considered as one of the cities one has to experience in this lifetime. And when one thinks of Rome, they think of the aspects encompassing the historic center.
What is the Rome center?
The heart of the city is characterized by buildings in hues of peach, pink, cream, rust and terracotta, sometimes covered in vines or exposing their bricks.  The center is embellished with sculptures and with piazzas glittering with fountains, restaurants and cafes dotted across its expanse. It holds historical monuments and artifacts, and is characterized with the romanticized winding streets we think of when we think about Rome. 
Do you know what the Rome city center is called? It has a term dedicated to it called 'Centro Storico' which literally translates to 'Rome historic center'. 
The Centro Storico is embedded with a lot of the most famous features of Rome as well as other spaces where you can immerse yourself in the peak of what Italian lifestyle has to offer. It holds a wide number of monuments, museums, hotels, restaurants and other important spaces for the Romans. 
Where is the Rome City Center?
It is important to note that when one talks about the Rome city center they are referring to the old city of Rome. This is where there is the most historical influence of ancient Roman civilization, making it a pivotal point for further development and influence, which it is!
If we were to draw a Rome city center map we would mention the districts that include:
Piazza Navona and Pantheon area
Campo de' Fiori and the Jewish Ghetto
The Colosseum and the Monti area
Vatican City and some of the Prati area
Trastevere
The Trevi Fountain and Spanish Steps area
Piazza del Popolo area
Palatine Hill, Aventine hill and Capitoline hill
How to get to Rome city center from Fiumicino airport?
Being the biggest airport in Rome, there will be a plethora of taxis available at Fiumicino airport that will take you to the center of the city. By taxi it will take approximately forty five minutes to one hour to get to the center and will cost around 60 euros. You can also choose to take the train that has a station within the airport that can take you to the city center in less time, with a one-way ticket costing 8 euros. 
Rome center to Ciampino airport
Ciampino airport is 16 km from the Rome city center. By car it takes about 30 minutes to get to the center on a day with moderate traffic. 
By bus, 32-45 mins on moderate traffic days. Buses to Ciampino however, solely leave from Rome Termini station. 
By taxi, there is a fixed price of 31 euros to and from the city center. 
What is Rome central train station?
Although there are a number of train stations scattered around the city to connect various areas, perhaps the most relevant one would be Termini Station. It is the most accessible to and from the city center, making the main historic attractions at walking distance from it.
Rome city center attractions
The following is a non-exhaustive list of attractions in the city center, covering not only the coveted ancient Roman monuments but also museums, churches, gardens and squares.
 Monuments testifying to Ancient Rome:
Pantheon

Trevi Fountain

Colosseum

Spanish steps

Roman Forum

Castel Sant'Angelo
Museums:
Borghese Gallery

Capitoline Museums

Palazzo Altemps 

Palazzo Massimo 

Museo di Roma

Museo fi si ultura Antica Giovanni
Historic churches:
Basilica di Santa Maria Maggiore

Chiesa del Gesù
St. Peter's Basilica
Santa Maria della Vittoria
Santa Maria in Trastevere
San Luigi dei Francesi
Gardens and parks:
Villa Borghese

Roseto Communale (Rose Garden) 

Villa Celimontana
Famous squares:
Piazza Navona

Piazza di Spagna

Piazza del Popolo

Piazza Venezia

Campo de' Fiori

Piazza Farnese

Piazza Mattei

Piazza Colonna

Piazza Sant'Ignazio

Piazza di Santa Maria in Trastevere
How to get from Rome city center to the Colosseum?
Admittedly, the Colosseum is one of the main monuments that is relatively separated from the rest. If you are staying on the side of the city center as linked on this map, then perhaps the best way to get around would be through means of transport on wheels such as a bus, a taxi or a privately hired car. 
Where to shop in Rome city center?
There are a plethora of spaces in Rome that would satisfy your shopping desires. The center is not only dense with options for wearable fashion, but it also has shops and boutiques for accessories, leather products, shoes, jewelry but also vintage home and lifestyle goods. 
There are two extremely popular shopping districts in the city center. One is Via del Corso, which is a long street lined on both sides with all kinds of shops for fashion, mixing both Italian labels with international names, high end brands with newer, niche boutiques. 
The other district is Via dei Condotti, which links the street of via del Corso with the Spanish steps. This is where the luxury houses of some of the biggest Italian fashion companies can be found such as Gucci, Fendi, Valentino, Bulgari and Salvatore Ferragamo, along with some of the biggest French luxury brands such as Louis Vuitton and Hermès. 
What is the Rome central market?
There are various markets that make up an important part of the regular lives of the Romans. However, the most central to the city can be considered to be Campo de' Fiori, which transforms into a farmer's market during the day that should be witnessed for the atmospheric hustle and bustle- it is truly encapsulating! 
What is the Rome central park?
The gardens of Villa Borghese can be considered to be the most central to the city. The former vineyards are now the most accessible, becoming a huge part of the lives of Romans who frequent it with their families, friends, their loved ones, their pets or even solitude. It is a wonderfully vibrant atmosphere to be a part of in order to bathe in some nature and greenery. You can also visit the renowned Borghese Gallery within its parameters to learn about the Baroque and Renaissance art periods. 
Rome city center restaurants/food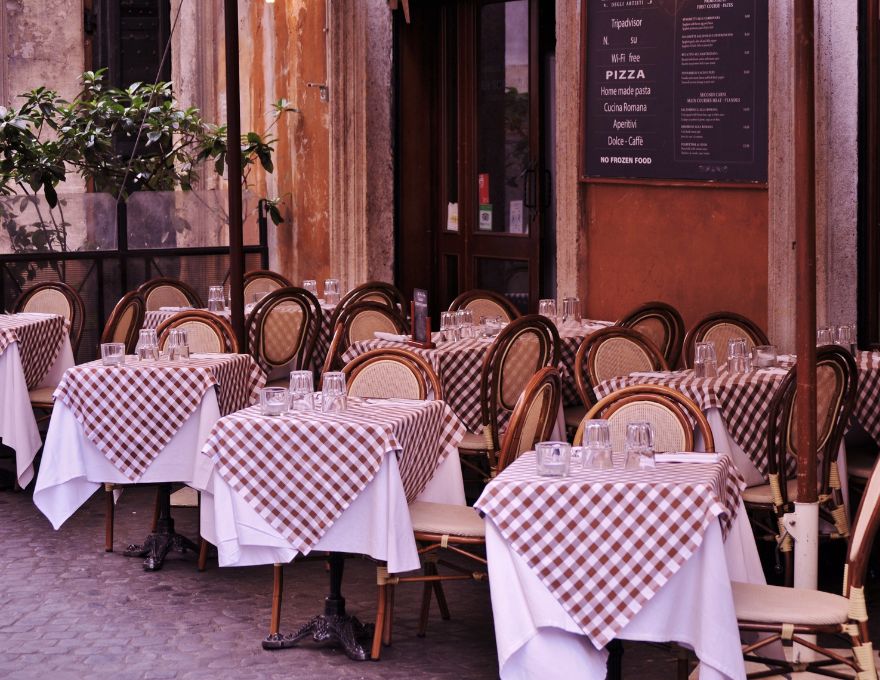 The city center is the haven in which you can sample and savor all the Roman classic dishes– both those that you have heard of and those that you have yet to learn about. When it comes to restaurants, there are many hidden gems located in the nooks and crannies of the city center- keep a look out for family-run businesses that were established a very long time ago! Sometimes the no-frills eateries with basic furnishings are the ones where you can get some of the most authentic meals! Indulge in different pasta dishes but also explore a variety of appetizers, side dishes and meat selections- try and see which restaurants are known for what dishes.
How to get around Rome without a car?
If you do not want to make use of transportation on wheels and are still a bit unsure about directing on-foot itineraries by yourself, Walks Inside Rome provides tours that help you experience Rome like a local without the need of a car. We recommend our golf cart tours which is an eco-friendly transport option that will let you cover an exciting, densely packed Roman itinerary in a day, or different on-foot options that are crafted around particular themes such as food walks in different central neighborhoods and art tours concentrated in the city center.
We recommend:
Golf Cart Tour of Rome
Jewish Ghetto and Trastevere Food Tour
Caravaggio Tour