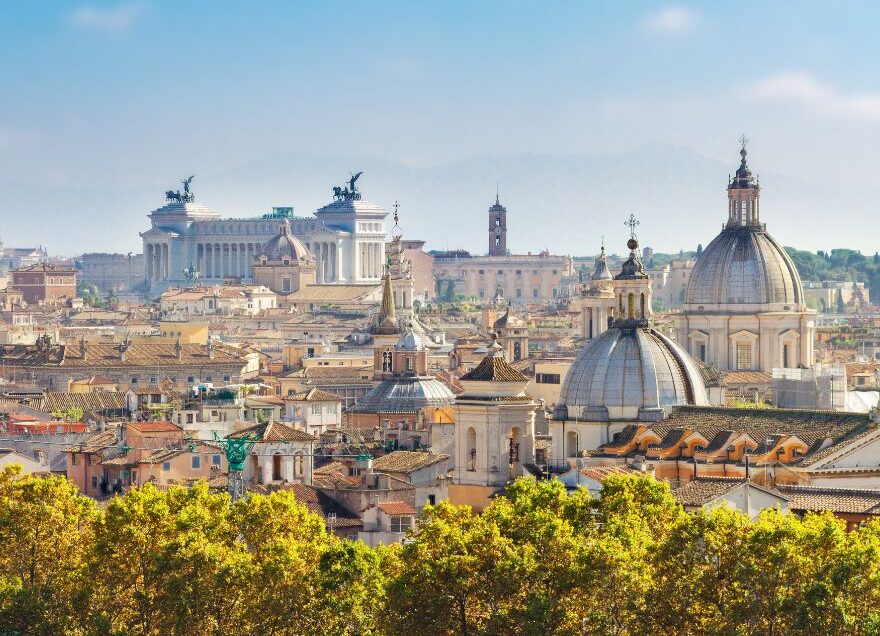 The expansive experiences that Rome can provide you with makes the question of which hotel to stay at quite the dilemma. Depending on what you want to see and do in Rome and a range of other factors, the choice of lodging can make your vacation either a fulfilling or a disappointing one. There are numerous hotels in Rome, all strategically positioned to either bring you the closest to the most famous monuments, or to keep you near a public transport network. 
The first glance at a map of hotels in Rome may make you feel overwhelmed; making a choice may feel like searching for a needle in a haystack. 
In this article we will help you figure out where is the best area to stay in Rome, tailored for what you desire from your vacation, and we will also map out the most recommended hotels accordingly. 
Which area to stay in Rome?
The first step would be to sit down with yourself and figure out what exactly it is that you want to do on this trip. Do you want to hit the most famous monuments or do you want to be closer to a historic neighborhood in order to slow down and also immerse yourself in the beauty of the daily Italian lifestyle? Are you more interested in the dense history of art that the galleries have to offer? Do you want to be in a space that provides authentic food options? 
For most of your vacation planning choices, a central location in the city fits best. Rome can be seen as a walkable city, especially since the most important monuments are clustered close together, which means a significant portion of your itinerary can be met if you choose a central location for your stay. 
What is the safest area to stay in Rome?
Again, the more central areas of Rome happen to be the safest for tourists. Areas in the outskirts as well as those close to the station end up being a little less reliable due to being impractical for commuting, and also due to the fact that it may be a little less easy to find English-speakers there. For both ease in communication and in transport, we recommend staying as close to the center as possible. 
Regardless of whether you choose a full Rome vacation package or a two-day vacation, there are a lot of quality lodgings to choose from.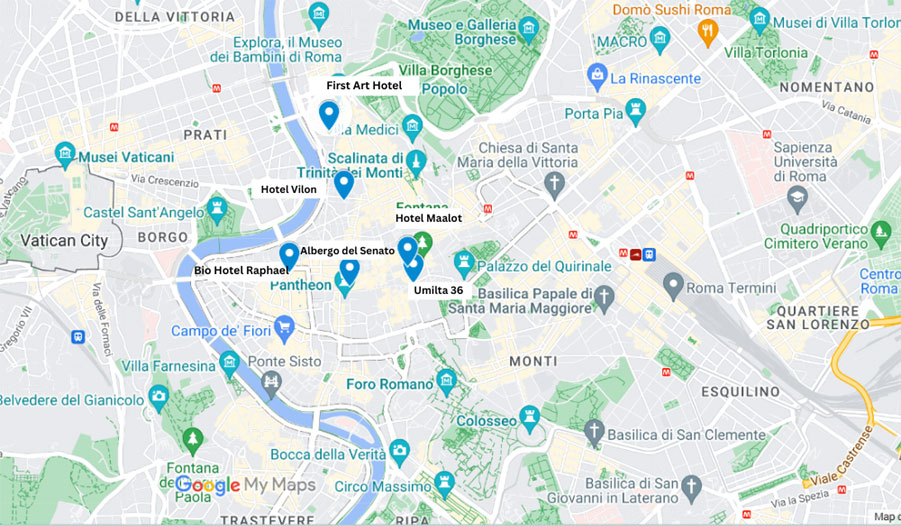 Recommended hotels in Rome
To find the best hotels in Rome does not necessarily mean to only search for 5-star hotels in Rome. 
Of course, not only location matters when making a decision, but also the kind of accommodations, services and atmosphere you desire to be surrounded by at the place you stay. 
Note: If you are wondering, "Where can I get a tourist map of Rome?", every hotel has their own brochures and various other materials to peruse through; they will be more than happy to provide you with some guidance of their own!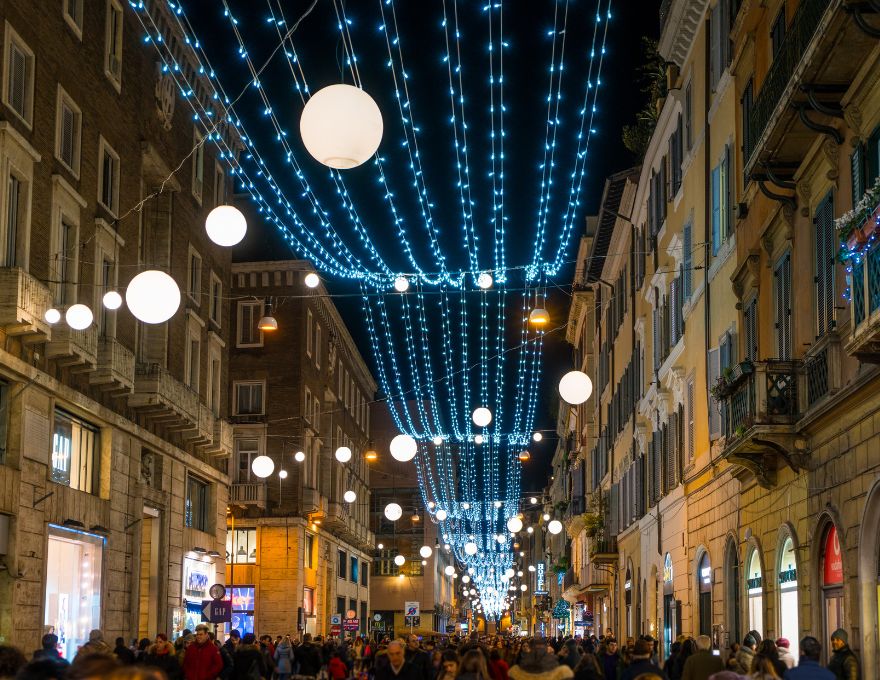 Umiltà 36
5 star hotel
This uber chic hotel lies on a street between the Pantheon and the Trevi Fountain. It hosts an art gallery with eclectic, contemporary mixed media art; has a cafe inspired by the concept of the18th century literary cafe and also has a gourmet Argentinian restaurant. It provides sleekly furnished rooms and suites, has a gorgeous terrace to enjoy a Roman view and offers a fitness center. 
Nearby attractions: The Pantheon, Piazza Navona, Trevi Fountain, the Spanish steps, Villa Borghese. 
Location: Via dell'Umiltà, 36 – 00187 Rome (RM)
Hotel Maalot
5 star hotel
The Hotel Maalot is the former home of a famed opera composer named Gaetano Donizetti, transformed into a stylish space to stay at. It holds a unique collection of hat-themed contemporary art and a winter garden restaurant with a glass dome ceiling. The hotel is located near the city's two hottest shopping districts called via del Corso and via Condotti, being the perfect place to stay to delve into what Italian fashion has to offer. There is also a fitness center available. 
Nearby attractions: Via del Corso, via Condotti, Piazza Navona, Pantheon. Trevi Fountain, Spanish steps, Villa Borghese.
Location: Via delle Muratte, 78 – 00187 Roma (RM)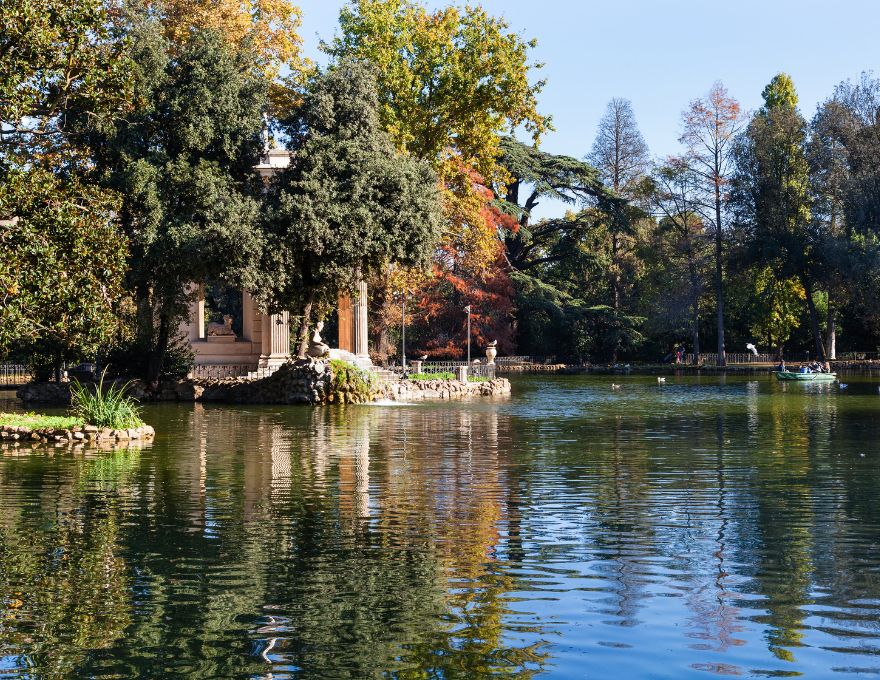 Hotel Vilòn
5 star hotel
If you would like to indulge in a historically luxurious stay in Rome, consider Hotel Vilòn. The residence dates back to the 16th century and used to belong to the regal Borghese family.  Since the beginning of the 17th century it has a history of being rented out by the princes. Your stay here would be keeping in line with this activity, giving you access to the stunning suites decorated in a mix of art deco and bohemian style, whilst maintaining some of the classic fixtures of the palace. You will have access to the Adelaide restaurant and lounge for Mediterranean cuisine and can also choose to stay in suites that have a private terrace that overlook a private garden of Palazzo Borghese. 
Nearby attractions: Palazzo Borghese, Villa Borghese, Spanish steps,  Pantheon, Piazza Navona, Castel Sant'Angelo, Prati neighborhood.
Location: Via Dell'Arancio 69- 00186 Roma (RM)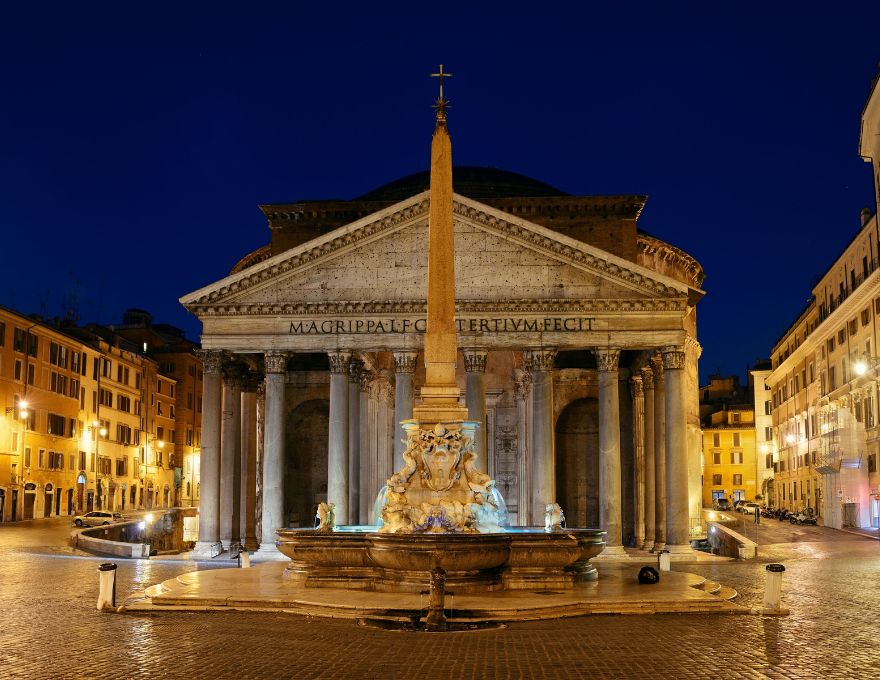 Hotel Albergo del Senato
3 star hotel
This hotel dates back to the 19th century, having been designed by talented architect Gaetano Koch. Its location is absolutely splendid as it stands on the piazza of the Pantheon. It carries an antique feel throughout the space, and provides breakfast and a rooftop terrace with a panoramic view of the monument. Some of the rooms are ornately decorated with frescoes on the ceilings, while some others look straight out to the tall-standing columns of the Pantheon. This is also the only hotel on this list that has a conference room! 
Nearby attractions: Pantheon, Piazza Navona, Villa Borghese, Spanish steps, Campo de'Fiori, via del Corso and more. 
Location: Piazza della Rotonda 73 -00186 Roma(RM)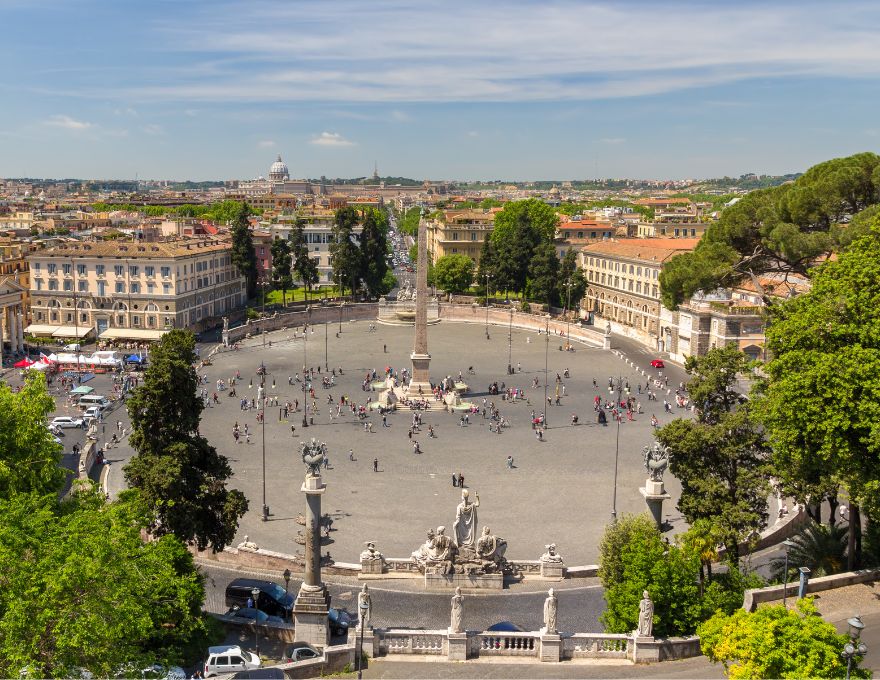 First Art Hotel
5 star hotel
The First Roma Arte provides the experience of what it would feel like to sleep and stay in a contemporary art gallery featuring up and coming Italian artists. Its modern look accompanied by a lot of velvet blue tones in its furnishings makes it an interesting, stylish option for your accommodation needs. It features a fitness room, a lounge bar and Aquolina: a two Michelin star restaurant for Mediterranean cuisine. 
Nearby attractions: Ara Pacis Museum, Castel Sant'Angelo, Prati neighborhood, Piazza del Popolo, Spanish steps, Via del Corso and more. 
Location: Via del Vantaggio 14 -00186 Roma(RM)
Bio Hotel Raphaël
5 star hotel
 Hotel Raphaël is immersed in the concept of 'deep green hospitality'. Its bougainvillea and wisteria covered exterior holds within it what they call a 'bio-utopia'- providing a sustainable, ecological luxury experience. It has a restaurant with vegan options, all the produce grown uses organic, biodynamic processes. The hotel also serves as a museum, holding art  by Mirò, De Chirico, a few works of the Vannoni family and some ceramics by Picasso. Some famous Italian movies have also been filmed at this location. 
Nearby attractions: The neighborhood is the perfect intersection between Trastevere, Prati and Centro Storico, making all of them close by. Villa Borghese and Villa Medici are also easily accessible. 
Location: Largo Febo 2 -00186 Roma (RM)
When should I book a hotel in Rome?
There is definitely a difference between the kind of activities and the kind of Roman lifestyle and atmosphere you will be able to have access to according to the high and low seasons of tourist activity in the city. The best time to visit Rome will also highly depend on your and your personal preferences. 
During the curatorial process of your vacation in Rome, consider perusing through the tours Walks Inside Rome has to offer; all are designed for a pleasant and well-organized experience and provide itineraries for all kinds of activities- perhaps some that you did not think of to add to your trip as you did know that such experiences even existed for you to take on! Especially if your choice of hotel takes you to the center of the city, we have a wide array of tours that can take you around the center, but also beyond it with accessibility. 
Considering the central location of the aforementioned hotels, consider spending a full day in Rome excursion to be guided through all the sites, or the La Dolce vita stroll, inspired by the 1960's film.