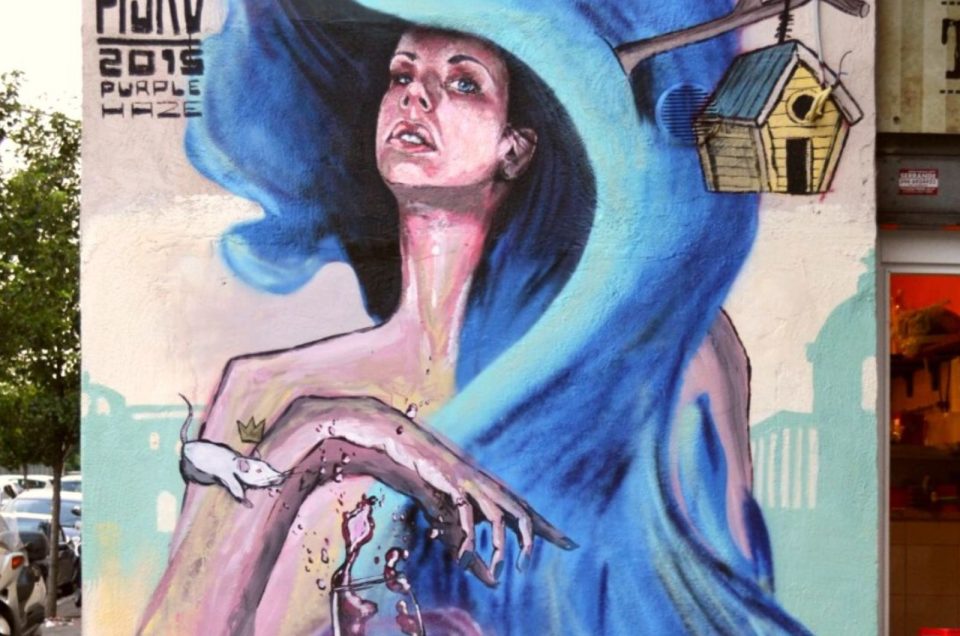 Since its conception in the 1960s in New York, street art has come a long way and is now considered one of modern art's greatest movements. This visual poetry aims not only to beautify the buildings and monuments that it adorns but at its core, it often reflects contemporary political and social issues.
When thinking about street art in Rome, what might immediately come to your mind is its great contrast with the center of the Eternal city that houses some of the most elegant monuments of the ancient and Baroque period. Nevertheless, Rome has transformed into a budding hotspot for likeminded contemporary artists who enjoy depicting their creativity in public spaces. This newest artform adds another layer to the story of an ever-evolving cultural microcosm that continues to impact Europe and the rest of the world.
We recently caught up with PISKV (Pisky to his friends), a young architect who has become one of the most prominent street artists in Italy and beyond, to gain a greater understanding of Rome's relationship with street art.
→ We provide a unique and exciting tour that helps you explore some of Rome's best street art with an expert guide, who is also an artist! You will be able to discover the artistic side of the city that few tourists get to see. Send us an email to know more!
A Personal Glimpse Into Rome's Street Art Scene
We asked PISKV regarding the scope that street artists have in Rome. According to him, the city is one of the most important European cities involved in the street art scene and you can find thousands of artworks of both national and international artists.
On his personal relationship with street art in the city, he added, "Rome is a city where you can breathe art in every corner and street art is definitely a part of the its artistic soul. For me it has been inspirational to start my path and continue to do this as a full-time job, because here you have a lot of opportunities, you can meet artists, people that work with art, or just get inspired by the beauty."
While going through PISKV's works we came across a very eye-catching mural about which we couldn't help ask more questions. The mural is that of Pope Francis smiling and waving, painted with a striking contrast between the various sepia tones.
"This Pope Francis design has been made to be painted in my native city, Canosa di Puglia which is historically connected with the city of Rome", he said. "Certainly it is in my plans to realize it this year and give it as a gift to the local church."
We wanted to know more about his contributions to Italian street art culture. We asked him what project he was most proud of, and he referred to a series of works that can be found decorating the streets of Rome.
"The project I'm prouder of is definitely the one I've painted here in Rome", he said. "This one is related to a great passion of mine: basketball! I had the opportunity to collaborate with important brands such as Red Bull and NBA to paint a huge basketball court in the San Lorenzo District  and an immense wall for the 75th anniversary of the NBA in Via Nomentana. To me it has been such an honor to use my art to speak about this sport. Also, another mural that I've painted in Rome is the one I realized as a tribute to Kobe Bryant at Pala Tellene which is probably my favorite for the meaning it represents to me. Last but not the least, it was such a huge accomplishment because the echo of this mural traveled around the world, especially in the US and California where Koby Bryant was a true hero."
Where to Find the Most Captivating Works of Street Art in Rome?
In a city brimming with elegant neighborhoods and historic artforms that have been refined over the centuries, where does one have to search to happen upon this latest addition to Rome's captivating strade?
With great enthusiasm PISKV suggested areas in the city where street art permeates local culture. His suggestions include Pigneto, San Lorenzo and Porto Fluviale that offer varying artistic styles, from "spontaneous" street art and graffiti to grand "murals by international artists".
The renowned quarter of Trastevere as well, is an evocative street art attraction full of murals, stickers and Roman icons. By taking a stroll through these districts you will not only be able to lose yourself in their artistic atmosphere but will also be able to witness the artistic changes taking place in this constantly evolving city.
→ To explore the hidden corners of Trastevere, take our exciting Hidden Trastevere and Villa Farnesina Tour!
Book a tour with Walks Inside Rome
At Walks Inside Rome, we provide a wide range of tours and experiences. The expertise of our guides in the culture of Rome provides you with the opportunity to go off the beaten path and explore the city's most unique gems.
You can book the tours directly online or by contacting us via email. We can't wait to hear from you so we can customize your Roman experience and explore the Eternal City together!