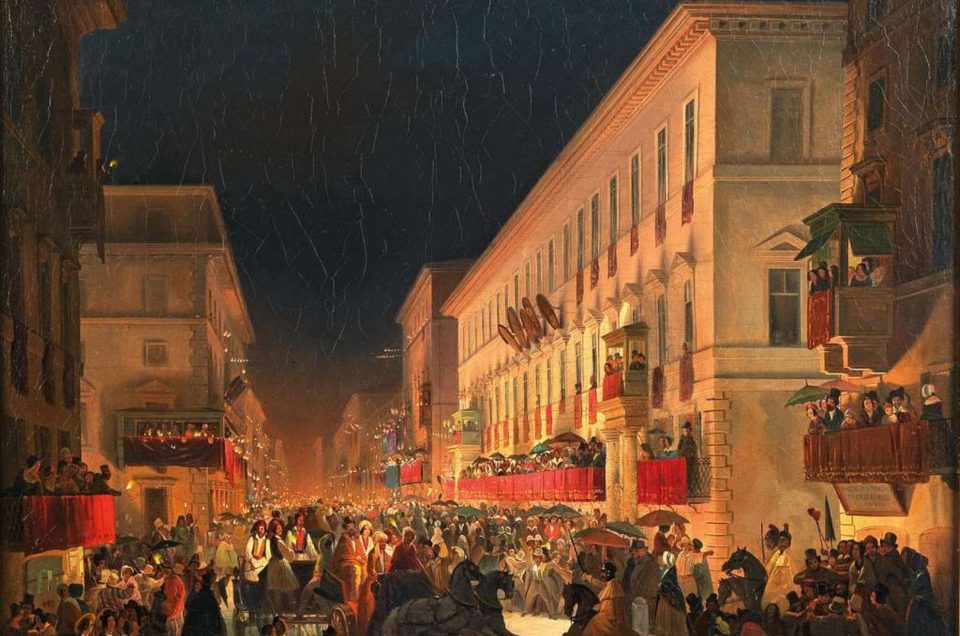 When talking about the Carnival in Italy, the first that comes to mind is the one from Venice. Famous for its glamorous costumes and parades, Venice receives hundreds of thousands of visitors every year in February who hope to be a part of these glamorous celebrations.
Although Venice might hold the title of the most famous carnival in Italy, did you know that every region has its own special traditions? The town of Acireale in Sicily is well-known for its spectacular parades with stunning floats and costumes. The towns in Calabria participate celebrate the Carnival by participating in ancient rituals that have been handed down from generation to generation. One of the most fun Carnival traditions definitely originates in the town of Ivrea where the people organise themselves in nine teams and hold a battle amongst each other with oranges!
While the carnival in Rome is not as spectacular as some of the other Italian cities, during this period there are several events organised around the city including theatrical performances, equestrian parades, concerts and street art performances. Let's first delve into Rome's carnival traditions and then take a look at this year's exciting events.
The History of Rome's Carnival
The origins of the Carnival in Rome are uncertain. Some believe that the carnival originates from the famous ancient Roman festival, Saturnalia. It was celebrated in honour of the god Saturn, god of agriculture and time. Although initially Saturnalia lasted only a day, by the late Republic, festivities began on December 17th and lasted for a week.
School and work came to a halt as people decorated their houses and streets with wreaths and other decorations. The days were spent feasting, excessive drinking, gambling, visiting relatives and exchanging gifts. As with all ancient Roman festivals, the initiation of festivities required a sacrifice. In this case sacrificed a sacrificed a suckling pig in their homes in honour of Saturn.
The most interesting tradition of Saturnalia was that on this day societal norms were overturned and masters served slaves. Slaves were allowed to speak freely and even rudely to their masters without the fear of punishment. They could also eat with and sometimes even before their masters and wear hats that were only allowed to be worn by free citizens.
Ludus Carnevalarii
While it is unknown if the carnival is related to Saturnalia, it is definitely related to the Ludus Carnevalarii that dates back to the 12th c. AD. There were several extravagant festivities that took place during this period. They included the pope riding on a horse along with his knights to perform various ceremonies, the members of noble families participating in various duels and even bullfighting events.
Initially these events were held near Testaccio and the plane below Monte Ciocci but as they became more popular, they were moved to more central areas such as Piazza Navona, Piazza del Popolo and Via del Corso.
Via del Corso became the site of one of the most popular carnival events: various types of races that started at Piazza del Popolo and ended in Piazza Venezia. These different types of races included horse and donkey races, races for children, races for the elderly and in 1501 Pope Alexander VI Borgia, even introduced a race for prostitutes! But the most awaited event of the carnival was the Berber horse race during which the entire city's population descended on Via del Corso to witness the nobles competing with their magnificent horses.
→ To tour the center of Rome with a customizable itinerary and learn about its history take our private Golf Cart Tour of Rome!
The Modern Carnival
By the 1870s the carnival in Rome was in decline and after an incident that claimed a few lives, the equestrian race was banned. After the unification of Italy, the carnival lost all its importance but in modern times several events are organised around the city and people continue to indulge in various festivities.
Events that you can attend this year:
The San Carlino Puppet Theatre in Villa Borghese is organising an animal themed puppet show for kids until the 26th. If you have kids, this could definitely be worth a visit!
Tarantella del Carnevale: On 19th February, Auditorium Parco della Musica is organising an exciting event that includes masquerades and performances by musicians and dancers.
Street art in Piazza Navona: For various types of performances by street artists that include dancers, musicians, painters and comedy routines, do visit Piazza Navona on Sunday, February 19th.
Book a tour with Walks Inside Rome
At Walks Inside Rome, we provide a wide range of tours and experiences. The expertise of our guides in the history and culture of Rome provides you with the opportunity to discover the city's most beautiful sites be it ancient or modern.
You can book the tours directly online or by contacting us via email. We can't wait to hear from you so we can customize your Roman experience and explore the Eternal City together!