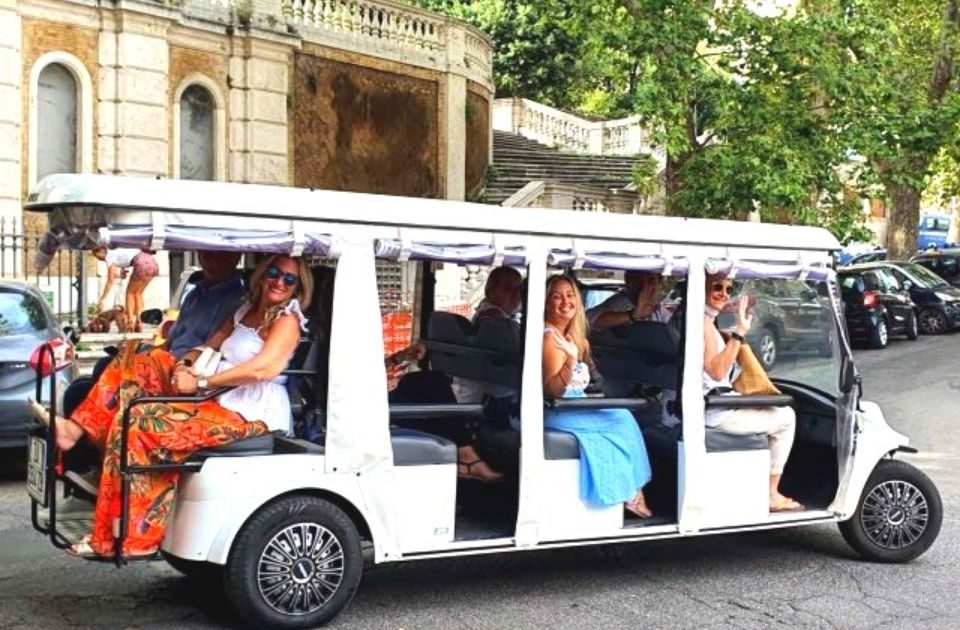 Discover the wonders of the Eternal City in a different way
Would you like to discover the wonders of Rome in a unique, environmentally friendly, and fun way that also allows you to access most of the areas of the historic center that are closed to traffic? Comfortably seated on a golf cart – a silent and sustainable electric vehicle – you will be able to admire all the main monuments and squares of the historic center of Rome up close, while your expert local guide gives nourishes you with intriguing stories and information. Walks Inside Rome can offer you the best Golf Cart tour of Rome. Let us whisk you around the city in comfort and speed!
A golf cart is the most fun way to visit Rome
Rome is an unusual city, made up of ancient ruins and narrow alleys, monuments, churches, squares, villas, and gardens, and it will never be possible to visit everywhere on foot. Its unmissable attractions are scattered, so as not to struggle, rely on the expertise of a private English-speaking guide and let yourself be carried around this open-air museum city.
If you wish to immerse yourself in the beauty and history of Rome, the easiest and best way to get around the city and see as many sites as possible is on wheels. For example, a golf cart tour of Rome allows you to explore the city, free to go wherever you want easily and comfortably. Along the way, you can stop whenever you want to stretch your legs, take some photos, enjoy moments of relaxation, a drink, an ice cream, a coffee, or whatever else you like surrounded by the magnificence of one of the most spectacular cities in the world.
Rome has so much to offer, live it in total freedom!
Visiting Rome through our Golf Cart tour – and with a seasoned local guide – is an exciting experience. You can see and discover as many sites and attractions as possible, explore and learn about the history of Rome, from the ancient emperors to the modern metropolis, and take a look at some of the city's best-kept secrets. We drive you through quiet streets, hidden corners, and straight to the doorstep of your chosen area. Your golf cart tour of Rome can be fully customized, so, just let us know where you want to go and we will take you there.
Here are our favorite golf cart itineraries of Rome:
discover the highlights of ancient Rome, visiting such sites as the Colosseum and Roman Forum, the Arch of Constantine, the Palatine Hill, and the Circus Maximus;
uncover the city with our Secret Rome itinerary, which covers some of Rome's most stunning off-the-beaten-track sites, such as the Baths of Caracalla, the Aventine Hill, the Janiculum Hill, and the historic districts of Testaccio and Trastevere ;
lastly, our La Dolce Vita stroll, which is a memorable adventure through central Rome's most famous squares and fountains, such as the unmissable Spanish Steps, the Pantheon, Piazza Navona, and the Trevi Fountain.
Once in Rome, book one of our tours, we will be with you every step of the way to help you navigate the Eternal City.
Have the best Golf Cart tour of Rome with Walks Inside Rome
For more than 20 years, Walks Inside Rome, a Roman agency of travel services and guided tours has been offering immersive, authentic, and educational tours and excursions to provide its guests with the highest quality tour guide services in art, history, archaeology, food and wine, and fun in Rome and across Italy's most spectacular destinations.
Do you want to explore Rome unconventionally? We are open 7 days a week. Contact us for any questions and any further information about our tours and experiences. You can call us, fill out the form on our website, send us an email, or chat with us on WhatsApp. We look forward to meeting you soon so we can explore Rome together!