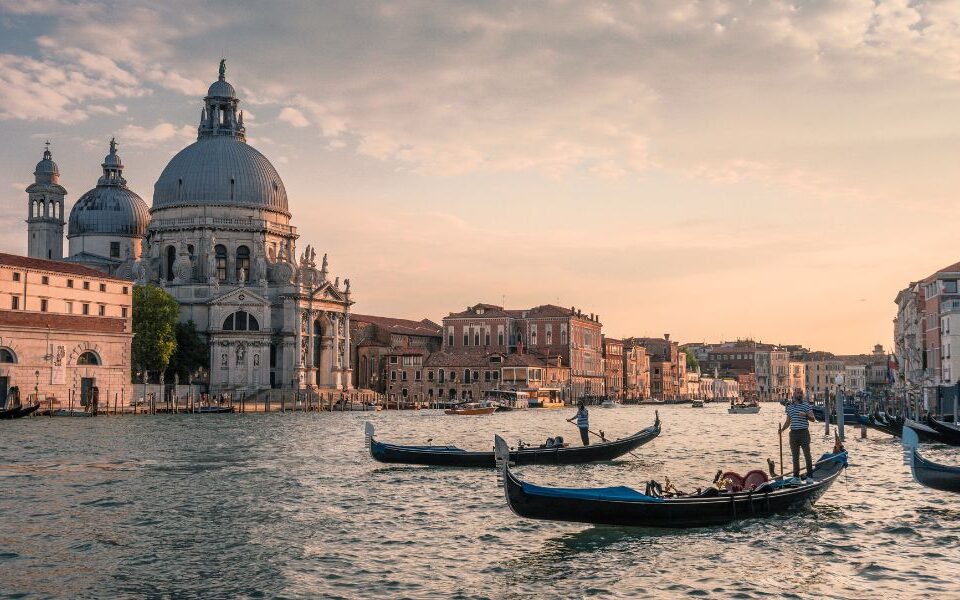 Italy, a timeless gem nestled in the heart of Europe, has long captured the imagination of globetrotters from every corner of the world. Its rich history, vibrant culture, exquisite wine and food traditions, and diverse landscapes have woven a tapestry that appeals to all senses. From the ancient ruins of Rome to the romantic waterways of Venice, the rolling vineyards of Tuscany to the sun-kissed Amalfi Coast, Italy stands as a testament to the beauty of human endeavor and nature's grace.
However, before embarking on your adventure to Italy, it's important to equip yourself with a few essential insights that will enhance your travel experience. This carefully crafted guide is tailored precisely for this purpose – to offer invaluable organizational tips to those who are setting foot in the Bel Paese  for the very first time.
Why travel to Italy?
What is so special about Italy? When you choose to visit Italy, you're embarking on an enchanting journey through a land that weaves together history, art, nature, food, and the warm embrace of its people.
Here are the top five irresistible reasons to tour Italy and visit Italy:
Art: Italy unveils a world of artistic brilliance that has shaped civilizations for centuries. From Michelangelo's iconic David to the Vatican Museums' awe-inspiring treasures, Italy's corners exude creativity and cultural heritage. Explore the mesmerizing Renaissance and Baroque masterpieces that invite you to touch timeless beauty.
History: Tour Italy for a voyage through time. The rich tapestry weaves ancient ruins, medieval castles, and Renaissance palaces. Cobblestone streets and architectural wonders carry the weight of history, unfolding stories of past civilizations.
Nature: The country's natural beauty is a sensory feast. From Tuscany's vineyards to the Amalfi Coast's dramatic cliffs, nature enthusiasts find paradise in every corner. Hike the Dolomites or relax by Lake Como; Italy's diverse landscapes beckon exploration and connection.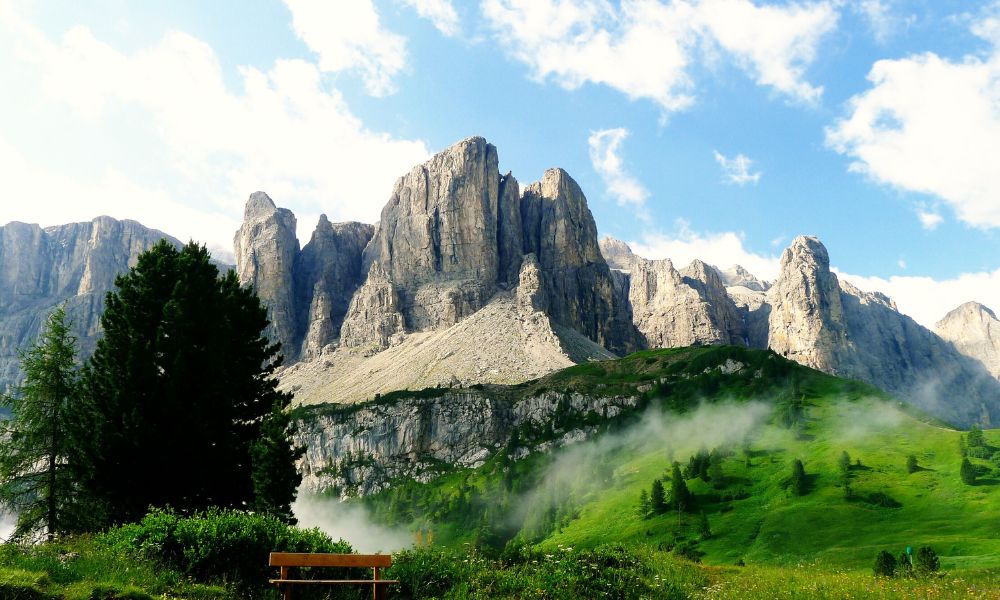 Food: Embark on an unrivaled culinary journey. A symphony of flavors tells tales of tradition and passion throughout Italy. Savor pasta where it was born, indulge in Neapolitan pizza, and uncover local wines. Each bite ignites taste buds, forging lasting memories of your visit to Italy.
People: Italy's heart beats in its people. Genuine warmth, hospitality, and zest for life define Italians. Engage in markets, heartfelt conversations, and shared meals. Experience the vibrant and welcoming community, where every encounter during your visit to Italy feels like an embrace.
Italy caters to everyone, offering experiences for all ages and preferences. Whether you're young, old, a couple, a family, or a solo traveler exploring Italy, Italy welcomes you. One of the country's remarkable features is its ability to provide a diverse range of activities within the same location. Tourists can seamlessly blend cultural explorations, delectable food and wine experiences, leisurely beach days, and much more – all in a single vacation. This versatility ensures that every traveler's desires are met as they tour Italy. No matter what you seek – relaxation, adventure, cultural immersion, or culinary delights – Italy has it all. Your ideal holiday is within reach, and Italy is ready to provide an unforgettable experience.
Who can travel to Italy?
Does Italy have travel restrictions? Italy literally welcomes travelers from around the world. However, there are restrictions in place, particularly for countries with higher visitor volume. Before you go, it's essential to check Italy's official government website for the latest updates on entry requirements and any specific restrictions based on your country of origin. Necessary documents may include a valid passport, visa (if required), and potential health-related certifications.
Can you travel to Italy without knowing Italian? Traveling Italy without knowing Italian is perfectly feasible. Many Italians in tourist areas and businesses speak English, making communication easy. Additionally, technology and translation apps can bridge any language gaps, ensuring a smooth and enjoyable journey.
Is Italy travel safe? Beyond the guidelines provided by the United States government on their official website, traveling to Italy is generally safe. The country boasts a well-developed infrastructure, efficient emergency services, and a strong commitment to ensuring the safety of visitors. Staying informed and following local advice will contribute to a secure and memorable travel experience. For the latest travel advisories, refer to the official link: https://travel.state.gov/content/travel/en/traveladvisories/traveladvisories/italy-travel-advisory.html.
Where to travel in Italy?
Italy's diverse culture weaves a vibrant tapestry, with each region showcasing unique traditions, dialects, and culinary delights. But if you are planning your first visit, you might be wondering where is the best place to visit Italy for the first time?
On your first visit, we recommend visiting the breathtaking cities of Rome, Florence and Venice, all of which are capable of leaving their visitors awestruck and truly in love. Embarking on a journey to these three Italian cities is a voyage into a world of cultural richness and historical significance. The remnants of ancient civilizations, the artistic prowess of centuries past, and the unique charm of intricate waterways all converge to offer a captivating exploration.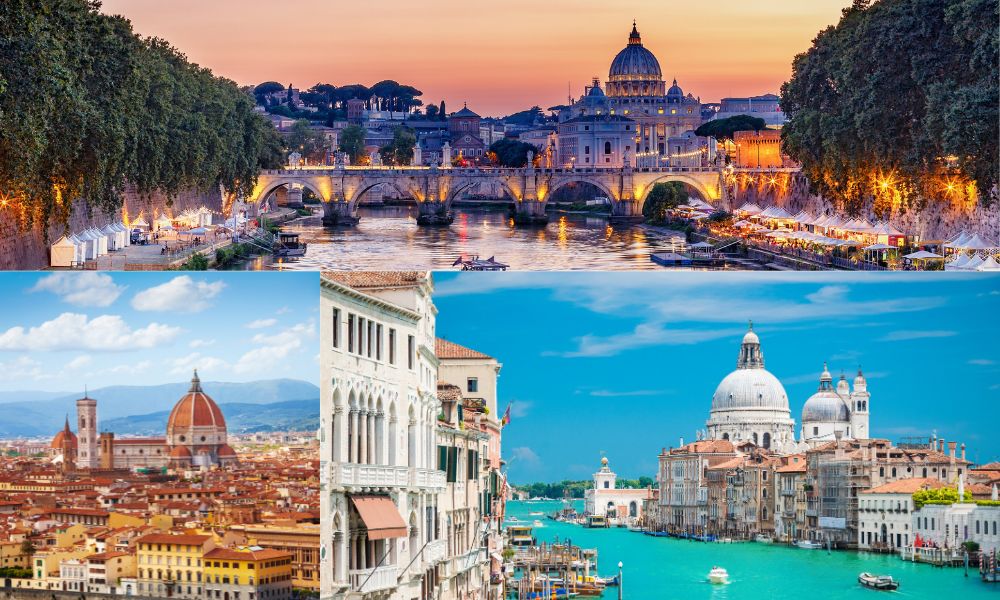 In Rome, ancient ruins like the Colosseum and the Roman Forum stand as awe-inspiring remnants of a mighty empire. The Vatican City, a sovereign enclave within Rome, holds the spiritual and artistic magnificence of St. Peter's Basilica and the Vatican Museums.
Florence, the birthplace of the Renaissance, beckons with its Uffizi Gallery, home to masterpieces by renowned artists, and the Florence Cathedral, an architectural marvel.
And then there's Venice, a city literally like no other. Built on a network of canals, Venice is a literal labyrinth of charming alleys, stunning bridges, and magnificent piazzas. The Grand Canal is the main thoroughfare of the city, where you can hop on a gondola to experience the magic of the city from a unique perspective.
Why travel to Rome in Italy?
When it comes to visiting Italy, Rome stands as the timeless masterpiece that captures the heart of every traveler. Here's why Rome is the ultimate choice:
Ancient Marvels: Walk in the footsteps of gladiators at the Colosseum, explore the historic Roman Forum, and feel the weight of centuries past.
Artistic Legacy: Stand in awe beneath Michelangelo's masterpieces in the Sistine Chapel, surrounded by the captivating beauty of Vatican City.
Culinary Bliss: Indulge in the flavors of Rome, from mouthwatering Roman pizza to the velvety sweetness of authentic gelato. Immerse yourself in vibrant local markets offering a sensory journey through Italian cuisine.
Local Charms: Wander through the charming streets of Trastevere, a neighborhood that encapsulates the heart and soul of Roman life.
Spiritual Tranquility: Find solace within the walls of the Pantheon and experience a sense of reverence in the city's historic churches, where art and faith harmoniously intertwine.
For example we suggest two tailored tours you should miss in Rome:
Golf Cart Tour of Rome:  Explore the city effortlessly on a golf cart, guided by experts who bring Rome's stories to life. Uncover iconic landmarks and hidden gems without the fatigue of long walks.
Trastevere Food Tour:  Explore Trastevere's chic streets, savor street food, pastries, and local wine-pasta perfection in charming trattorias.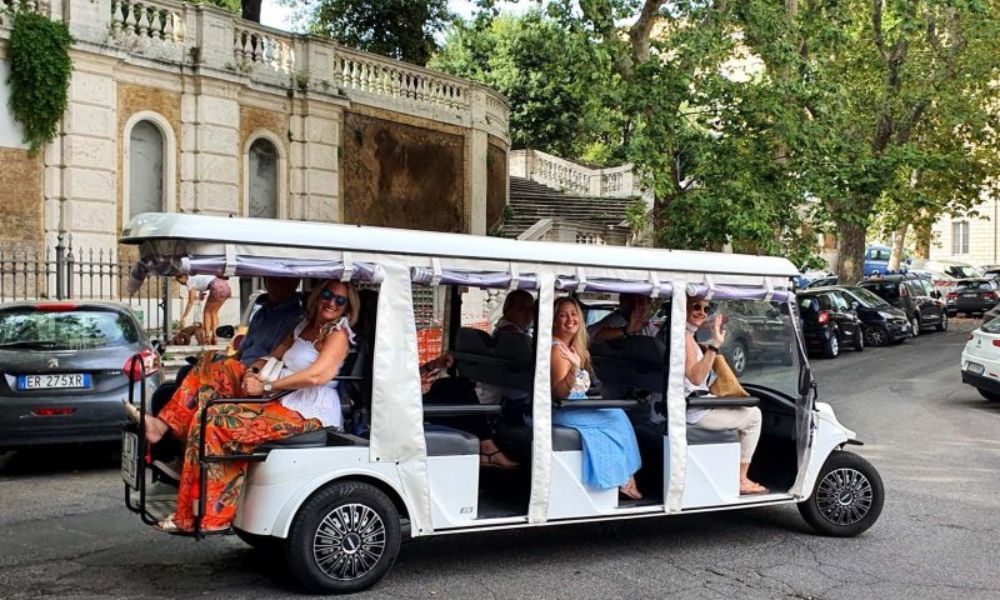 Why travel to Florence in Italy?
Florence is indeed considered the cradle of the Renaissance and is renowned for its rich artistic heritage, including stunning architecture, world-class museums, and historical significance. Exploring the city itself is a fascinating journey through history and art, but as you mentioned, the surrounding areas also offer incredible experiences.
Join us in these marvellous experiences:
Florence Food Tour Private: Explore Florence's Renaissance artistry, then venture to the Chianti hills for wine tours, culinary delights, and scenic villages, immersing yourself in both history and the Tuscan countryside.
Florence with Accademia or Uffizi: Immerse yourself in Florence's Renaissance art and history, then extend your journey to the Chianti hills for wine tours, culinary experiences, and picturesque villages, embracing both cultural richness and Tuscan landscapes.
Why travel to Venice in Italy?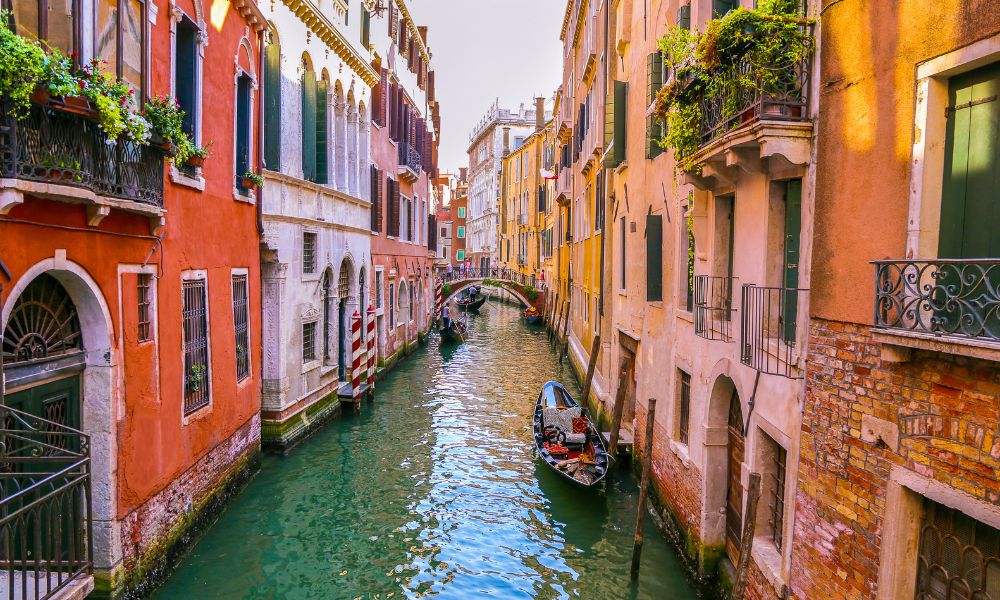 Traveling to Venice offers an unparalleled experience that seamlessly blends history, art, and unique traditions.
The city's majestic monuments, like the iconic St. Mark's Basilica and the grandeur of the Doge's Palace, stand as captivating symbols of its rich past.
Venice's museums house a wealth of artistic treasures, showcasing works by renowned masters that span centuries.
The vibrant Carnival, with its elaborate masks and festivities, immerses you in the city's lively spirit and centuries-old traditions.
The prestigious Biennale art exhibition transforms Venice into a global hub of contemporary creativity, fostering a dynamic cultural exchange.
The charming bacari, traditional Venetian wine bars, beckon you to savor local wines and cicchetti, offering a true taste of the city's culinary culture.
And of course, gliding along the serene canals on a gondola ride allows you to embrace the romance and elegance that define Venice, creating moments that linger in your memory long after you depart.
For those wanting to explore the charming city of Venice, we offer several exclusive experiences.
A Voyage of Venice's Lagoon:

Explore Venice the right way by taking to her waters and discovering her unique artistic treasures.

Hidden Venice:

Our Hidden Venice itinerary takes you off the beaten path to give you an authentic experience of this incredible city.