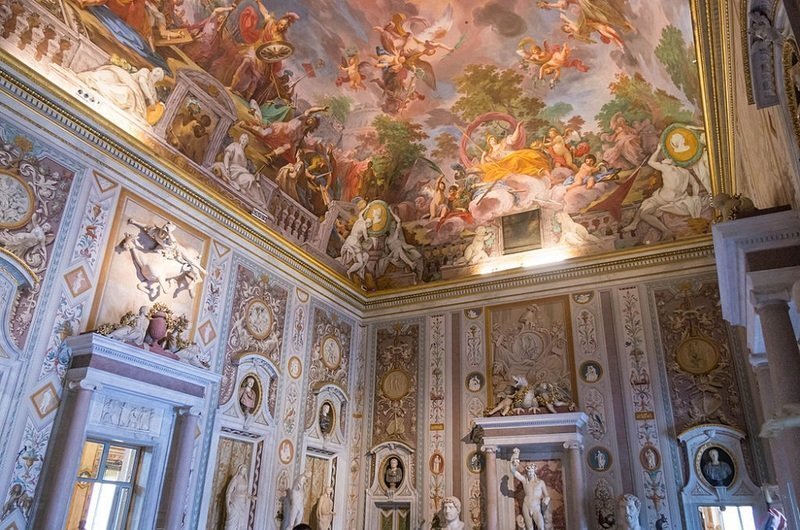 When researching the best galleries and museums in Rome it is often difficult to avoid the Vatican Museums. With a global tourist appeal and countless treasures, it is unsurprising that the Vatican tops many lists and recommendations.
Yet, the beauty of Rome's art and history is by no means limited to venues owned by the Holy See. From ancient Roman artifacts to medieval masterpieces and Renaissance wonders, a healthy selection of venues dotted across the Eternal City is on hand to quench your thirst for cultural enlightenment.
As history buffs, we will not be highlighting galleries and museums in Rome that focus mainly on contemporary works… but this is not to say a future article could not cover this!
1) Altemps Palace Museums
Altemps Palace sits just a stone's throw from Piazza Navona. Yet, despite its central location the palazzo often goes overlooked by tourists. Its ancient Egyptian and Roman collection and simply stunning setting should be enough to put a tour of Altemps Palace on any visitor's essential list of galleries and museums in Rome.
Famous ancient works within this Renaissance venue include the Grand Ludovisi Sarcophagus, Ludovisi Gaul, and a plethora of ancient Egyptian sculptures. What's more, as is the case with many of Rome's cultural landmarks, practically perfectly preserved frescoes adorn the statue-filled rooms, creating a special ambiance that must be experienced to truly understand.
2) Borghese Gallery
A showcase of the pinnacle of Italian art and antiquity, the Borghese Gallery houses simply stunning works by the likes of Bernini and Caravaggio. Whether it is the intricate beauty captured in the sculpture of Apollo and Daphne or the awe-inspiring oil Saint Jerome painting, this gallery is bound to broaden your artistic horizons.
The gallery is not only adored for the works within but the site in general. Set in the suburban villa built for Cardinal Scipione Borghese, visitors, with or without a private tour, can meander through heart-shaped greenery that comprises "Il Parco Borghese", taking in the wildlife and monuments before entering the villa itself.
3) The Capitoline Museums
A list of galleries and museums in Rome would be incomplete with the Capitoline Museums. Sitting atop Capitoline Hill, the museums are home to one of the most unmissable collections in the Eternal City.
For those who wish to drink in everything ancient Rome, a tour of the Capitoline Museums is essential. From monumental statues of emperors like Marcus Aurelius and Constantine to gravestones telling the stories of normal Roman citizens, the collection has it all. What's more, walk around the side of the museums and you will be treated to a wonderful view of the Roman Forum.
4) Colonna Palace & Gallery
A unique royal palace, even many of Rome's locals haven't entered Palazzo Colonna. Stepping into the establishment owned by one of the city's influential noble family dynasties, the palace offers brilliant architecture, astonishing art, and awe-inspiring sculptures and tapestries.
The Colonna family's collection features an impressive compilation of Roman Baroque Art. The likes of Guercino, Salvator Rosa, Jacopo Tintoretto, Francesco Salviati, Guido Reni, Giovanni Lanfranco and many others all feature. 
→ The Colonna Palace is open to the public every Friday and Saturday, but booking a private tour is the best way to avoid disappointment in missing a slot or securing a reservation during the week.
5) Doria Pamphilj Gallery
One of our absolute favorite galleries and museums in Rome, the Doria Pamphilj Palace dates back to the 15th century. Original furniture, burnished mirror, and shimmering chandeliers accompany a privately owned collection that includes personal memories and art.
Still inhabited by the family, the Doria Pamphilj Gallery includes the simply wonderful Velasquez depicting Pope Innocent X, a member of the family. Works by Raphael, Caravaggio, and Titian accompany the personal touches to compliment this unforgettable gallery of collective and individual history. 
Contact us to visit the best galleries and museums in Rome
At Walks Inside Rome, we offer immersive, authentic, and educational tours of all of Rome's cultural sites, including its galleries and museums. Having done so since 1999, we have built a team of local, licensed guides who are experts in art, history, archeology, and food, to transform your time in Rome into something truly unforgettable.
 You can find our full catalog of tours and experiences throughout our website, with booking taken either directly online or by emailing us. We can't wait to hear from you so we can customize your Roman gallery and museum experience and explore the Eternal City together!