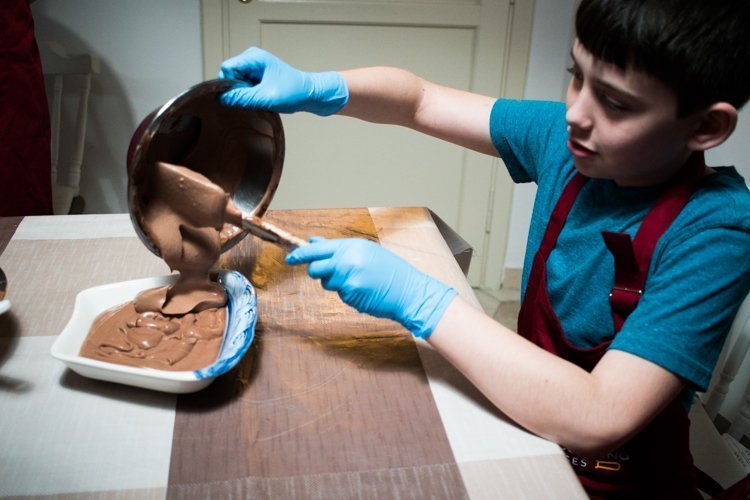 A fantastic experience for the whole family
Any trip to Rome is an inevitable blend of culture and cuisine. Such sites as the Colosseum, Saint Peter's Basilica, and Trevi Fountain are must-see attractions of the Eternal City. But when you are on vacation in the Eternal City, you should also make time to taste your way through its most famous food! Italian gelato (ice-cream) is always a must. So when in Rome, do as the Romans do, and take the opportunity to learn how to prepare this symbolic Italian dish!
This article spills the beans on how you can make Italian gelato from scratch with a professional chef in a cooking school in Rome. Read on to learn all about our gelato making class!
A brief history of gelato
After pizza and pasta, Italian ice cream is one of the best known and loved products in the world, but also one of the most imitated. That's why the English term is not only the literal translation, but identifies a product with some substantial differences.
What are the differences between gelato and ice-cream?
Halfway between history and legend, some trace the birth of Italian gelato to Sicily, others to the Romans, others still to Egyptian civilization. The sweet, creamy vanilla gelato we know and love was invented in sixteenth-century Florence, however, by an architect, renaissance-man and all-round great guy to have around – Bernardo Buontalenti!
However, the birth of the modern Italian ice cream shop, which has become famous all over the world, is thanks to Francesco Procopio dei Coltelli from Palermo, who founded the Café Le Procope in Paris in 1686.
Private gelato making class
Once in Rome, discover the secrets of Italian ice cream, a delicious delicacy loved all over the world, with an ice cream making class. The classes are held by an expert Roman chef, in one of two central locations – a renovated, 17th-century cooking school around the corner from Piazza Navona or a sleek and stylish school a stone's throw from the Pantheon.
WIR organize gelato and biscotti-making classes or pizza and gelato-making classes that equip you with all the know-how you need to make authentic Italian gelato.
Our gelato is authentic and easily reproducible at home, so you can bring the knowledge acquired during your trip with you to home, thanks to some ice cream lessons held right here in Rome.
During the gelato making class, we only use seasonal products and real tastes, without the use of sweeteners, colourings or artificial flavours for ice cream.

Your expert will welcome you to the cooking school with a snacks and prosecco reception. All the ingredients and machines will be ready to learn how to prepare this delicious specialty. The ice cream expert will first show you how to prepare the three primary flavours of ice cream, a white milk cream base, a yellow egg base and a fruit base.

After the demonstration, it's up to you to prepare an ice cream flavour from a selection. Your instructor will guide you in the use of the machinery and in the correct quantity of each ingredient to be used.

Your private chef will guide you through every step from mixing the ingredients, choosing your timings and selecting from a variety of delicious flavours including fresh fruits of the season, rich roasted hazelnuts, Perugian fine dark chocolate and deep-green pistachios.

Once ready, you'll have the chance to savour the flavour as you munch your way through your culinary creation!
Don't miss this unique, once-in-a-lifetime experience. This private, 2-hour course is perfect for children and adult; culinary amateurs and seasoned veterans alike. The only thing you'll need to take part is a passion for delicious food and the desire to have fun and learn something new!
Walks Inside Rome – Your agency of travel services and guided tours
Walks Inside Rome is a DMC family-run company which was established in Rome over 20 years ago. Our team is formed of knowledgeable and kid-friendly licensed guides, including art historians, archaeologists, and food and wine lovers.
Under the expert guidance of our seasoned English-speaking chef, you will perfect the art of Italian cuisine thanks to cooking classes at one of our two cooking schools: one around the corner from Piazza Navona and the other a stone's throw from the Pantheon.
Contact us to develop a tour program suitable for you. Our goal is to provide our clients with the highest quality tour guide services in art, history, food and fun across Rome and in Italy's most spectacular destinations.
For any questions and any further information about our services, fill out the form on our website, send us an email, call us or chat with us on WhatsApp.
We look forward to meeting you soon so we can start exploring Italy together!