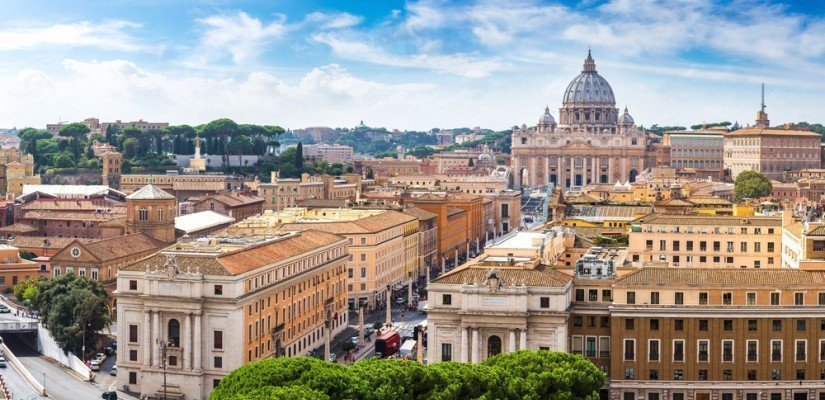 As the daughter of an archaeologist turned art historian, having an appreciation for the arts was nothing short of non-negotiable while growing up, so I was excited to be invited by Sal and Marilena to experience some Walks Inside Rome tours.
After spending much of my childhood being led through museums, exhibitions, and archaeological sites, it's not terribly surprising that I fell very much in love with Rome the first time I felt the cobblestones or "sampietrini" under my feet.
What was astonishing was how much more I adored the always-beautiful Rome, after spending a weekend being expertly guided. From the grandeur of the Vatican to the charm of Trastevere, Walks Inside Rome fed my curiosity with a series of perfectly curated tours.

My weekend in Rome started in Vatican City
Since I am neither Catholic nor particularly religiously inclined, I was not especially eager to get up at the crack of dawn to join an early morning Vatican tour beginning at 8:00am. As it turns out, being among the first to enter the Vatican is an absolute treat!
With just a few dozen of us granted early entrance with skip-the-line tickets, we started the tour by climbing a magnificent spiral staircase, complete with a double-helix design. We then weaved our way throughout the miles and miles of masterpieces decorating the Vatican Museums.
The collection of artwork is as diverse as the Popes who accumulated it. From intricate tapestries to stunning frescoes, the extravagantly decorated rooms, galleries, apartments, and chapels have an unparalleled display of masterpieces. Equally remarkable was experiencing the beauty of the Sistine Chapel at dawn.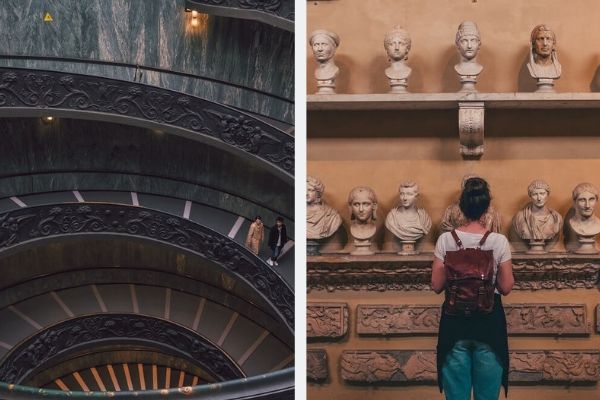 "Without the crowds, I was able to truly enjoy my favorite parts of Michelangelo's majestic ceiling as well as discover the equally vivid frescoes adorning the Chapel's walls."
Walks Inside Rome concluded our tour in Saint Peter's Basilica, where we admired the infamous dome, lavish altar, and vibrant stained glass windows.
I spent the rest of the day exploring the elegant boutiques lining the nearby shopping street Via Cola di Rienzo and having a post aperitivo walk along Bernini's Bridge of Angels or "Ponte Sant'Angelo".

Then I was ready for an immersive night tour of the Colosseum.
Unlike typical daytime tourist activities, Walks Inside Rome proposed a special Colosseum by night tour. At 9:00pm, I met my guide, a retired archaeologist and expert in ancient history, for an intimate evening tour of the world-famous amphitheater.
Visiting this historic landmark at any hour is a remarkable experience, but entering the Colosseum under the stars is a truly special adventure. With our VIP tickets, Walks Inside Rome led 11 of us through the main-stage and into the arena's underground area. Only recently opened to the public, having the opportunity to tour the underground of the Colosseum felt very VIP indeed!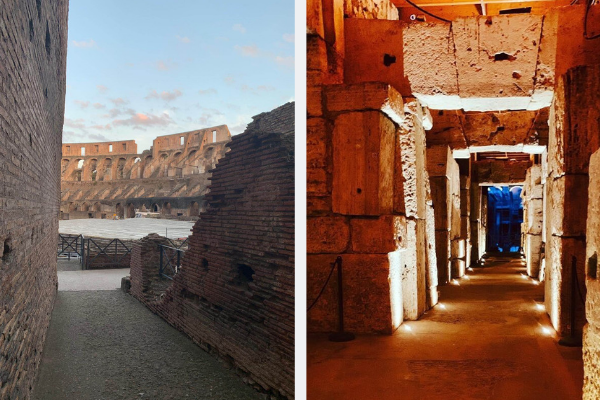 After finishing the moonlight Colosseum tour, I meandered through the lively Monti neighborhood. I promised myself I would take the second day of my weekend in Rome, a bit slower – in true Italian style.
Day 2: In the footsteps of Caravaggio.
First meeting up with a few friends for a leisurely breakfast or "colazione", we were then ready to embark on our private Caravaggio tour. Known for his wild lifestyle, unapologetic art, and chiaroscuro method of painting, Caravaaggio had fascinated me since my college years.
We began our tour at Piazza del Popolo where we were led to the Basilica di Santa Maria del Popolo to discover two of Caravaggio's most poignant paintings, the "Conversion of Saint Paul on the Road to Damascus" and the "Crucifixion of Saint Peter."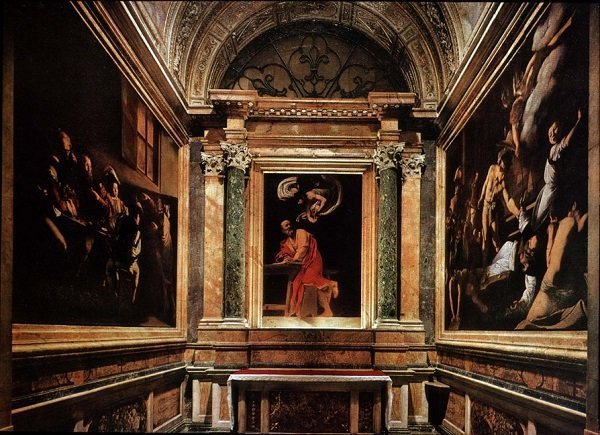 Our wonderful guide, a true Caravaggio expert, then took us to see a few more obscure pieces. We strolled through the historic center of Rome, passing the stunning Pantheon and Piazza Navona en route. Once we arrived at the Church of San Luigi dei Francesi, we enjoyed three more of his pieces within the Contarelli Chapel. We then headed to the Capitoline Museums where we saw some of Caravaggio's most notable paintings, including "Saint John the Baptist", "Youth with a Ram", and "The Fortune Teller".

My weekend in Rome finished with a food tour.
We decided to perfectly pair our cultural journey with our Rome food tour. Our guide, both a Caravaggio enthusiast and a Roman-born foodie, led the four of us from Piazza Venezia to Campo de Fiori, the culinary epicenter of Rome. Then we followed the pedestrian bridge "Ponte Sisto" across the Tiber River to reach Trastevere.
Arguably one of the city's most picturesque neighborhoods, with its characteristic homes, small windy lanes, artsy boutiques, and ivy hugged terraces, Trastevere proved to be the perfect setting for our private Trastevere food tour. Embracing "La Dolce Vita" completely, we tried everything from "suppli" or rice balls to fried artichokes, from luscious handmade pasta to homemade tiramisu.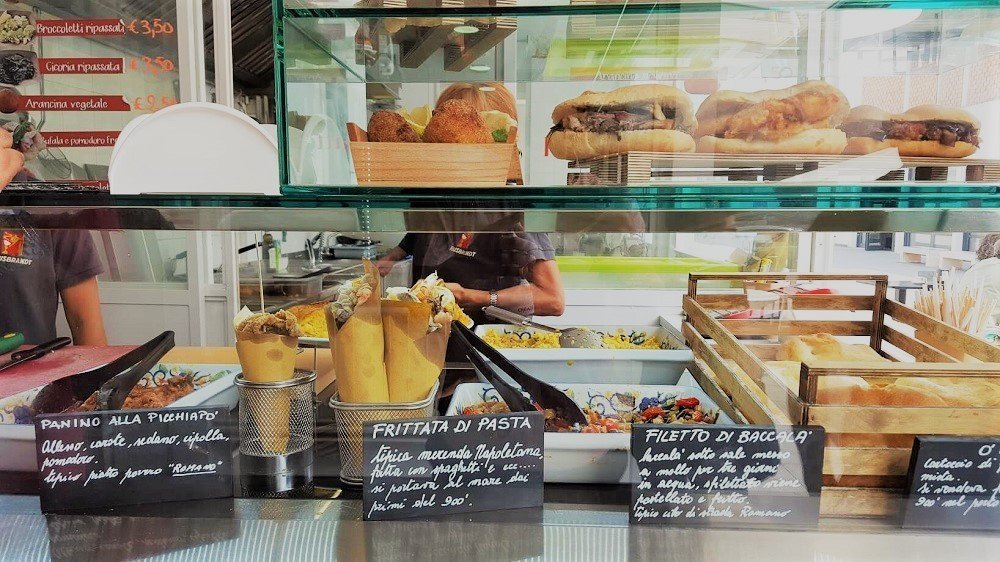 Whether you are a first-time visitor or already living in Italy, taking expertly guided tours can significantly heighten your appreciation of the Eternal City.
With a range of great tours – for food lovers, adventure-seekers, history buffs, or curious children, Walks Inside Rome has something for everyone. Plus, you can customize your experience to your very own interests!