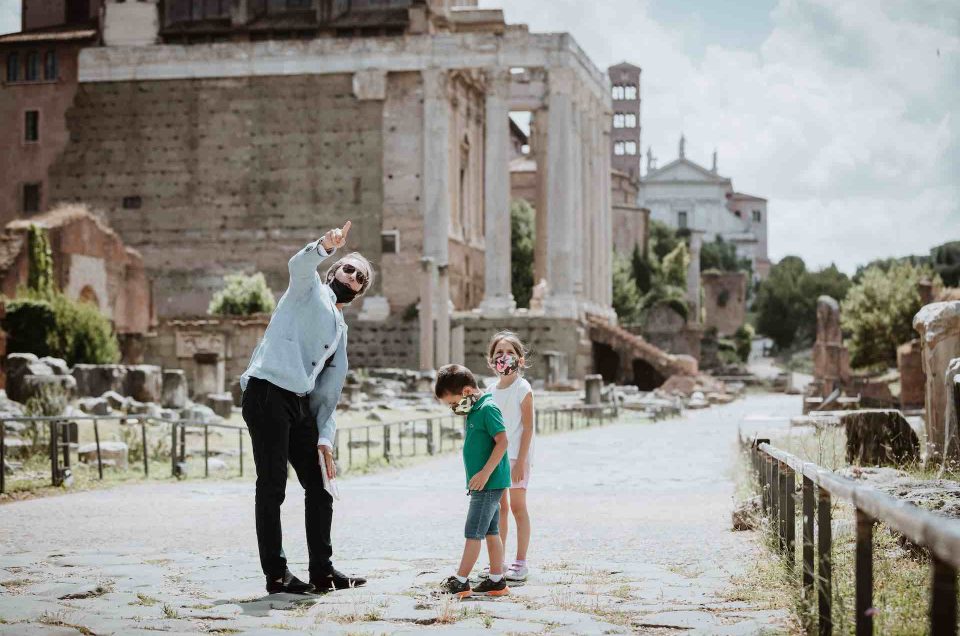 Visit Rome in English with an official guide
Your long-awaited Rome trip has finally arrived. Ancient amphitheatres, papal treasures, and world-famous cuisine awaits – dispersed throughout the city and ready for you to discover. But time, as always, is limited. And to uncover all the main places of interest in Rome and plan your best route through the Eternal City, you're going to want to enlist the expertise of one of our Rome private guides!
Tailor the perfect itinerary for you
The Eternal City is truly limitless in the experiences it offers its visitors. For history buffs, exploring the imperial majesty of ancient Rome is a must, and discovering the ancient capital with one of our Rome private guides breathes life into such sites as the Colosseum, Roman Forum and Palatine Hill. But more ancient treasures await those who venture off the beaten path, exploring the magnificent, monumental Baths of Caracalla or the numerous catacombs that sprawl just south of the city off the Old Appian Way.
Rome's other main attraction is the Vatican, and there is truly no better way to uncover its masterpieces and deep dive into its magnificent history than in the company of an expert private guide. Whether you want to venture into the Vatican alone, and enjoy the Sistine Chapel to yourself, or combine a visit to the heart of the papacy with a journey into the Roman hills to visit the Apostolic Palace of Castel Gandolfo, we can make sure your Vatican experience is perfectly tailored to you.
What to do in Rome?
The Eternal City is more than just ancient monuments and baroque artworks. Hidden away within every nook and cranny are a wealth of authentic experiences that offer a true taste of Italian life. 
Enjoy a

passeggiata

through the historic centre. Take part in a true Italian tradition as you enjoy an evening stroll (

passeggiata

) through Rome's historic centre. But this is no ordinary

passeggiata

; in the company of your Rome private guide, nourish yourself with knowledge as you discover the secrets behind such sites as Piazza Navona, Campo de' Fiori, the

Pantheon

and the

Trevi Fountain

. 

Embark on a day-trip from Rome: dotted around the capital's environs are a multitude of quaint towns and little villages. Discover the flowing fountains of Villa d'Este and ancient splendour of Hadrian's Villa at

Tivoli

or venture west to lose yourself in wonder among the expansive Etruscan necropolis of

Cerveteri

.
Walks Inside Rome – Rome private guides
Walks Inside Rome is a family-run company of travel services and guided tours which was established in Rome over 20 years ago. Our team is formed of knowledgeable and kid-friendly licensed guides, including art historians, archaeologists, and food and wine lovers.
Our Rome private tours empower you to take part in a wide range of activities around the most beautiful attractions of the Eternal City. Excursions are also in English to offer the best possible experience, especially for day tours in Rome. With us you can also book VIP tickets to jump the queue.
Walk inside Rome is a specialized tour operator to guarantee you the best tour in the city of Rome even for private tours or group tours. Discover our unconventional tours with our licensed tour guides and storytellers.
Contact us
Contact us to develop a tour program suitable for you. Our goal is to provide our clients with the highest quality tour guide services in art, history, food and fun across Rome and in Italy's most spectacular destinations.
All our tours can be combined and customized to perfectly meet your needs and interests. With us you are sure to have an experience unlike any other in the world. For any questions and any further information about our services, fill out the form on our website, send us an email, call us or chat with us on WhatsApp.
We look forward to meeting you soon so we can start exploring Italy together!