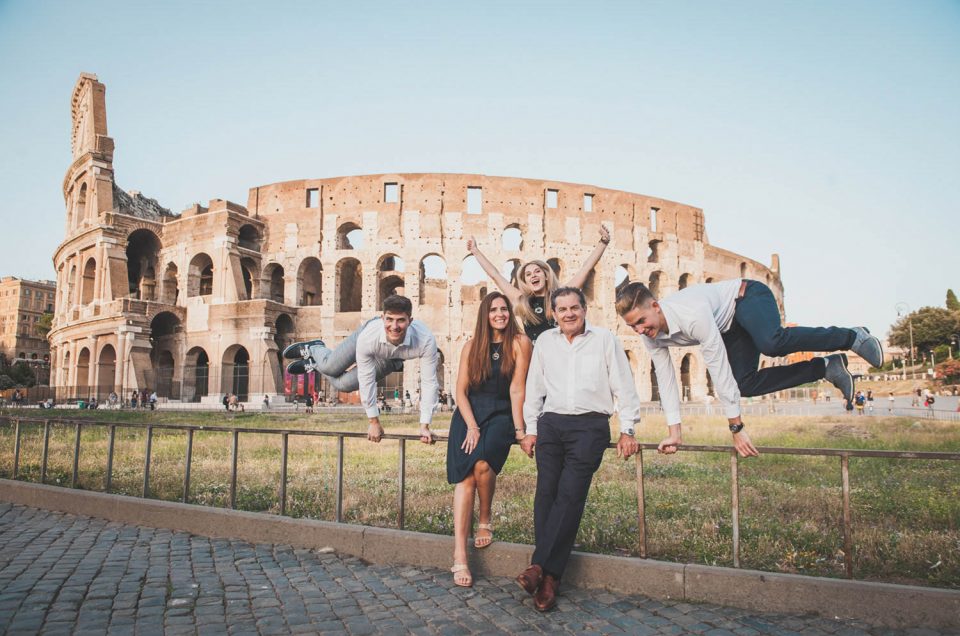 Italy's most iconic amphitheater is a must-see attraction on any trip to Rome, but with so many tours of the Colosseum out there, how can you decide which is best for you?
We have written this post to give you all the information you need to make the best decision about which Colosseum tour to take. Our tried and tested tours vary in duration and depth, from private tours to kids and families tours. Read on to discover which is best for you!
Why take a Colosseum tour?
Stand outside the Colosseum and you'll be accosted by people trying to tout tours and tickets. Avoid them at all costs. You're better off buying your tickets yourself and renting an audio guide instead of paying over the going rate for a tour with an unlicensed guide. 
The problem with an audio guide is that it's superficial, unresponsive, preset to give you information that might not be of interest in an order you can't control. 
Taking tours of the Colosseum with one of our expert licensed guides offers a whole new experience. Our fluent guides can tailor the tour information to accommodate your interests. They can go into more detail on things that capture your imagination and skip over the stuff you find more superficial. What's more, they're not just guides. They're native Roman locals who are passionate about their city and ready to share its secrets and highlights with you, from shopping and restaurant recommendations to where to find the best sunset. 
Walks Inside Rome's tours of the Colosseum
Our Colosseum tours consist of three main attractions: the Colosseum itself, the Roman Forum, and Palatine Hill. 
You visit all three of these attractions on our classic ancient Rome tour, which is available either privately or in a small group (of never more than 6 people). If you want to go deeper into the Colosseum, however, by descending beneath its floor and exploring the Colosseum Underground, our small group tour finishes with a view of the Palatine rather than a visit (though it's worth noting that with your ticket you can still enter the Palatine Hill for the next 48 hours).
Our current most popular tour is the Arena Colosseum tour. Our exclusive tickets grant you special access to the Colosseum arena floor, transporting you through the famous Gladiator's Gate on the way, before then transporting you up the various tiers to the rest of the amphitheater and its museum. What's more, work is currently underway to construct a hi-tech retractable floor which should be finished by 2023!
→ Check out our complete catalog of Colosseum tours
What's the best Colosseum tour?
Our hands-down favorite is our Colosseum Underground tour. Running either privately, or in a small, intimate group, this tour lets you fully explore the iconic amphitheater, discovering its forgotten secrets as your expert guide breathes fresh life into it. 
You'll descend into the Colosseum's eerily atmospheric underground, where the Romans caged animals primed for the games and stored scenery and props winched up onto the sands above, and learn all about Roman society and culture as you explore the upper tiers. 
You'll then cross over into the Roman Forum, the ancient epicenter of Roman public life, and a remarkably preserved theme park of temples, basilicas, and historically infused monuments. Of all Walks Inside Rome's tours of the Colosseum, this one is our most immersive. 
FAQs about our tours
Do you have any tours of the Colosseum for kids?

Yes! Our

Gladiators and Roman emperors tour

for kids is the most enjoyable, entertaining, and educational

way to experience ancient Rome's main ancient sites. Parents will feel nourished with their guide's knowledge of ancient Roman society, culture, history, and architecture while the little ones will learn loads of cool facts and

—most importantly—be kept busy!

 

Do you do night-time tours of the Colosseum?

We do indeed!

This summer we're bringing back our popular

Colosseum night tour

which grants you access to the iconic amphitheater after the day's crowds have dispersed. Taking you on a slightly different route through the ancient city, our

Colosseum by night tour

starts at

Largo Argentina

, the site of Julius Caesar's assassination. You'll then make your way through the historic center, up the

Capitoline Hill

for stunning views over the

Roman Forum,

and through the Imperial Fora, arriving at the Colosseum in time for your skip the line entry. 

Are all your Colosseum tours skip the line?

Yes, they are! Waiting in line sucks, especially in the hot summer months, and we'd never wish it on our clients or our guides! That's why all our tours in Rome (and in Venice and Florence for that matter!) are skip-the-line: so you can maximize your time doing what you love and exploring.
Book your tour today!
Walks Inside Rome has been organizing immersive, authentic, and educational tours of the Colosseum for more than 20 years.
Our local, licensed guides are experts in art, history, archeology, and food. Our combination of expertise and experience transforms your time in Rome into something truly exceptional.  
Visit our website to view our full range of tours and experiences. You can book directly online or contact us via email. We can't wait to hear from you so we can customize your Roman experience and explore the Eternal City together!