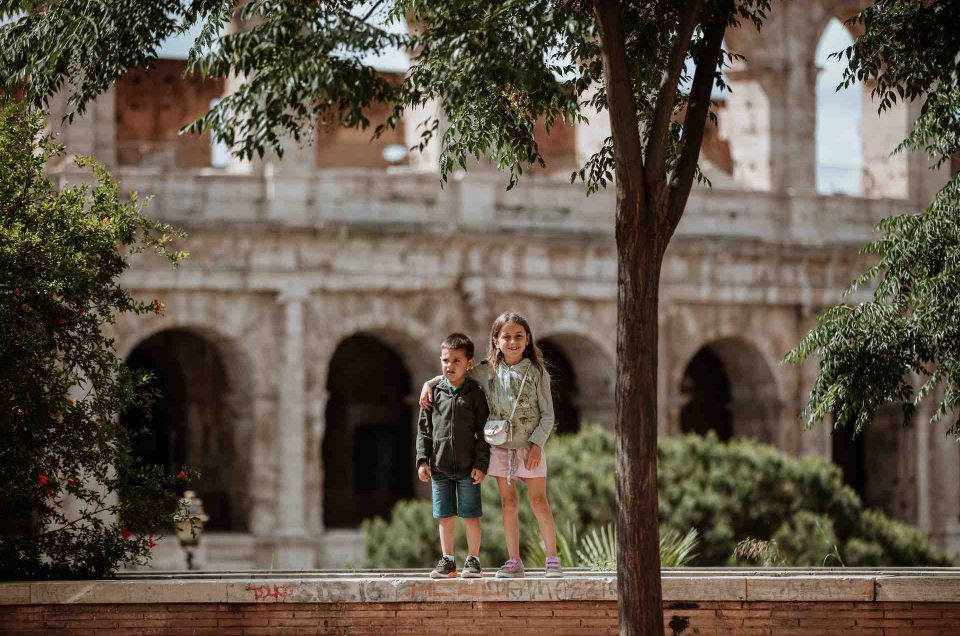 A family day in Rome
Everyone must see the Eternal City at least once in their lifetime.
Visiting Rome with your family is richly rewarding for all the senses. From cultivating curiosity among its ancient sites, churches, palaces, squares, fountains and parks to stimulating the senses in Rome's many restaurants, pizzerie and gelaterie (ice-cream shops).
However, the Eternal City is also particularly expansive, and in order to avoid an unprecedented family crisis, you need to organise an action plan suitable for your children. Here is a selection of the best sites to enjoy when visiting Rome with kids. 
Fun things to do in Rome with kids
If you are thinking of visiting Rome with your kids, you should be organised and selective in what you see and what to do. It is better to be organized, from ice-cream shops to the puppet theater there are many places that will delight all ages.
In addition to the charm and the beauty of ancient Rome, with monuments like the Colosseum, the Roman Forum, and Arch of Constantine, or the magnificence of the Vatican, there are many things to do in Rome with the children. Here are our highlights:
The Pantheon. Unless you take a tour for kids, you might want to avoid visiting too many churches and museums as the sheer amount to see can be understimulating for the kids. The Pantheon, however, is a true marvel of ancient engineering and architecture that will even amaze the little ones! This is the best preserved monument of ancient Rome, notable for its freestanding 2nd-century dome. The main light source for the entire building is the oculus, the round hole in the upper part of the dome. When it rains, water flows into the drain pipes installed under the convex floor.
The Janiculum Hill

. Since 1959, the Janiculum Hill ('Gianicolo' in Italian) has been home to a puppet theater inspired by the Italian traditional "Commedia dell'Arte" (a form of theater defined by masked characters and improvised shows). The main character is

Pulcinella

, an archetypal character of vitality, a rebellious and irreverent anti-hero, grappling with the opposition of everyday life and the most unlikely enemies. Piazzale Anita Garibaldi rings out with laughter and children's cries as soon as puppets enter the scene. Moreover, it must also be said that the panorama from the top of the hill is breathtaking.

'Gelaterie' (Ice-cream shops)

: on hot summer days, nothing is more refreshing than a delicious ice-cream, a Roman specialty. Fortunately, Rome is full of shops offering

homemade ice-cream in various flavors, often based on organic ingredients. Check out our article on the top gelaterie in Rome for advice on where to go. Or if you want to try and recreate the creamy stuff of dreams from scratch, why not check out our gelato and biscotti cooking class for kids!
The 'Biopark'

. Zoos and other animal parks are often among the best activities for family visiting major cities. The Bioparco Zoo in Rome is home to a wide variety of species, some of which are endangered. It collects no less than 1114 animals: children's favorites include the beautiful Asian tiger, giraffes, elephants, small lemurs, hippos and terrifying crocodiles. The 14 themed areas of this zoo make the visit very interesting. In addition, it has been beautifully embellished with rare plants. Each weekend, the zoo offers sessions during which you can feed the animals, learn interactively and enjoy the various shows and games. There is also an area for children, with obstacle courses, games, slides and swings.

Villa Borghese

. Villa Borghese is one of the largest parks in Rome, so it offers many things to do for families with children. In addition to the usual play areas with swings and slides, you can also take a boat trip on the enchanting lake or a ride on the small white train. Alternatively, you can take a ride on the rickshaw, rent bicycles for the whole family or, if your children are already older, you can rent skates. And on a warm summer's day, there's nothing better than a pleasant picnic in the shade of its beautiful pine umbrellas.

The Mouth of Truth

. Hidden within the porticoed wall of the church of Santa Maria in Cosmedin, this marble mask is a firm favourite among families looking for an unforgettable photo op! This bearded male face, whose eyes, nose and mouth are pierced and empty, may have been a fountain or a drain, but a famous Roman legend attributes to it the powers of a lie detector: it would eat the hand of all those who, putting it inside, would tell a lie. Tell that to your kids as the stick their hands in!

The Gladiator School

: throughout Rome you can see souvenirs representing 

gladiators

 and sometimes even costumed actors with whom it is possible to be photographed. If you too are seized with the desire to wield the sword there is a school of gladiators. However, behind the fun aspect, the background couldn't be more serious. The school was founded by a group of enthusiastic gladiators, who use the revenue generated by the school to fund research on these ancient Roman fighters. And if you're still alive after the course, you can visit the gladiator museum, which is next door.

'Explora'

: also called Rome's "Children's Museum" this stunning exhibition space has been designed for children, with fun and exploration the aim of the game. Children can safely experience the laws of gravity, air pressure, but also balance, through small interactive workshops. A great idea to visit all together.

The Time Elevator

. This attraction allows children and adults to travel back in time. This is a 5D cinema where you don't just see films, you live them. When someone falls into the water in the film, you will be really splashed, just as you will be shaken at the imminent arrival of a time jump (thanks to the seats with hydraulic controls). From the Colosseum to the modern city, the Time Elevator invites you to discover the Italian capital in all its full-blown glory!
Walks Inside Rome
Walks Inside Rome has been offering travel services and guided tours in Rome since 1999. With us, our experienced team of professionals, the exciting opportunities are endless. All our private tours are customizable, meaning you can add and combine whatever you want to your experience – from hands-on cooking classes to priority entrance tours of the Vatican, Colosseum and more!
Our goal is to provide our clients with the highest quality tour guide services in Italian art, history, food and family-friendly fun – both here Rome and across many other Italian cities.
Kids and families Rome tours
Only Rome's vibrant atmosphere can provide you unique experiences and leave each member of your family with lasting memories.
In our kids and families Rome tours, our guides actively engage your kids by providing information in a fun way to spark their imagination and take them on an educational adventure they will never forget.
We are open 7 days a week. Contact us for any questions  and for any further information about our services: fill out the form on our website, email us, call us or chat with us on WhatsApp. We look forward to meeting you soon so we can start exploring Italy together!