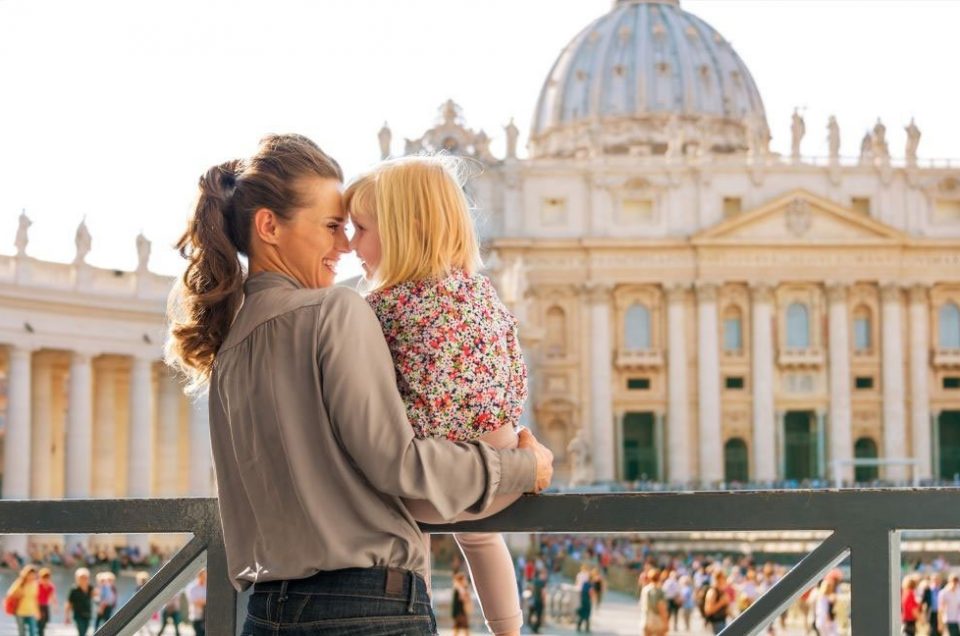 Make your Vatican visit memorable for everyone!
Exploring Rome with your family is rewarding for adults and children alike. Its multitude of ancient sites, baroque churches, squares, fountains and parks create unique experiences for all visitors. The cradle of European civilization is awash with ancient myths, legends, customs and traditions – not to mention the rich Renaissance and Baroque legacy left by such Great Masters as Raphael, Bernini and Borromini. 
But no visit to Rome would be complete without exploring the Vatican – the world's smallest city-state on the west bank of the River Tiber! 
That's where our Vatican tour for kids comes in. Designed specifically for children and young teenagers, this fun, factual and fully interactive tour captivates everyone as they explore the treasures of the Vatican Museums, Chapel and Saint Peter's Basilica.
The wonders of Rome and the Vatican City
To condense the incredible artworks and the masterpieces of the Vatican into a manageable and interesting itinerary, is absolutely necessary to take a guided tour. But with kids and teens in tow, not just any guided tour will do. 
When visiting the Vatican with the family, you need an engaging and dynamic guide with a well-planned itinerary and skip-the-line access.
Our Vatican tour for kids empower you and your family to explore the highlights of Vatican Museums, Sistine Chapel and Saint Peter's Basilica.
The best family Vatican experience: highlights
If you thought that Vatican City was not suitable for children, think again! The right guide can transform the Vatican into a fascinating, colourful destination your kids will never forget.
Guided tours to the Vatican Museums are suitable for kids for an interactive and fun experience. Through our

treasure hunts

, the ancient statues, paintings and sculptures make much more sense and the visit becomes a unique experience for the whole family. 

You can visit St. Peter's Basilica and admire the Sistine Chapel and Michelangelo's frescoes in peace: your guide can give you more attention and can take you to important sections of the Vatican that are usually not included in the standard itineraries.
Take your time and enjoy some of the most beautiful and important artworks on the planet.
Walks Inside Rome – Kids and families tours
Walks Inside Rome has been providing travel services and guided tours in Rome since 1999. Our expertise both here in Rome and beyond equips our guests to discover the wonders of our country exactly how they want – through personalized tours led by our exceptional Italian guides.
All our private tours are customizable, meaning you can add and combine whatever you want to your experience. 
For all our kids and families tours, our guides actively engage your kids by telling fun, factual stories and anecdotes in a way that sparks their imagination and takes them on an educational adventure they will never forget.
We specialize in private and small group tours of no more than 8-12 participants with priority entrance to Rome's most famous destinations, giving you a much more personalized experience, at a pace to suit you.
Contact us to start tailoring a tour program for you – either in Rome and in its environs or beyond the Eternal City in such cities as Florence, Venice and Naples. 
For any questions and any further information about our services, fill out the form on our website, send us an email, call us or chat with us on WhatsApp.
We look forward to meeting you soon so we can start exploring Italy together!