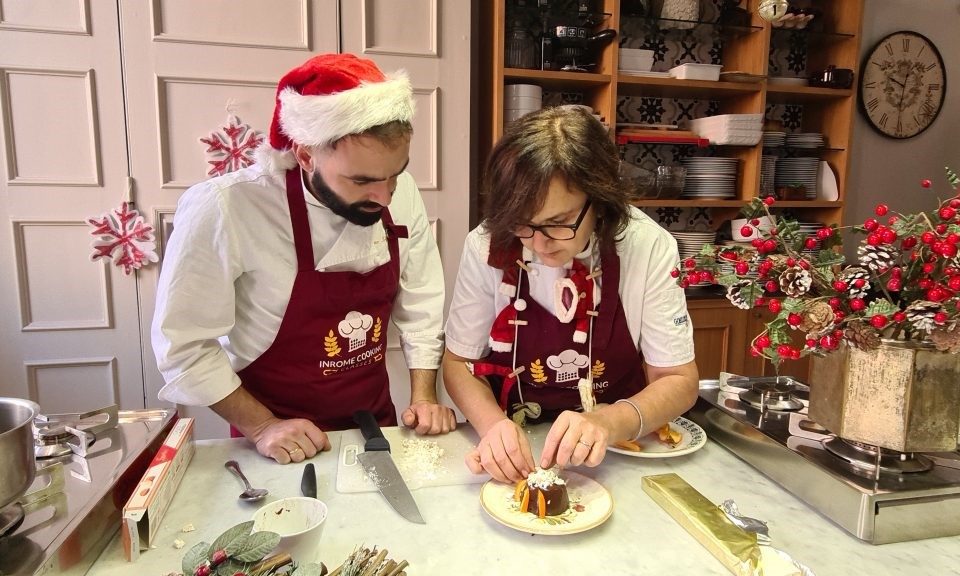 December is here! While Rome is usually seen as a great summer destination, the city also offers plenty of activities to keep its visitors busy during the autumn and winter months. From visiting the city's famous attractions to strolling down its warmly lit streets and spending the evening in cozy bars and trattorias, winter in Rome has its own special charm.
We at Walks Inside Rome would love to help you discover Rome's beauty during these cold, rainy months. We offer a range of activities that are tailored according to your needs to ensure that you enjoy an unforgettable stay in the Eternal City. Apart from organizing visits to Rome's most iconic landmarks, we also provide cooking lessons, arts and crafts lessons and even a gladiatorial school to channel your ancient warrior!
In this article we have highlighted four activities that we believe you would enjoy as you spend your winter in Rome. While these activities are also popular choices during the summer, during the winter months you can enjoy them even more as you step away from the crows that city attracts during the summer.
Visit the Vatican
Visiting the Vatican is an obvious choice on your visit to Rome. Its complex architecture, the stunning artworks preserved within its walls and the religious significance that the Vatican holds for millions around the world makes it one of the most in-demand experiences in Rome.
A visit to the Vatican in December makes it all the more special due to the festive season. You can admire a beautiful Christmas tree and a creative nativity scene that adorn the center of St Peter's Square. While during the summer, thousands flock to the Vatican every day, the winter months see less crowds, providing you with a more intimate experience. The religious significance of the site would also make your winter in Rome more special!
Tip: The Vatican, being a religious site, has certain rules regarding appropriate clothing. Make sure you look them up before visiting.
→ Enjoy visiting the Vatican before its opening to the general audience with our Early Morning Vatican Tour.
Take a stroll around the city at night
Rome is a stunning city whose center is dotted with magnificent landmarks. While spending the day walking around the center is a must-do on your visit to Rome, there is a more unique way to explore the city's beauty: discover its monuments at night!
As winter in Rome fast approaches and the sun sets early in the evening, you can take this opportunity to stroll through the center's charming streets and visit the city's warmly lit piazzas and famous landmarks.
Lit up with bright orange hues, the monuments display a stunning contrast against the dark night sky.
With our Rome by Night Tour, we take you on a stroll around the city center to visit some of the city's iconic landmarks such as the Spanish Steps, Trevi Fountain and the Pantheon. You can choose to end this experience with a cozy aperitivo which is a lovely way to spend a wintery evening in Rome.
Tip: The weather in Rome in the winter can change drastically throughout the day. It could be sunny during the day but cold at night. Make sure to carry an umbrella, a thick jacket and a scarf.
Try a cooking class
On your visit to Rome, you would definitely be indulging in the world-famous Italian cuisine. A warm plate of pasta during the cold winter in Rome is definitely a euphoric experience! Why not take your culinary journey a step further and learn to make a plate of fresh pasta and a creamy tiramisu?
Spend an evening at one of our elegant and cozy cooking schools, a 17th-century palazzo near Piazza Navona or our sleek-and-stylish school a stone's throw from the Pantheon. Throw on your apron and channel your inner chef as you learn to prepare two classic and beloved Italian dishes.
Tip: Make sure to arrive in time for your lesson. Also, wear loose fitting trousers!
→ Take our unique Cooking with Nonna: Gnocchi, Meatballs and Biscotti Class to learn to cook traditional Italian delicacies!
Visit the Colosseum, Roman Forum and Palatine Hill
The Colosseum is Rome's icon and the ancient Forum next to which it stands is one of the most important parts of the city since ancient times. Even the Palatine hill nearby is an iconic area as this is where Romulus is said to have founded the city almost three millennia ago!
It is no wonder that these sites receive millions of tourists every year, who line up for hours in the heat to be able to enter. However, during the winter in Rome you don't have to deal with such problems, neither the long lines nor the heat.
It is a good idea to enter with a guide who is an expert in Roman history and who can provide you with a fun, yet educative visit to the most ancient sites of Rome. Our guides will do just that; along with familiarizing you with the history of the area, they will narrate to you the myths and scandals related to ancient Rome. And considering the interesting lives of the Roman emperors, we can guarantee you that at the end of the tour, you will have a treasure trove of intriguing facts about ancient Rome!
Tip: Wear comfortable shoes to enjoy a long walk around Rome's most ancient areas.
→ To visit the most iconic ancient landmarks of Rome, take our VIP Colosseum Underground Tour with Ancient Rome!
Book a tour with Walks Inside Rome
At Walks Inside Rome, we provide a wide range of exciting and educational tours. The expertise of our guides in the history and culture of Rome provides you the opportunity to immerse yourself in the local traditions of the city, making your time in Rome unforgettable!
You can book the tours directly online or by contacting us via email. We can't wait to hear from you so we can customize your experience and explore the Eternal City together!