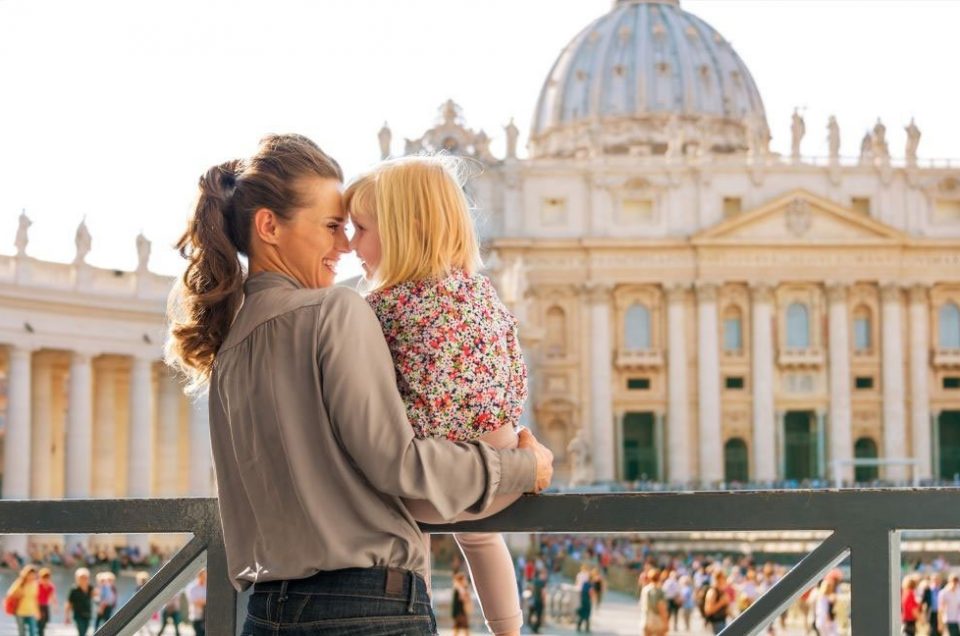 The Vatican, with its endless twists and turns and countless wonders and artefacts, is a perfect blend of education and entertainment just waiting to be explored. By choosing a private Vatican Tour for Kids, families can together enjoy this giant playground comprising an entire micro-state.
Despite the displays covering thousands of years of history, the magnificence of the Vatican can, understandably, become a little heavy hitting for young minds. Taking a bespoke tour that has been carefully crafted to win and maintain the attention of curious kids can turn a potential case of travel terror into a fantastic family adventure.
What's more, with the kids soaking in the art and cultural heritage of the Vatican, parents are able to free their minds to fully experience this once in a lifetime visit to Italy's  simply must-see tourist destination.
See the Sistine Chapel in your private Vatican Tour for Kids
Entering the Vatican Museums is opening Pandora's box to a seemingly unlimited collection of world-renowned artworks, sculptures, and artefacts. And whilst the Gallery of Maps, Gallery of Tapestries, and Gallery of the Candelabra are all poignant and beautiful in their own right, there is one feature that steals all the plaudits; the Sistine Chapel.
Gazing upon Michelangelo's painstakingly created masterpiece is enough to make time stand still. Stood in the Sistine Chapel, one can connect the dots of this Renaissance ode to the divine creation in the iconic frescoes, both clinging to the ceiling above and framed perfectly at the front wall within the Last Judgment.
And whilst your imagination and wonder work to comprehend the surrounding beauty during the private Vatican Tour for Kids, your kids' very own guide will point out the paintings' key aspects in an inclusive game of Old Testament Where's Waldo!
Indulge your inner child with a glimpse of the popemobile
Tracing the steps of pope's gone by is an obviously exhilarating experience for us adults as we learn the origins of St. Peter's Basilica and the additions that make it the architectural monument we see today. However, with a private Vatican Tour for Kids, your family can see a rather more modern addition to the Vatican; the popemobile!
Following an engaging introduction to one of the Vatican's newest additions, your kids will be granted access to some of the micro-state's oldest members. For those brave enough to enter the Egyptian Museums, mummies lie in wait, ready to intrigue and engage your little ones to an entirely separate, but at times intertwined, civilization to the inhabitants of ancient Rome. 
→ Why not try a Treasure Hunt at the Vatican? Turn the smallest country in the world into your family's very own maze!
Explore our kids-friendly tours outside of the Vatican
If your family is hoping to explore the wonders of the Vatican in a kids-friendly manner, we understand that your desires may stretch beyond the Holy See's once impenetrable walls. With Walks Inside Rome, private Vatican Tours for Kids can be followed by similar excursions and experiences throughout the rest of Rome.
From art classes on ancient landscapes to tremendous city-wide treasure hunts, here are a few of our favorite kids and family experiences across Rome:
Discover St. Peter's Basilica with Walks Inside Rome
Walks Inside Rome has provided private kids-friendly tours of the Vatican for over two decades. We offer immersive, authentic, and educational tours with local, licensed guides, our expertise spans art, history, archaeology, and food, ensuring enjoyment for the entire family.
Check out our entire catalog of tours and experiences via the wider website or by sending us an email. We can't wait to hear from you so we can customize your private Vatican Tour for Kids, creating a family memory to last a lifetime!