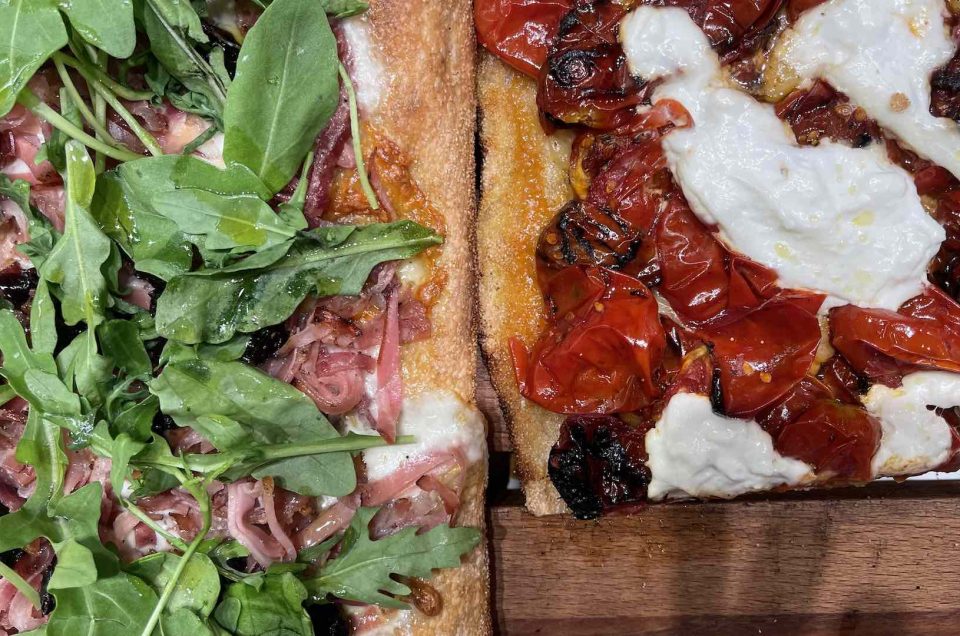 With the summer in full swing, and warm weather late into the evening, we've got one thing on our mind – eating al fresco in Rome's city centre. And there's no better way of discovering where to go than through our best food tours in Rome! Walking you through three distinct Roman districts, Trastevere, Testaccio, and the Jewish Ghetto, our food tours fully immerse you in Roman culinary culture. They are the perfect experience for inquisitive travellers seeking to sample authentic, local food while learning all about the neighbourhoods they're exploring.
And this summer, they're proving to be the most fun, indulgent, and fulfilling activities in Rome!
Sample authentic Roman dishes on our walking food tours
Each Roman district is home to an array of hidden eateries; unpretentious, unassuming holes-in-the-wall only the locals know about. In Testaccio, Rome's equivalent of Manhattan, this might be the trapizzino bar, or street food or pizza stands in the local covered market. 
Home to the Guardian's phenomenal food writer, Rachel Roddy, Testaccio boasts a long history of classic Roman cuisine. The district has been at the center of Rome's food trade from the city's earliest days, when Testaccio's neighborhood symbol, the amphorae (jars), brought in olive oil and wine imported from all over the Roman Empire.
Testaccio's modern-day fare is somewhat more sophisticated: rich, meaty dishes (a classic since the area used to be home to Europe's largest abattoir) and trapizzino (pouches of pizza bread filled with everything from ragù sauce to hunter's chicken to – my personal favourite – ox tongue and spicy sauce). And what better way to try it all than through one of our best food tours in Rome: our Testaccio food tour.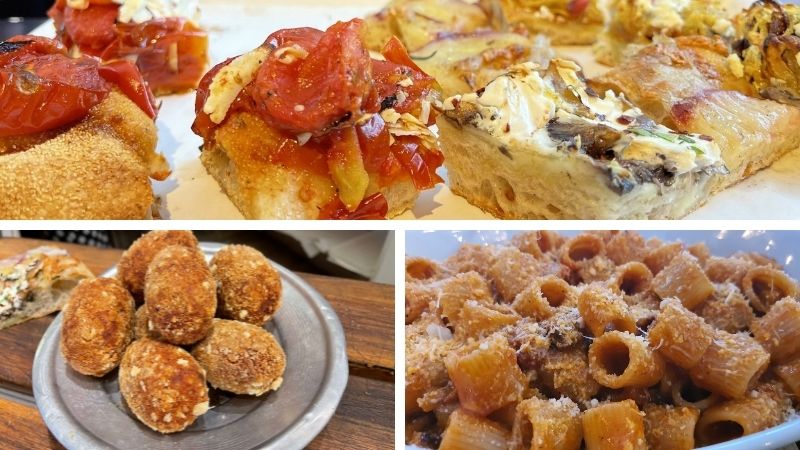 → Read the review of this tour in Food & Leisure Magazine
Traverse the district of Trastevere on one of our best food tours in Rome 
For travellers seeking to combine a historical walking tour with a chance to sample the center's typical Roman dishes, our Trastevere food tour is the experience for you! Your foodie guide, an expert in Italian food and wine, will lead you on a 3.5-hour tour through Trastevere, recounting the history of this ancient neighborhood, ducking into hidden bars, delicatessens, and speciality eateries, and navigating you through the complexities of Italian culinary culture as you munch your way through the finest food Rome has to offer.

After sampling the area's cornucopia of offerings, you'll sit and relax for dinner in a romantic trattoria.
Only now do we move on to the meal, which traditionally starts with pasta. There'll be a generous selection to choose from, including classics such as Cacio e Pepe, Amatriciana, and the renowned Roman classic – Spaghetti alla Carbonara.
→ Check out our Trastevere food tour
Must-try Roman street food:
Carciofi

(artichokes): Artichokes are an artform in central Italy. These budding thistles of deliciousness come into blossom between February and April, setting up Rome's citizens for the summer ahead. Visit a

farmers' market

and you'll find they're blooming with these artichokes which Roman chefs serve up in one of two ways –

alla romana

(Roman-style) or

alla giudia

(Jewish-style) – the latter of which makes simple and delicious street food.
Supplì

: Coming from the

French word for 'surprise'

, these delightful deep-fried balls of deliciousness are among Rome's most beloved food staples. Supplì are nothing if not simple. Like

arancini

, their more famous Sicilian counterparts, they consist of balls of risotto rice,

lovingly smothered in gooey mozzarella

and

ragù

meat sauce, coated in breadcrumbs, and

deep-fried

to perfection. Initially stuffed with chicken giblets, mincemeat, and a local cheese known as

provatura

, supplì now incorporates a range of exciting flavours. These include – but are in no way limited to – the classic

cacio e pepe

(cheese and pepper), 'nduja (spicy pork sauce from Calabria), and even smoked gorgonzola and herring.
Roman Pizza

:

Roman pizza is practically the opposite to Neapolitan pizza: it is crispy and they are not afraid of toppings. A classic on all menus in Rome is the Capricciosa: topped with ham, mushrooms, olives, artichoke, an egg and tomato. Oil is added to the dough and there is much less water than the Naples version. The pizza is cooked for up to 3 minutes at around 350°C and therefore the result is something completely different to the pizza of Naples: way crispier. All over Rome you can find round pizza or 'al taglio' which is by the slice. Long strips of pizza are topped with the most delicious toppings and then cut and sold by weight and wrapped in paper. It is original Roman street food and it is an institution of the city loved by all but you can also find it all over Italy
→ Discover and Taste Roman Street Food
Walks Inside Rome – booking our best food tours
Walks Inside Rome has been operating in Rome since 1999. Our goal is to provide our clients with the highest quality tour guide services in art, history, food and fun across Italy's most spectacular destinations. If you want to get to know and appreciate Roman cuisine, let yourself be guided by the experience of a tour operator and their culinary tours.
Our private Trastevere Food Tour introduces you to the vast variety of food and drink the Eternal City has to offer. You can chat with your local guide and learn all about Roman food culture and Italian culinary traditions.
We are open 7 days a week, contact us for any questions and for any further information. Fill out the form on our website, send us an email, call us or chat with us on WhatsApp.
We look forward to meeting you soon so we can start exploring Italy together!