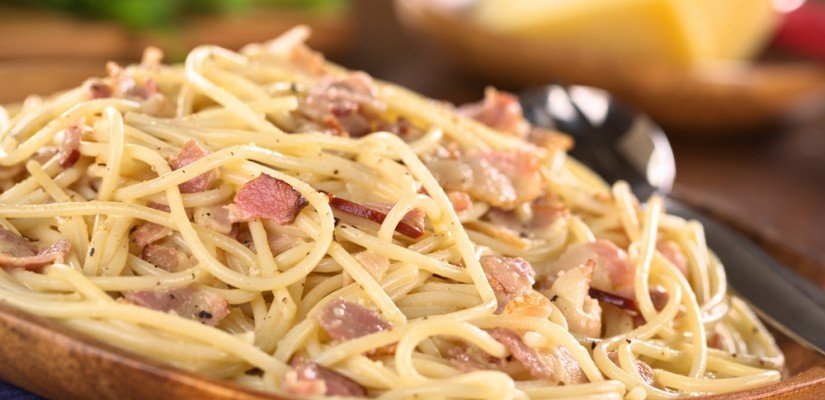 Everybody knows Rome for the Vatican and the Colosseum, but Roman cuisine, or 'la cucina romana', is one of the Eternal City's most surprising discoveries. Based around simple, understated ingredients sourced from the local surrounding area, it boasts such household names as Spaghetti alla Carbonara and Amatriciana. Yet it hasn't always been this way.
A Brief History of Typical Roman Cuisine
In the ancient world, Rome's position as the global capital contributed considerably to the depth of its cuisine. The extent of the Roman Empire meant the ancients could source ingredients from grain and mead from Britain, wine and olives from Northern Africa, and even spices from China's Silk Road.
During the Middle Ages through to the Renaissance, Rome attracted some of Europe's greatest chefs who took up residence in the papal court at the Vatican. Bartolomeo Scappi, for example, who was the chef of Pope Pius IV during the late 16th century, published a cookbook that shot him to fame entitled Opera dell'arte del Cucinare ('On the Art of Cooking'). In it, we encounter our first known image of a fork.
The typical Roman dishes as we know them are products of a slightly more recent history. Until the 1970s, the Roman neighborhood of Testaccio was home to Europe's largest abattoir. Its employees, bringing home off-cuts and other pieces that wouldn't go on to sell for high prices, created the area's – and later the city's – meat-rich typical Roman dishes.
Supplì
Coming from the French word for 'surprise', these delightful deep-fried balls of deliciousness are among Rome's most beloved food staples. Supplì are nothing if not simple. Like arancini, their more famous Sicilian counterparts, they consist of balls of risotto rice, lovingly lathered in gooey mozzarella and ragù meat sauce, coated in breadcrumbs, and deep-fried to perfection.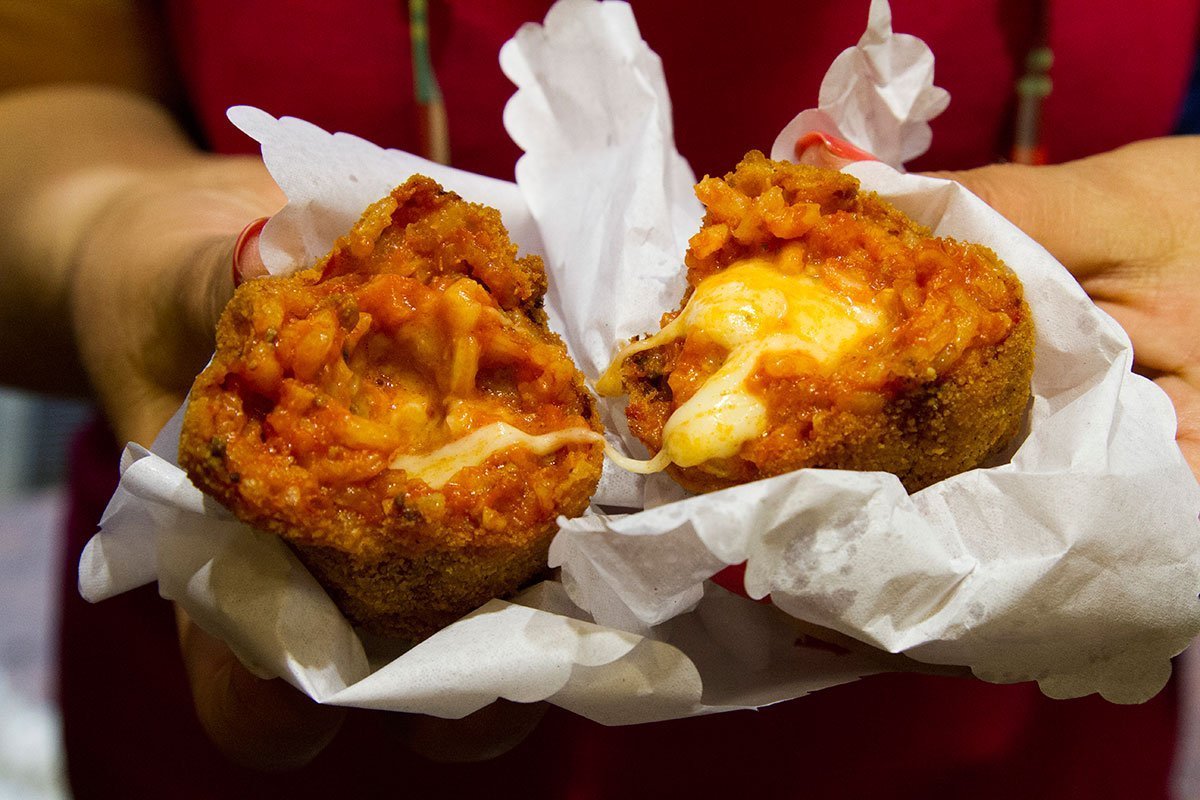 Supplì were initially stuffed with chicken giblets, mincemeat, and a local cheese known as provatura. In recent years, however, refined tastes and choosy tourists have seen a blossoming of other variations. These include – but are in no way limited to – the classic cacio e pepe (cheese and pepper), 'nduja (spicy pork sauce from Calabria), and even smoked gorgonzola and herring.
You can find supplì all over the city either as a classic of Roman street food or as a restaurant antipasto before tucking into your pizza, pasta, or any other main. Our favorite place to find them is Testaccio Market, and as this is one of Rome's most localsy markets, whichever stall you go to you can't go wrong.
→ Discover and Taste Roman Street Food
Spaghetti alla Carbonara
As far as typical Roman dishes go, Spaghetti alla Carbonara has to be both the best known and most bastardized pasta recipe on the planet. Variations abound when it comes to recreating the Carbonara, from the size and shape of the pasta, the type of meat and cheese, and the addition of the egg.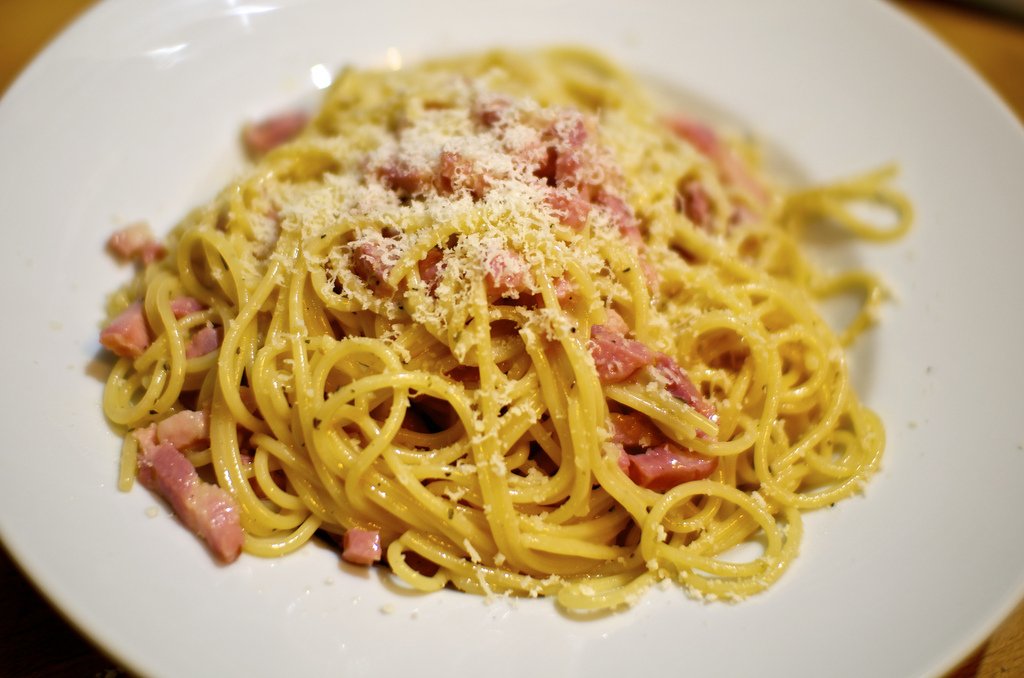 Many Anglo-American variations of the Carbonara even include the addition of peas, mushrooms, or cream.
Share this with an Italian, however, and they might never let you into the country again.
The traditional Carbonara sauce is, like most other Italian recipes, simple. For the meat, Romans use only guanciale (pork cheek), for the cheese either pecorino romano or a combination of pecorino and parmigiano-reggiano (parmesan to you and I), raw egg yolks (this is after all a sauce, not scrambled eggs), and a sprinkling of pepper.
Spaghetti is the most popular accompaniment (something we have got right in reproducing this dish) but other popular pasta types include thicker fettuccine, tubular rigatoni, hollowed out bucatini, and elliptical linguine.
So where should you go for the perfect plate of Carbonara? Passetto Restaurant near Piazza Navona in the city center serves up beautifully presented, traditional plates of Carbonara and other typical Roman dishes as does the jollily named Popi Pop Restaurant in Trastevere. Or you can enrol on a pasta and tiramisù cooking class at our cooking school and learn how to make it yourself!
→ Learn to make Spaghetti alla Carbonara and other Roman pasta dishes
Carciofi alla Giudia and Carciofi alla Romana
Artichokes are an artform in this part of Italy. These budding thistles of deliciousness come into blossom between February and April, setting up Rome's citizens for the summer ahead. Visit any Roman farmers' market and you'll find they're blooming with these artichokes which Roman chefs serve up in one of two ways – alla romana (Roman-style) or alla giudia (Jewish-style).
Both varieties begin with stripping the artichokes of their leaves with a sharp knife. Leaving just a couple of centimeters of the stem, they are then soaked in water and lemon juice to stop them turning brown. This is where the similarities end.
Carciofi alla romana are very simple. Sliced open in the center, they are stuffed with a fresh mixture of parsley, mentuccia (lesser calamint), garlic, salt, and pepper. Stood upright in a pan they are then doused in water and white wine before being braised in the oven and served warm or at room temperature.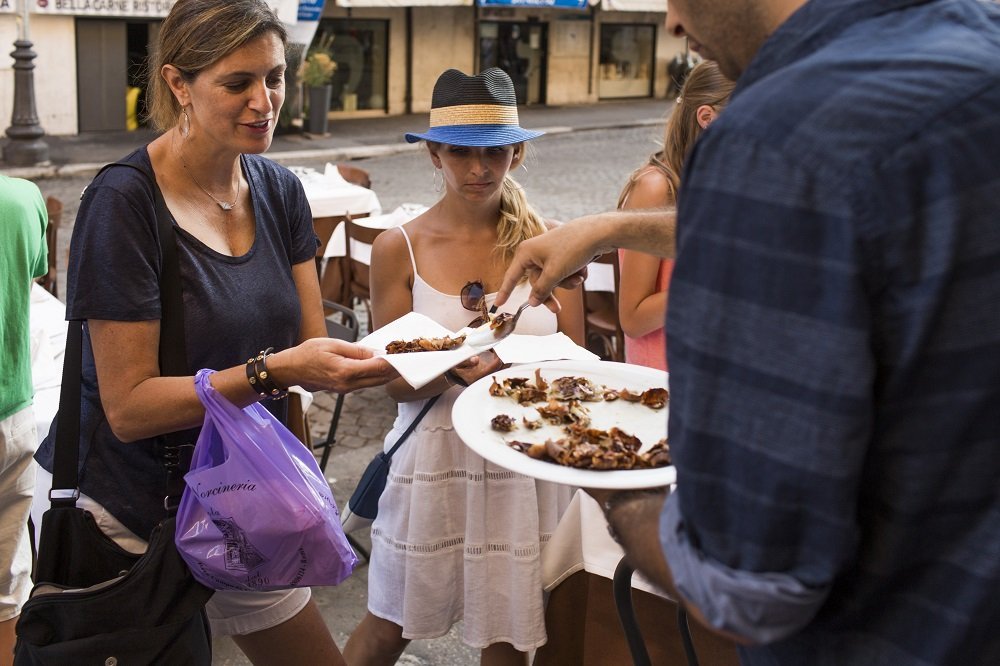 Carciofi alla giudia are even simpler. Seasoned with salt and pepper, they are dunked into a deep vat of olive oil. These artichokes are then deep-fried until they are crispy, resembling well-cooked potato chips in both taste and appearance. Only so much healthier, and so much better.
The best place to eat carciofi alla giudia is in Rome's Jewish Ghetto (a stone's throw from the Theatre of Marcellus on the foot of the Capitoline Hill) though  won't struggle to find them on other restaurant menus throughout the Italian capital.
→ Master the art of Roman Jewish Cooking
Saltimbocca alla Romana
Saltimbocca is such a typical Roman dish that adding 'Roman-style' to the end seems almost entirely unnecessary. Meaning 'jump in the mouth' in Italian, it's a dish that delivers on its promise, exuding moorish meat juices and melt in the mouth flavors.
Saltimbocca is as wonderfully simple as it is flagrantly carnivorous, consisting of little more than a slice of veal layered with slices of prosciutto and enriched with the fresh flavor of a sage leaf.
Held together by little more than a toothpick, this cutlet of veal is deglazed with white wine, sautéed in olive oil, and served with sides of fresh vegetables and tomatoes.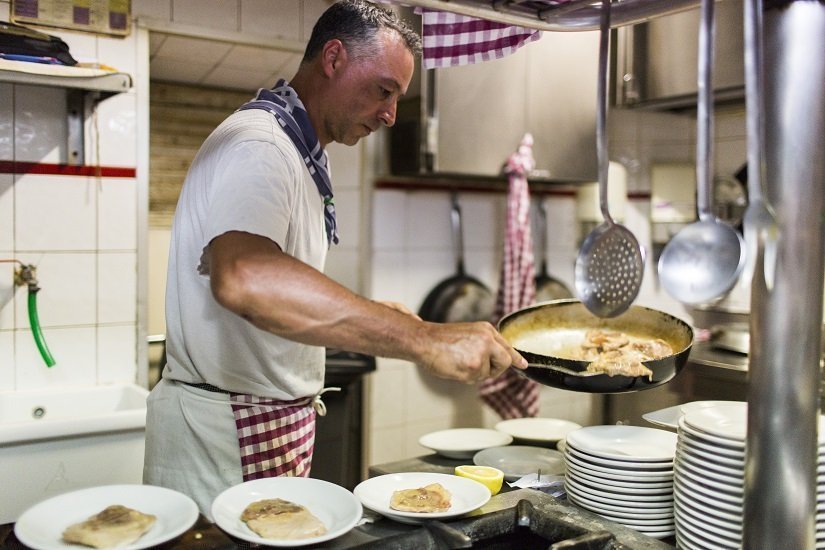 So where to eat saltimbocca in Rome? Any trattoria or osteria worth its salt will serve this typical Roman dish, though to ensure you get your bang for your buck you're best off avoiding anywhere overlooking one of Rome's main monuments.
As Rome's main carnivorous neighborhood, Testaccio guarantees a smashing saltimbocca, especially the Meat Market on the Via Marmorata or Cantina & Cucina in the historic center.
→ Explore the carnivorous culinary culture of Testaccio
Maritozzo with Cream
No Roman meal would be complete without an indulgent dessert, and with gelato, tiramisù, and panna cotta on most menus, eating out leaves you spoilt for choice. But a lesser known delight – and sweetest of these typical Roman dishes – is Maritozzo alla Crema.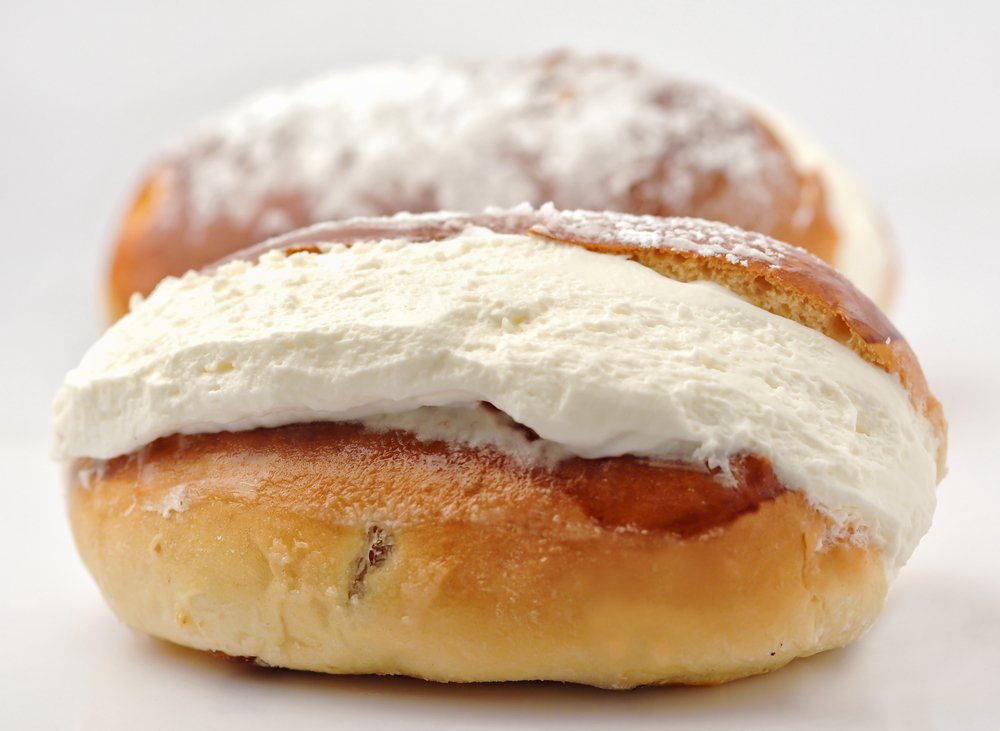 Dating from antiquity, the original Maritozzo was little more than a sweet bun made from flour, eggs, honey, butter and salt. During the Middle Ages, it was the one sweet treat the papacy permitted for consumption during Lent, when fasting Catholics would energize themselves on its raisins, pine nuts, and candied fruits.
It was only in the 1800s that this sweet stuffed bun gained its modern monicker 'Maritozzo'. Coming from the Italian word for husband (marito), fiancés traditionally gifted these sweet treats to their sweethearts on the first Friday of March, making it the unofficial Roman cake of Valentine's Day.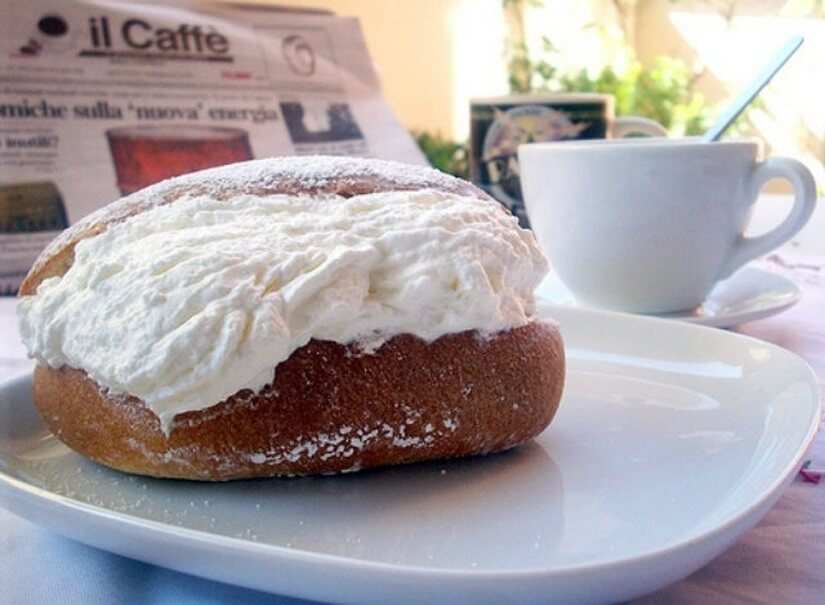 Now you're encouraged to consume Maritozzo any time of day and year (though advisably in moderation as they're stuffed with obscene amounts of whipped cream). Our favorite place to find them is Er Martizzzaro in Trastevere.
It's a bit of a walk from Trasetevere's center, closer to the train station than to the river. Bite into its warm, cream-filled center, however, and we're sure you'll agree that the journey was worth it.
→ Learn how to create your own Italian dessert