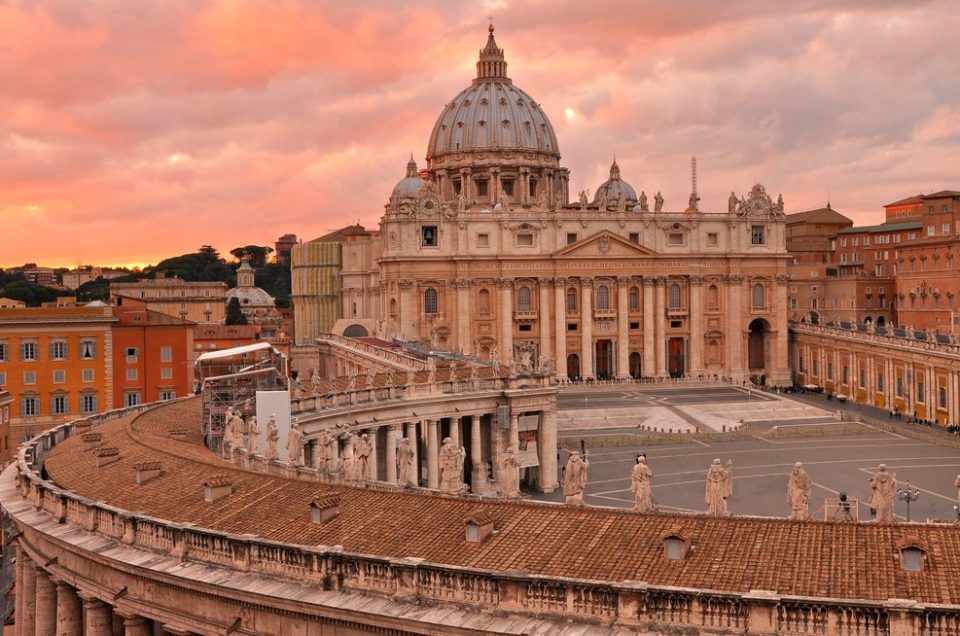 One of Christianity's central sites, St. Peter's Basilica can be seen as the beating heart of the Vatican City.
In fact, as the largest church in the world, this particular basilica stands out for many reasons. Standing atop the place of Peter the Apostle's martyrdom and home to the creations of Rome's most famed artists, this religious bastion has enchanted its visitors for centuries.
The story of Saint Peter and the basilica
Crucified under the rule of Nero at the Vatican Circus in 64 AD, the story of Saint Peter's death mirrors the tyranny that many of Ancient Rome's Christians endured during the emperor's 14-year reign.
"Covered with the skins of beasts, they were torn by dogs and perished, or were nailed to crosses, or were doomed to the flames and burnt, to serve as a nightly illumination, when daylight had expired. Nero offered his gardens for the spectacle, and was exhibiting a show in the circus, while he mingled with the people in the dress of a charioteer or stood aloft on a car. Hence, even for criminals who deserved extreme and exemplary punishment, there arose a feeling of compassion; for it was not, as it seemed, for the public good, but to glut one man's cruelty, that they were being destroyed."
Supposedly placed directly above the tomb of Saint Peter, here the connection to the disciple runs deep, with many Popes even choosing St. Peter's Basilica as their place of eternal rest. By taking an early morning Vatican tour in a small group, visitors can experience the juxtaposition of reflecting upon these brutalities whilst drawing in the magnificent splendour of the church itself.
Building a basilica like no other
The origins of the largest of Rome's four major basilicas can be traced to the 4th century, when the Roman Empire was ruled by Constantine the Great. However, it was not until the 1500s that the structure itself began to be transformed into the icon that we see today.
Best viewed privately or in a small group, Bramante's Renaissance renovation took inspiration from the Pantheon, with its circular dome sitting above a Greek cross structure with four pillars below. The dome was brought to life and completed by his student, Jacopo Barozzi da Vignola, as well as Giacomo della Porta and Domenico Fontana, but was later redesigned into its current oval shape by none other than Michelangelo.
Whilst gazing upon the dome, one is also treated to the spectacle of the facade. Undertaken by Carlo Maderno and Gian Lorenzo Bernini, the basilica's exterior (both its oval dome and the facade) marks the transition to the site's Baroque style.
The work of famous artists
Step inside the basilica and a world of artistic genius will open before your eyes. The external grandeur is replaced by internal sculptures such as Michelangelo's Pietà and Bernini's Baldachin.
Although the Vatican City basilica is synonymous with Christianity, taking a private tour from a Jewish perspective can reveal these artworks to the viewer in a way few have felt before.
Yet, whichever form of tour one takes when entering this renowned Vatican site, it is essential to remember that, much like the Sistine Chapel, St. Peter's Basilica is an active place of worship. As such, visitors may be refused entry for dressing inappropriately, so remember to cover your:
If in a pinch for some suitable clothing, vendors outside of the Vatican are forever on hand to sell t-shirts, scarves, or sarongs to those in need.
Aesthetic pleasure within the piazza
After being guided through the basilica's inner beauty, all of our Vatican tours culminate at St. Peter's Square. This offers one final chance for reflection as you stand within a feat of awe-inspiring architecture.
A quick glance across this famous piazza brings into sight the Vatican Obelisk. Brought to Rome in 37 AD by emperor Caligula, this Egyptian relic belonged in Caligula's gardens before being moved to the spina of his circus where Saint Peter faced his execution. Finally, the great monument was transported to its current place in the piazza in 1585 under the orders of Pope Sixtus V.
St. Peter's Square acts as an area where multiple historic timelines intertwine, as eyes cascade over the roughly four-millennia old obelisk as they simultaneously fall upon the clearly Baroque colonnade of Bernini. Dominating the piazza, the 284 Doric columns and 88 pillars encapsulate the basilica as a whole.
Discover St. Peter's Basilica with Walks Inside Rome
Walks Inside Rome has provided private and small-group tours of St. Peter's Basilica for over two decades. Offering immersive, authentic, and educational tours with local, licensed guides, our expertise spans art, history, archeology, and food.
To take a look at our complete offering of tours and experiences check out our website or contact us via email. We can't wait to hear from you so we can customise your St. Peter's Basilica tour and start exploring together!