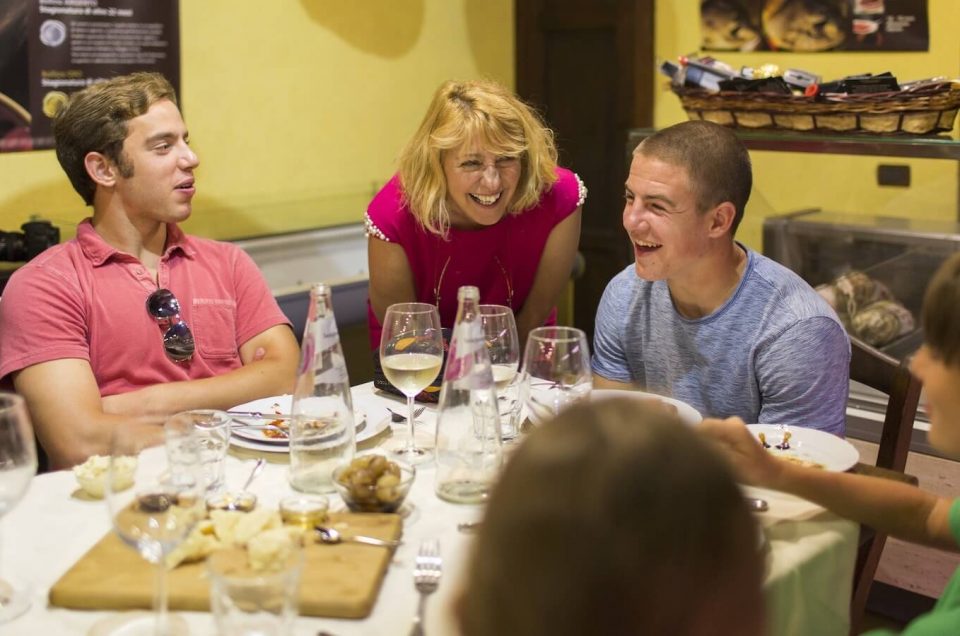 Rome is among the best Italian cities to visit during summer. Flowing fountains (or nasoni as the locals call them) spurt endless streams of ice-cold drinkable water, while the shade of its momumental attractions and medieval palazzi keep the city's curious visitors cool. The historic centre is in bloom from May to September, with ivy-covered houses and flourishing gardens greeting you around every corner. But walking around the centre can be a tiring business, which is what makes our walking food tour Rome so tempting! 
Walks Inside Rome food tours
Our food tours immerse you in three of the main neighbourhoods of Rome's historic centre: Trastevere, Testaccio and the Jewish Ghetto. Each quarter boasts its own unique atmosphere, its own traditions, and even its own cuisine. The Jewish Ghetto is home to the city's most sumptuous synergy of meaty, zucchini-filled Jewish food fused with more traditional Italian pasta dishes. The once working-class, now gentrified neighbourhood of Testaccio specialises in meaty treats and innovatively prepared off-cuts (in no small part due to it being home to Europe's largest abbatoir, Il Mattatoio, until 1975). Then there's Trastevere, the most authentically medieval of Rome's neighbourhoods, where tradition reigns supreme, and where you'll find simple Roman food done authentically, and done well.
→ Explore the carnivorous culinary culture of Testaccio
All of our food and wine experiences in Rome are headed up by a local foodie guide, fluent in English and – like every Italian – passionate about eating. We run both private and small-group tours, lasting between two-to-four hours, and guarantee such quality and quantity of food that by the end of you'll barely be able to walk. (Through exertion of the stomach, not exertion of the legs!) And if you'd prefer to speed around the Eternal City rather than explore it on foot we offer an eco-friendly Golf Cart food tasting tour too!
What can I eat on a walking food tour Rome?
As the Italian capital, Rome serves up the full range of traditional Italian fare. Every trattoria in the city will try to push its classic combo of pizza/pasta, wine and gelato, but the locals eat more than just this, and you've come to Rome to find it.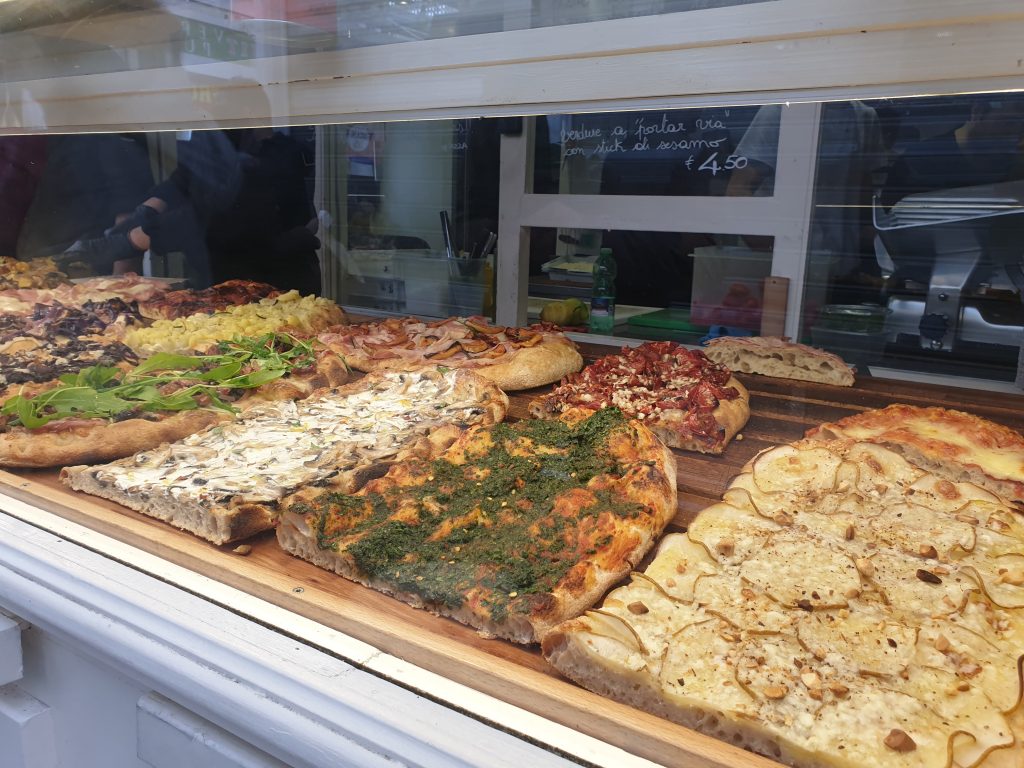 One local speciality you'll find on our walking food tour, Rome, is pizza bianca, a traditional pizza-cum-foccaccia which you don't tend to find outside the capital. Simple but sumptuous, la pizza bianca often comes served as a sandwich with crudely cut slices of mortadella in the middle. Because of its simplicity, pizza bianca is relatively ubiquitous in Rome. But we know where to find the best.
Deriving from the French word for 'surprise', supplì are another Roman speciality consisting of delightful deep-fried rice balls of deliciousness. Supplì are nothing if not simple. Like arancini, their more famous Sicilian counterparts, they consist of balls of risotto rice, lovingly lathered in gooey mozzarella and ragù meat sauce, coated in breadcrumbs, and deep-fried to perfection.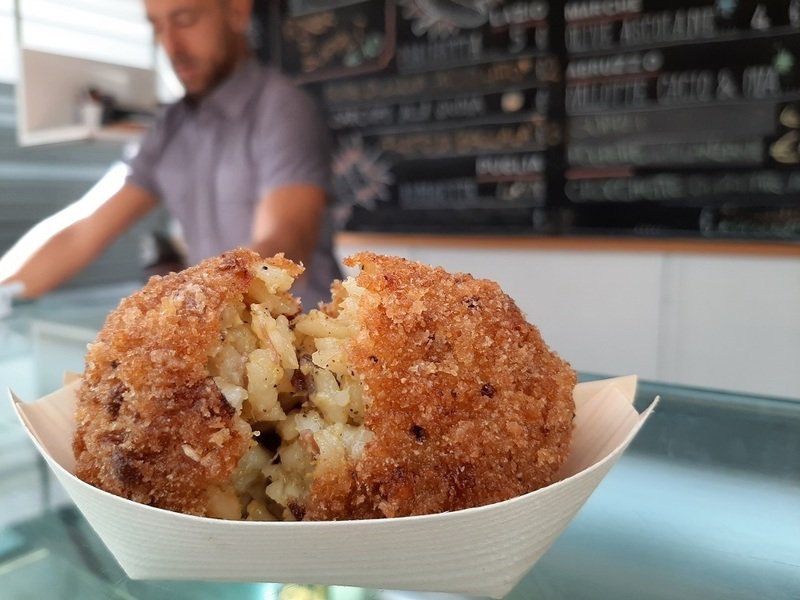 Baccalà is another favourite feature of our food tours, and nowhere does it better than our favourite filleteria! Ostensibly simple but deceptively difficult to make, baccalà is essentially battered cod-fish, deep fried until delicious and divinely crunchy to bite. As an Englishman living in Rome, I can tell you that it's the closest thing here to our traditional fish'n'chips – only that Italians do it better.
Which food tour is best for me?
Each of our food tours offer the chance to sample a range typical Roman dishes. But because we realise that too much choice is sometimes overwhelming, here's some information to help you deicide which walking food tour Rome is best for you!
Trastevere food tour

: Centred around Rome's most authentic medieval neighborhood, our Trastevere food tour guides you through the quarter's cobbled streets in search of street food delicacies, delicatessen delights and, to finish, some traditional trattoria dining. For anyone looking to extend this tour by crossing over the river to the Jewish Ghetto, we also run a

Trastevere & Jewish Ghetto food tour

!

Testaccio food tour

: Testaccio is probably Rome's coolest neighborhood. Slightly off the tourist trail, dotted with ancient and modern monuments and famous for its street art and

graffiti

, it has something for everyone both in culture and cuisine. The highlight of this tour if

Testaccio Market

, an semi-open market combining traditional fruit and veg stands and speciality street food stalls but there's plenty of other food to sink your teeth into.

 Discover and Taste Roman Street Food: Our shortest food tour introduces you to Rome's most beloved snacks and sweets around the historic centre. Treats like supplì, pizza, baccalà and gelato await as you and your guide explore the centre and discover its delicacies.
Discover the Italian capital with Walks Inside Rome
For more than 20 years, Walks Inside Rome has been offering immersive, authentic, and educational private and small-group tours in the Eternal City and beyond. Our team of local, licensed guides are seasoned experts in art, history, archaeology and food. Our combined expertise and experience transforms your time in Rome into something truly exceptional.
To check out our catalogue of tours and experiences, visit our website or contact us directly. We can't wait to hear from you so we can customise your own food tour of Rome and start exploring together!