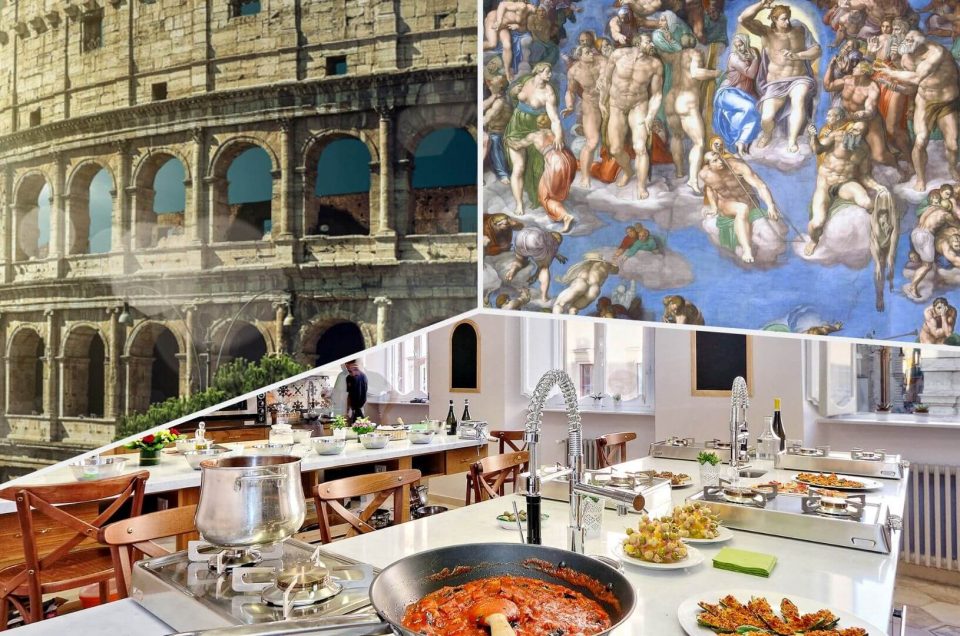 Some may say that taking part in a Vatican and Rome Tour in just one day is rushing your trip to the Eternal City as, after all, Rome wasn't built in a day so why should you see it in one?
However, with comfortable, private transfers taking you from Italy's capital to the world's smallest state that lays within, the challenge becomes much, much easier. 
What's more, with the wonders of ancient Rome and the hub of modern Christianity appearing before your eyes within a matter of hours, the tale of two cities truly makes itself apparent. Comparing and contrasting the city of the Caesars and the Rome of the Popes with images of each freshly imposed on your brain is a brilliant way in understanding the city's distinctly different, yet overwhelmingly overlapping, periods in history.
See both the Vatican and ancient Rome in one tour
There is no doubt about it, the Eternal City has two main attractions that simply everyone wants to see during their Roman vacation. In fact, Vatican City and the Colosseum are two of the most visited tourist attractions in the world. Steeped in culture, history, and religion, this pair of landmarks are famed enough to make everyone's bucket list. So why not see them both in one day?
Through our Best of Rome Tour, you will be able to absorb the spectacles of the Colosseum's hidden hypogeum from above, picturing the ferocious and vitriolic battles that once took place on the arid sands below. Then, you will be transported to great halls of delicate artworks and artifacts; the Vatican Museums.
Culminating in the Sistine Chapel, the museums host an almighty collection of artworks and sculptures, with Michelangelo of course an everpresent feature, and Raphael even awarded his own section. 
Can you see past a simple break of Christianity from its pagan predecessors? The crucifix within the Colosseum is a great example of linking these two periods, with Christian rulers paying respect to fallen martyrs during the height of the Roman Empire. Or perhaps they were keen to create a narrative of victimization to install Christian beliefs within a population, we will leave this for you to decide!
Do the triple and add a cooking class
So, you have marveled at the grandeur of Bernini's colonnade in St. Peter's Square and you have glanced upon the trap door used to winch gladiators into the view of the roaring Roman crowd, what's next? A cooking class of course!
Aside from its stunning scenery and intriguing history, Rome is famed for its culinary individuality. After a day of discovery, an evening of fun, food, and perfectly paired drinks would never go amiss.
Having indulged in some welcome drinks and snacks, your private cooking class can be molded in any which way you want. Whether it's filling Roman pasta, such as amatriciana and carbonara, that take your fancy, or delightfully homemade variations of classic pizzas our professional and local chefs will be on hand to ensure your stomachs don't go home empty after your Vatican and Rome Tour.
→ Take a look now at our Triple the Roman Experience!
Seeing the Vatican and Rome on a shore excursion
We understand that some may simply want to race through Rome and the Vatican in one day as a personal preference, whilst others are limited to just one day in the Eternal City due to their cruise ship's lust for ongoing voyage.
So, at Walks Inside Rome we offer a private return transfer from Civitavecchia as a part of our Full Day in Rome Shore Excursion. This way, your Vatican and Rome Tour can leave a lasting memory of the two key aspects of the Eternal City, before you set sail to your faraway shores.
→ Combine our Civitavecchia excursion with a cooking class in our Triple the Rome Shore Excursion. You will need 10 hours to fully experience all the city has to offer in this marvelous and all-inclusive tour.
Contact us
At Walks Inside Rome, we offer immersive, authentic, and educational tours of both Rome and the Vatican. Having done so since 1999, we have built a team of local, licensed guides who are experts in art, history, archeology, and food, to transform your time in Rome into something truly unforgettable.
You can find our full catalog of tours and experiences throughout our website, with booking taken either directly online or by emailing us. We can't wait to hear from you so we can customize your Vatican and Rome experience and explore the Eternal City together!