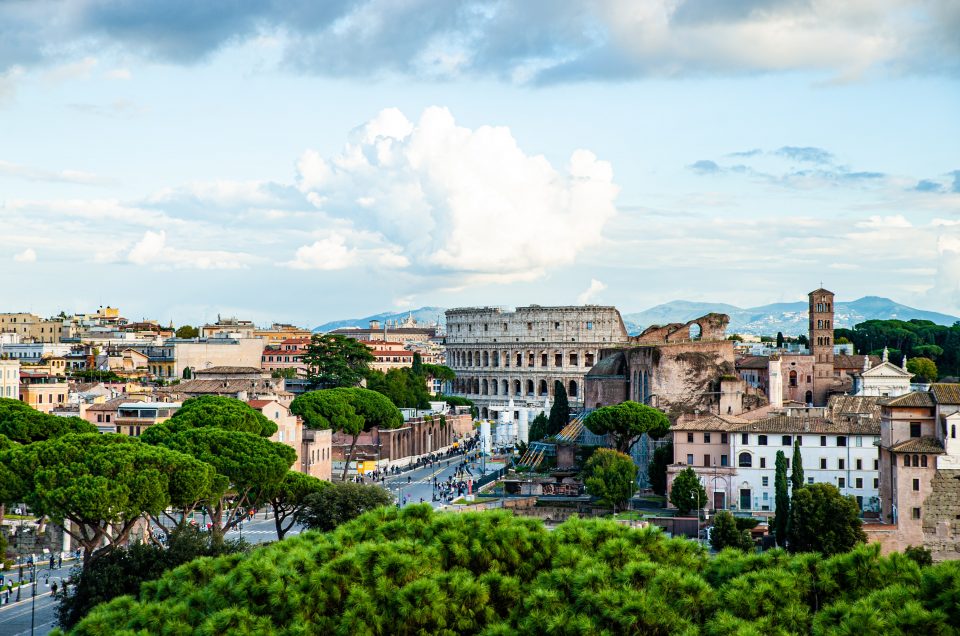 Day tours in Rome are like cooks in a kitchen; add too many and you may spoil the broth. The key to concocting a delicate balance to your Roman holiday is to carefully pick the ingredients, choosing the experiences best suited to your specific interests.
Whilst the night is reserved for abundant aperitives, delightful dinners, and joyful gelatos, the daytime is when you can truly explore the splendor of Rome's cultural offerings. A city steeped in history that presents a melting pot of generations gone by just waiting to be discovered before the sun sets over the Tyrrhenian Sea. 
Touring the two cities of Rome in a day
What are the two main attractions of the Eternal City? The Vatican and the Colosseum. One containing the works of admired artists such as Michelangelo and Bernini, the other painting scenes of brutal gladiatorial games, it is clear that these two great attractions represent alternate periods of Rome's history. 
These are the city of the Caesars and the Rome of the popes.
Day tours in Rome will often hone in on the spectacles of either the Renaissance and Baroque periods, or the history of ancient Rome. This is an undoubtedly excellent way to delve into the nuances of these periods of history, analyzing the ingenuity of the Romans in creating marvels such as the Pantheon and the brilliance of their 1,000-year successors in crafting the breathtaking Trevi Fountain and Spanish Steps.
However, our Best of Rome Tour brings these two periods together in a single day. When taking in the spectacle of Rome's most-famed amphitheater with memories fresh from the Sistine Chapel and Vatican Museums, one can begin to contrast and compare, thinking of the two cities of Rome not as separate places but an intertwining and winding path that has led us to where we are today.
Taking a tour on wheels
There is no disputing it, some day tours in Rome can prove to be too much walking, after all it is a capital city! So, why not rest those weary legs and hop aboard your very own set of wheels with one of the modes of transport below to see all that Rome has to offer in just a few short hours? 
Golf Cart Tour of Rome:

A best-seller, our golf cart experiences allow you to glide past all of Rome's must-see attractions without having to traverse the city's tricky cobblestones. Cross off your Rome bucket list, from

Villa Borghese

to

Circus Maximus

and everything in between!

Appian Way Bike Tour:

Reserved for the most ancient road of all, the

Appian Way

, our cycling experience of Rome transports you back 2,000 years and more. We recommend traveling this fascinating route on

Sundays

or

public holidays

, as the park in which the path is situated will be closed to traffic.

Vespa Tour:

What could be more Italian than being guided through the city's streets on the back of a Vespa? Stopping off wherever your heart desires,

day tours in Rome

don't come more authentic than this!
Day trips in the environs of Rome
If you are set to enjoy an extended stay in Rome, escaping the city walls is a must. The surrounding areas contain a wealth of culture and history itching to be uncovered. Within easy day trips from the capital are stunning palaces, both old and new, and otherworldly archeological sites.
A short trip east to Tivoli brings travelers abundant greenery and luxury, with the breathtaking scenery found at Hadrian's Villa. While journeying west takes you to Ostia Antica, a perfectly preserved ancient city sat on Rome's doorstep.
Yet, it is by taking a short transfer south that you will find perhaps the most intriguing of all day trips from Rome. The quaint village of Castel Gandolfo acts as a Roman getaway from the city center so much so that it even acts as the Pope's summer residence. Here, due to Walks Inside Rome's special relationship with the Vatican, you are able to explore the apostolic palace and meticulously maintained gardens before taking part in an exclusive cooking class using organic produce taken from the Pope's farm.
Book today with Walks Inside Rome
We at Walks Inside Rome have offered immersive, authentic, and educational tours across the Eternal City since 1999. 
Our local, licensed guides with expertise in art, history, archeology, and food, are on hand to transform your time in Rome into something truly unforgettable.
You can find our full catalog of tours and experiences throughout our website, with booking taken either directly online or by emailing us. We can't wait to hear from you so we can customize your Roman experience and explore the Eternal City together!