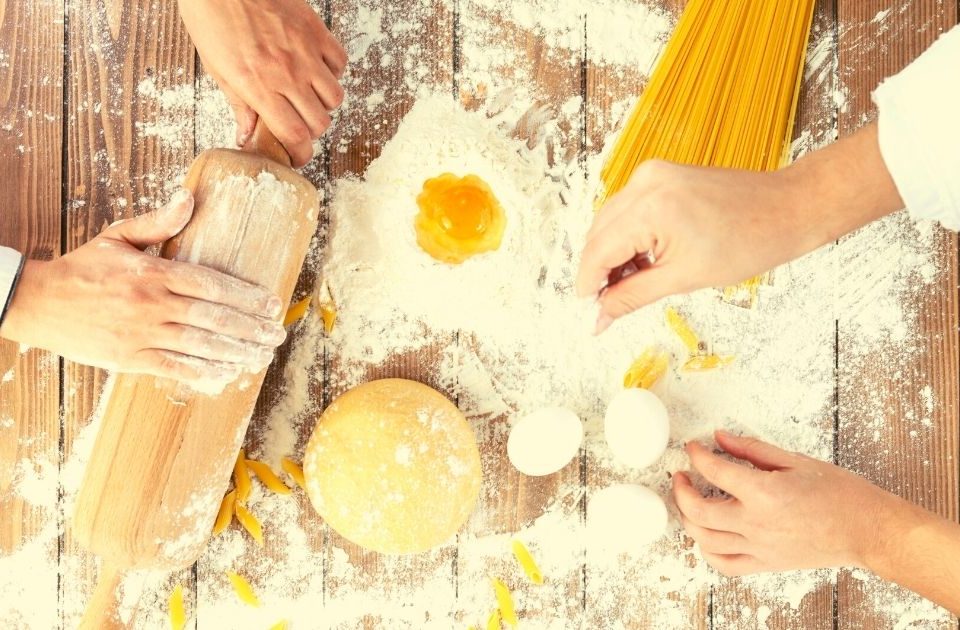 Are you in Rome and want to feel like a local? Take a Roman cooking class!
There are many ways to explore Rome, but discovering Roman cuisine is certainly one of the most exciting and fun experiences. A pasta cooking class and a dinner with the locals cannot be missed if you are on holiday in the Eternal City. It is the ideal opportunity for you to discover local flavors and people.
Wandering around a city like Rome has no equal, everything is breathtaking. Walking and admiring monuments, churches, squares, and fountains while eating Roman delicacies is amazing. So why not take away the satisfaction of learning to prepare authentic local dishes yourself so that you can relive the memories and enjoy the flavors at home? Become an Italian chef too by attending one of Walks Inside Rome's cooking classes.
Cook and enjoy your pasta dishes under the guidance of your chef
Do as the Romans do. Immerse yourself in Roman culture in a unique, unforgettable way, experiencing the real Roman cuisine by making some of its pasta dishes, and, in the end, indulge by dining on what you have made perfectly paired with a selection of local wines.
Embark on a culinary journey of freshly sourced, local cuisine with one of our wonderful expert chefs. In some cases, you can even go to the "Campo de Fiori" market to shop, choosing fresh and seasonal ingredients to use in your cooking class.
Rome's typical cuisine, the so-called "Cucina Romana", counts some legendary pasta in its repertoire at the base of which we find the Pecorino Romano cheese and three out of four the guanciale (pork cheek), which are both produced abundantly in the Roman countryside:
Carbonara, the most famous with eggs, Pecorino Romano, guanciale, and pepper
Gricia which, compared to Carbonara, does not contain egg
Cacio e Pepe which contains neither eggs nor guanciale
Amatriciana made by guanciale, peeled tomatoes, and guanciale
They are hearty dishes and each of them has garnered a cult status – they are bold, delicious, and characterful in a way, reflecting the very nature of Roman culture. Learn how to master them too!
Pasta cooking classes in exclusive places in the heart of the Eternal City
Thanks to our unique offerings, you will return from your stay in Rome not as a simple tourist, but as a true traveler immersed in authentic Roman culture. Our cooking lessons are fun and exciting experiences held by professional chefs in schools mainly in the heart of the historic center:
one is located in a 17th-century palazzo around the corner from Piazza Navona;
another school is a stone's throw from the Pantheon;
the last one is on the pope's estate, located in the surrounding Roman hills in the stunning medieval town of Castel Gandolfo.
Enjoy a Roman pasta cooking class with Walks Inside Rome
Walks Inside Rome takes you to discover the best of the Eternal City with a dynamic team of expert English-speaking guides. With 20 years of experience, we have designed and offered exciting tours of Rome, from the Vatican to the Roman Forum passing through the Colosseum and the most beautiful attractions of the city.
All our tours are available in small groups or private groups and are customizable, whether you are traveling alone or traveling as a family. Find out everything you need to see and know in Rome and book your entrance tickets, excursions, and visits.
Once you are in Rome, why not take the opportunity to learn in a fun way the authentic recipes of the Italian culinary tradition from local cuisine experts and professional chefs? Take a cooking class with us and enjoy your trip!
Contact us!
We are open 7 days a week to answer all of your queries. Feel free to contact us any time with any questions about our services. You can call us, fill out the form on our website, send us an email, or chat with us on WhatsApp. We look forward to meeting you soon so we can start exploring Rome together!