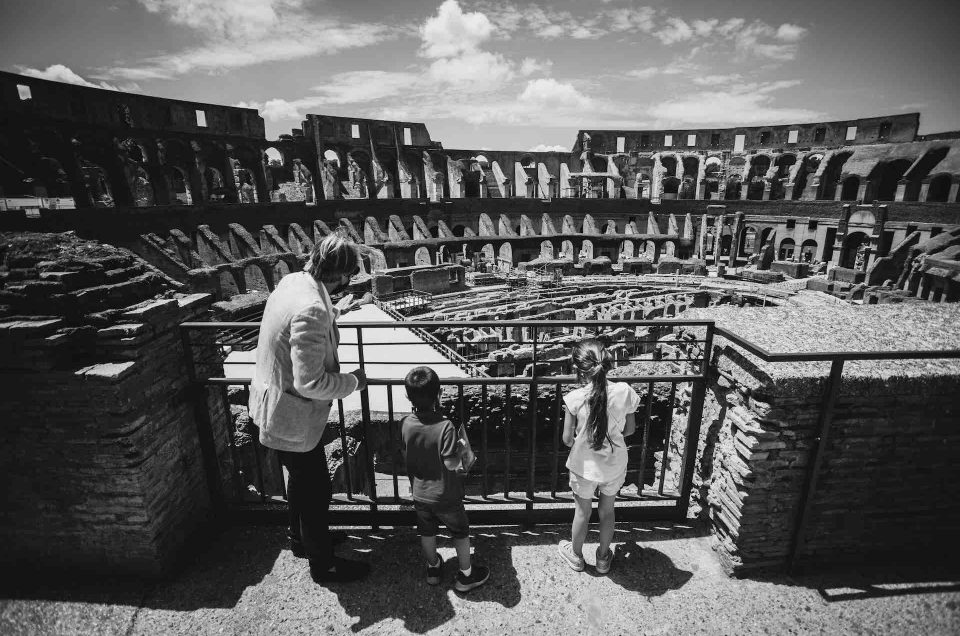 With so much art and culture packed into one place, visiting Rome with kids can be tough – which is why we're sharing our top Rome kids and families experiences! By planning in advance and arranging some fun-filled tours and itineraries, you can make sure you and your kids experience the best Rome has to offer – the mighty Colosseum, the awe-inspiring Vatican, and the capital's dreamy cuisine – without having to sacrifice anything! For more than 20 years, Walks Inside Rome has been offering a range of family-friendly tours and itineraries, involving a range of riddles and treasure led by child-friendly licensed and local guides. So read on to find out what Walks Inside Rome can do for you and the family next time you visit the Italian capital!
Our top recommendations for kids and families in Rome
This article breaks down Rome kids and families experiences into five sections, covering the main aspects of the Eternal City's attractions, culture and cuisine. By following this guide, you can ensure that your trip to Rome ticks all the main boxes, whether you're here on a fleeting visit or a week-long stay.  
→ Check out our full list of Rome kids and families tours
Unleash your inner Maximus at the Gladiator School!
Recently recommended on TripDuck, our Gladiator School consistently ranks as one of the best Rome kids and families experiences. We'll transport you to the school, just off one of Rome's most ancient roads, for an unforgettable two-hour experience, starting with an introduction to Roman history with a visit to the Gladiator Museum, led by a member of the Historic Group of Rome.
After learning the history, gladiators-in-training take part in a hands-on training session, learning the essential martial techniques of sword-fighting and hand-to-hand combat for survival and honor in the midst of the arena. Your kids will get the chance to spar with their partner using the same gladii (wooden swords) used by the ancients!
If you don't want to take part in the more physical side of things, no worries! You can look down on combatting participants from the viewing platform or spend your time uncovering the fascinating history behind the ancient combatants and different gladiatorial styles in the fun and informative museum.
What better way to immerse yourself in the action-packed history of the Roman Empire than by taking part in a hands-on Gladiator School experience. At the end of the session, all participants will be rewarded with a certificate of achievement: a lasting souvenir of your time as a combatant!
→ Book our Gladiator School today! 
Get creative in the kitchen on a family-friendly cooking class
Looking for a hands-on, family-friendly foodie experience in the heart of the Eternal City? Our cooking classes for kids in Rome are just for you! We have two beautifully furnished cooking schools right in the heart of the Eternal City: one in a 17th-century palazzo around the corner from Piazza Navona, the other a sleek and stylish terraced school stone's throw from the Pantheon.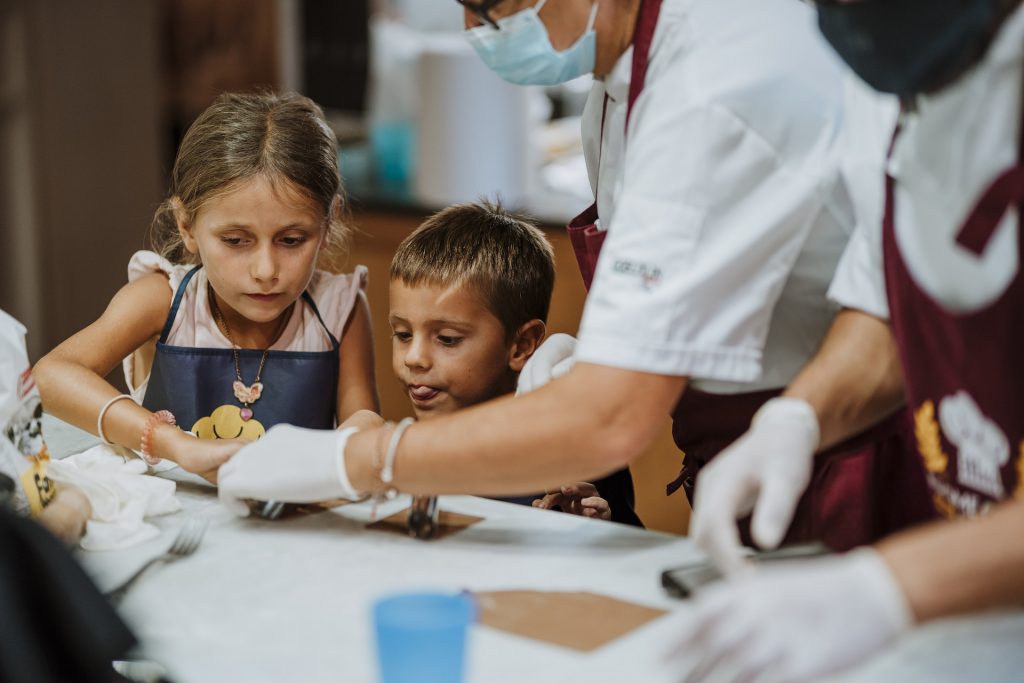 All our cooking classes are customizable, meaning you can learn to make whatever you want, however you want, under the guidance of one of our expert professional chefs. But for our foremost Rome kids and families experience, we recommend our sweet and indulgent Gelato and Italian Biscotti Masterclass.
Choose your gelato flavors from fresh seasonal fruits, (like strawberries from nearby Nemi or Sorrento-sourced lemons). You can also indulge on mint-green pistachios, silky dark Perugia chocolate, and, of course, Nutella gelato.
With these flavors in mind, you can now start getting busy in the kitchen. Discover how to make this famous dessert by practicing the traditional techniques for making sweet gelato with your engaging English-speaking chef.
While your gelato is in the freezer, you'll learn how to make crunchy Italian biscotti – the perfect partner to gelato. Your chef will show you how to bake the best Italian biscotti, and how easy they are to make at home.
If you are in the mood for a different classic Italian dessert, you can also create the perfect "pick-me-up": rich, creamy tiramisù. Either way, you will be able to recreate two famously delicious desserts after your visit to Rome.
→ Check out our cooking classes for kids in Rome!
See the papal state from a fresh perspective on our Vatican tour for kids
One of the things parents fear the most when visiting an attraction like the Vatican is that it won't be able to engage the kids' attention. Museums and galleries are tiring (even for adults!), which is why it always pays to hire a guide to do the heavy lifting and feed you with information.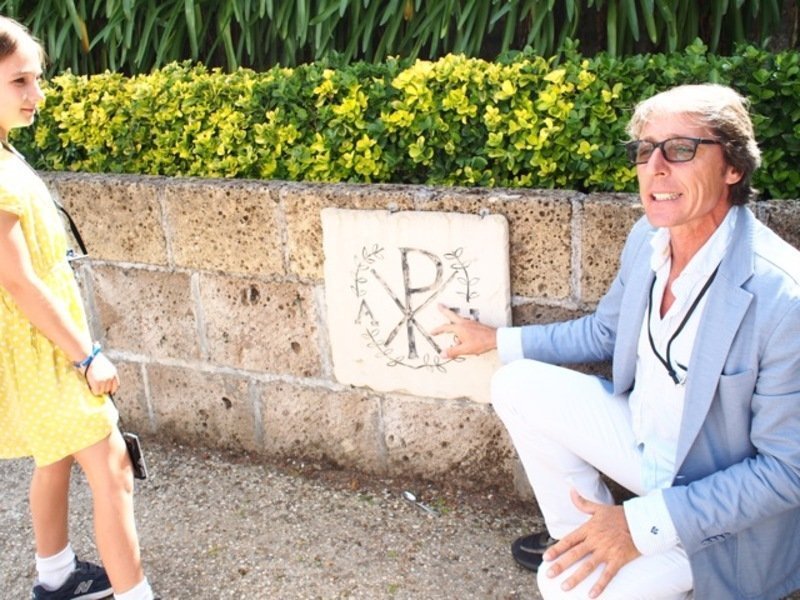 Our treasure hunt at the Vatican for kids is perfect for families who wish to enrich themselves with knowledge exploring the Vatican's vast collection while entertaining (and educating) the kids. Your expert private guide will give you a fully-immersive tour of the Vatican Museums, Sistine Chapel and Saint Peter's Basilica, nourishing you with their knowledge as they engage your kids with a fun and interactive quiz!
From hunting for mummies in the Egyptian Museum and treasure hunts in the Gallery of Maps to 'Where's Wally'-like games for Michelangelo's figures on the Sistine Chapel, your kids will be gripped as they discover the Vatican's hidden treasures, ensuring this will be an experience they never forget!
→ Check out our treasure hunt at the Vatican for kids! 
Explore Rome's Explora Museum
Children can sometimes get restless when presented with so much information and history, which Rome has in abundance! So visiting Rome's kids-friendly Explora Museum offers a nice break to keep your children active while exploring new and interesting subjects. 
There is a large pool where kids and adults alike can experiment and play with a water vortex and even magnetic dams! 
Children can then move on to learn about cooking and the meaning of "conscious consumption" and discover that the earth's future depends on food. At Explora you can even learn about Bionics in a kids-friendly way – which is a scientific discipline that studies natural structures and processes from a technical point of view to obtain new solutions.
Take a trip to Cinecittà World
The Italian capital boasts its fair share of amusement parks, which are sure to provide an entertaining day for kids and families alike. Cinecittà World is an amusement park like no other: dedicated to film and television, located just outside of Rome.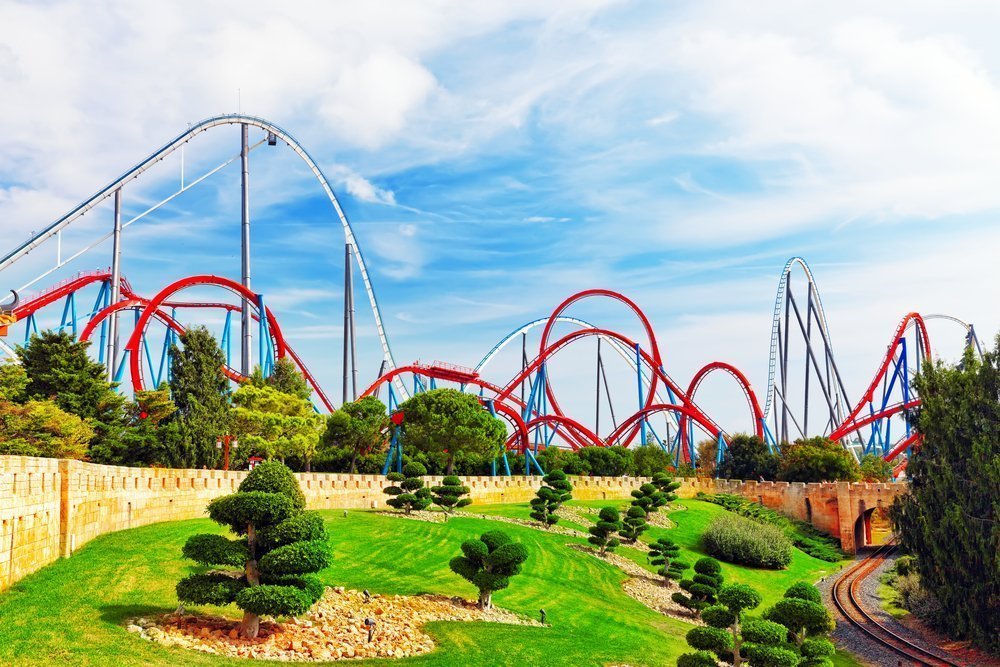 Visitors to Cinecittà World can experience Virtual Reality games, water rides, roller coasters, and restaurants that showcase the wonders of both Italian and international cinema.
If you're missing the ancient Roman sites and the thrill of the Circus Maximus, Cinecittà World houses the original set of the 1959 film, Ben Hur, so today's visitors can experience the iconic chariot race for themselves. With its multiple theaters of film sets and the park's beautiful attractions, a visit to Cinecittà World is sure to result in a fun and interesting day.
A shuttle service departing from Termini station is available for anyone needing transportation to the park.
Our essential checklist for Rome kids and families experiences
Pack light

: In the summer months the Eternal City can get pretty sweltering, so you don't want to be lugging lots of stuff around with you. It's always a good idea to carry some empty water bottles as you can fill up on fresh drinking water at one of the city's hundreds of fountains!

Bring sensible footwear

: Sturdy shoes are a must when walking around the Eternal City. Rome's cobbled streets might be charming in their own way, but they can be less than ideal for little ones who like to run around! So if you're planning to spend a few hours exploring the historic center, make sure to pack some trainers.

Give in to gelato

: Gelato is not simply ice cream. It's part of the Italian lifestyle, a Roman staple, the creamy stuff of dreams ready for everyone's enjoyment. We've written a guide to the

best artisanal gelaterie in Rome

which is essential reading for foodie fanatics. But in Rome it's hard to go wrong. Just one piece of advice – try avoiding gelaterie where the produce resembles Marge Simpson's hair. The flatter, the better. 
Discover the Italian capital with Walks Inside Rome
For more than 20 years, Walks Inside Rome has been offering immersive, authentic, and educational private and small-group tours and Rome kids and families experiences. All our local, licensed guides are seasoned experts in art, history, archaeology, and food. Our combined expertise and experience transform your time in Rome into something truly exceptional. 
To check out our catalogue of tours and experiences, visit our website or contact us directly. We can't wait to hear from you so we can customise your own Rome travel guide and start exploring together!